«Spring 2014
Lincoln's New Hangar G, for Green.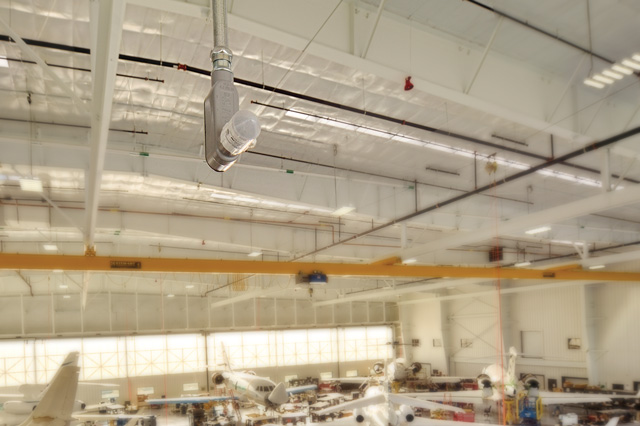 Sensors automatically dim hangar LED lights depending on daylight.
144 10-foot prismatic skylights and 15-foot double layer sidewall daylight panels in each hangar door allow natural light in the hangar.
This summer, Duncan Aviation will complete the largest expansion project its Lincoln, Nebraska, campus has ever seen. The 175,000-square-foot facility will have two 40,000-square-foot maintenance hangars and a 95,000-square-foot office and shop space.
The expansion comes in response to customer requests and changing customer needs. As the industry continues to shift toward larger business aircraft, a trend fueled by technological advances and increased globalization, Duncan Aviation's current hangars are unable to accommodate the volume of maintenance, modifications and completions work our customers require.
"We decided to build now because the size of aircraft we're working on and will continue to work on simply doesn't fit well in our current facilities," says Chief Operating Officer Jeff Lake. "We anticipated this trend, which is why we invested in the new paint facility two years ago. Now it is time to support the maintenance side."
Going Green
When customer demand convinced Duncan Aviation's senior team that it was time to invest in a new, larger hangar facility, the team wanted to ensure it was cutting edge, just like the aircraft services provided inside its walls. That priority also aligned well with the company's desire to make "green" decisions whenever possible.
"Things that are good for the environment are good for our employees, and that translates into an excellent experience for customers as well," says COO Jeff Lake.
Kyle Link, Tectonic Management Group, Inc.'s designer/builder senior project manager for the expansion, says Duncan Aviation chose materials and design elements that are a new concept in a hangar environment. From the LED lighting that senses daylight and automatically dims itself to the radiant floor heating, it's state of the art.
"You can't cost effectively dim fluorescent lights, so you'd have to shut off individual bulbs, but with the LED lights, you can gradually dim, saving energy and making it less apparent to team members," says Kyle. "Combine that with the skylights and windows we added, and it's brighter in the hangar with all the lights off than any of the other hangars with every bulb lit."
The new hangar takes advantage of all possible natural light, starting with 144 10-foot skylight sections. Although the skylights are just two feet wide, because the material is prismatic, by the time that light reaches the bay floor, it covers six or eight feet and distributes the light so team members don't end up working in a hot spot, says Kyle.
Each hangar door also has 15-foot double layer sidewall daylight panels to let in more light without affecting the interior temperature.
Heating and cooling the bays can also be a challenge, especially in extreme weather when
the doors open and close on a regular basis, letting new aircraft in and delivering completed projects. Therefore, the senior team opted for radiant floor heat with insulation around the perimeter's foundation and advanced insulation strategies in the walls and roof to help keep the heat in on cold Nebraska winter days.
"In a hangar, you're really only interested in the heat in the first eight or 10 feet, so to heat the ground and let it rise instead of heating the air and pushing it down just makes sense," says Kyle. "The bay will also recover a lot faster after opening the hangar door, which is much more comfortable for the team members working on the floor."
Many of the options in the hangar go above and beyond the energy code, a deliberate choice.
"It was really an easy decision to invest a bit more up front and do what's right for our environment, especially if it means we'll save money in the long run," says Jeff. "With as quickly as technology changes, we need to be a bit ahead of the game."
Filling the Hangar Earlier than Expected
Though the full maintenance facility will be complete this summer, in January, the north hangar bay opened early. The windows had been installed, the floors had been coated and—with a Falcon 7X leading the way—four jets needing service entered the new maintenance bay.
"The hangar opened up a few weeks ahead of schedule," says Airframe Services Manager Chad Doehring. "It needed to be available sooner in order to meet the needs of our customers and their growing aircraft size."
Chad says the structure shop and engine line shop opened at the tail end of January.
"To properly prepare for this opening, we hired and trained all throughout 2013, building up our teams," Chad says. "We've continued to do so throughout 2014."