«Fall 2017
26 Satellite Avionics Choices for ADS-B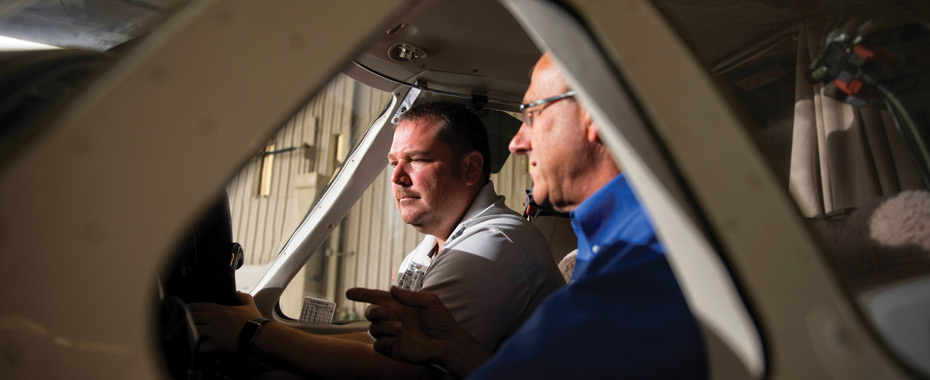 For almost 30 years, Greg Donegan has been working on aircraft at Lunken Field at the Cincinnati Municipal Airport. He was there in 2014 and watched as Manager Bruce Miller set up the Duncan Aviation Satellite Shop.
As a long-time Duncan Aviation customer at the Battle Creek, Michigan, facility, Greg welcomed the new shop, which is right across the ramp from his hangar. He has mechanics on his staff who perform the routine maintenance and inspections on their fleet of six aircraft, but he relies on the Duncan Aviation avionics technicians to repair, install, upgrade, and otherwise keep operational the equipment in the cockpit.
"Having the Satellite Shop so close is great," says Greg. "We have an inspection on a G-200 coming up in October, and the tech will come to our hangar and upgrade the equipment for ADS-B (Automatic Dependent Surveillance-Broadcast)."
While Greg's G-200 is down for several weeks already, the Duncan Aviation tech will upgrade the Rockwell Collins TDR-94Ds, install annunciators, upgrade the GPS sensor and the NAV database, and install TCAS 7.1.
Three of Greg's six airplanes have had the necessary upgrades for the FAA's ADS-B mandate, and a fourth is scheduled for later this year. The deadline for compliance is midnight December 31, 2019, and Greg intends to have all of his aircraft completed long before that.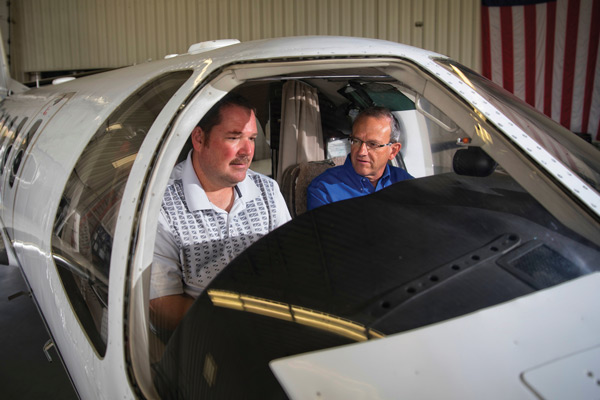 "We aren't sitting around waiting. We didn't want to wait until the last minute and get burnt," says Greg. "The deadline isn't going to change, and we don't want to be on the outside knocking on the door, waiting to get in on Jan. 1. My goal when I took over as DOM last year was to have the entire fleet upgraded at least a year ahead of the deadline."
Because time is running out and the Duncan Aviation Satellite network currently has capacity and labor resources, the company has been allocating hangar space and labor resources for owner/operators who call now to reserve space through the rest of 2017 and into 2018 and 2019. The closer the deadline, the less capacity (labor and hangar space) qualified shops are going to have, so Duncan Aviation is taking a proactive approach to these necessary upgrades, and encouraging our customers to schedule now. As Greg says, no one wants to be sitting on the ramp, hoping in vain for hangar space as the New Year dawns on January 1, 2020.
Duncan Aviation's Battle Creek facility performed an ADS-B upgrade on one of Greg's G-200s earlier this year when it was getting a fuel leak repaired.
When Greg and his team were performing a Phase 5 inspection on their Citation Encore Plus, the Duncan Aviation techs from the Cincinnati Satellite Shop came over and upgraded that aircraft for ADS-B. Another one of his G-200s was down for a hot-section inspection, and the Duncan Aviation avionics techs upgraded that aircraft for ADS-B, too, while it was down.
"As I said, we're long-time Duncan Aviation customers, and they've always done a good job for us," says Greg. "I don't see any reason to go anywhere else."
Upgrade To ADS-B Now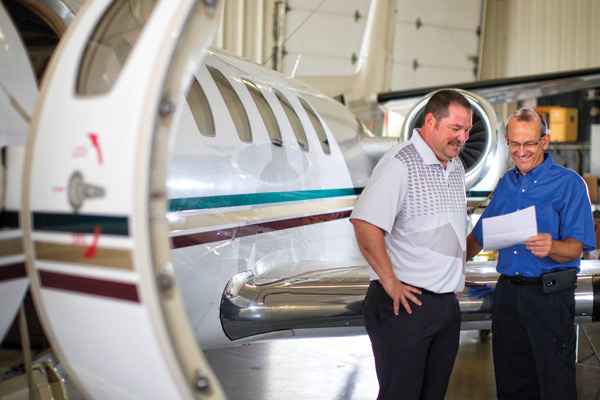 Duncan Aviation has its three main facilities and 26 Satellites, any one of which is available to upgrade your aircraft for ADS-B compliance when it's already getting a new coat of paint, an interior refurbishment, an airframe inspection, an engine overhaul, or avionics line work.
The multi-shop capabilities have allowed our customers to perform 45 upgrades through June 2017 while their aircraft are already in the shop.
In addition to the three main facilities, Duncan Aviation has 26 Satellite facilities and workaway locations at the busiest airports in the United States.
For your convenience, our experienced avionics technicians will come to your hangar and perform the upgrade on your aircraft. Visit our web site (www.DuncanAviation.aero/locations/#satellites) to find a Satellite near you.
"If you're putting your aircraft down for maintenance during the end-of-the-year holidays or any time before 2020, consider adding an ADS-B upgrade to the workscope so you don't have to put it down twice," says Manager of Satellite Operations Matt Nelson.
Location, Location, Location
Duncan Aviation has 26 FAA-approved Satellite facilities and workaway locations at the busiest airports in the United States. Visit a Satellite for short-term avionics work, including ADS-B, or schedule your ADS-B upgrades at one of the main facilities (Lincoln, Nebraska; Battle Creek, Michigan; and Provo, Utah) when your aircraft is in for paint, interior refurbishment, routine airframe, or engine maintenance, etc. Four of the Satellite Shops (Scottsdale, Arizona; Van Nuys, California; Las Vegas, Nevada; and Houston, Texas) have DGAC (Directorate General of Civil Aviation in Mexico) authorization, as well.