«Fall 2017
Expect-and Get-More From Duncan Aviation Aircraft Sales & Acquisitions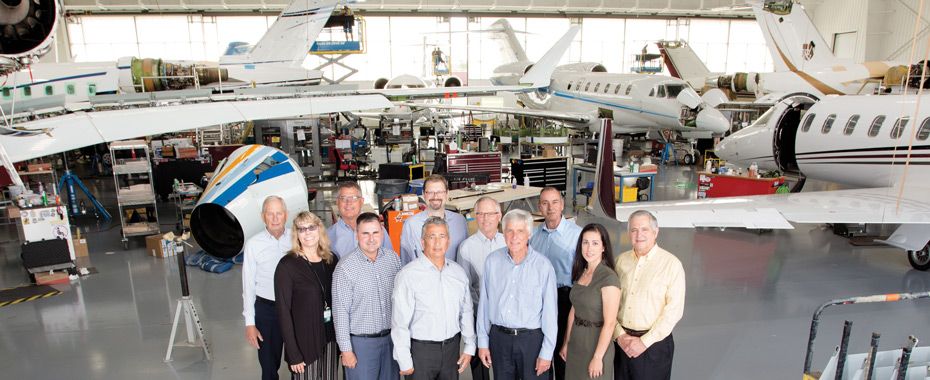 Through the years, the company has developed a solid reputation as one of the best nose-to-tail business aircraft service and support organizations in the world. Along the way, we have continued to provide great value in the areas of aircraft sales and acquisitions.
As the aircraft transaction process has evolved over the last few decades, the resources Duncan Aviation has amassed on the service side provide a unique advantage to our aircraft sales clients. Technological advancements in aircraft have accelerated and transaction complexity has increased. Overall, selling and buying aircraft is more demanding, takes longer, and involves many more moving pieces and potential financial risks than at any other time in history. This means brokerage clients need greater technical and transactional support.
When the time comes to explore the selling or acquisition of an aircraft, think about the following advantages Duncan Aviation can provide.
Duncan Aviation was founded in 1956 as an aircraft sales organization.
Aircraft Sales Experience
Duncan Aviation started as a business aircraft sales company and is a founding member of NARA (National Aircraft Resale Association).
Since 1956, Duncan Aviation has conducted more than 3,500 transactions.
On average, Duncan Aviation's Aircraft Sales & Acquisitions team members each have an average of 25 years of experience.
Support Beyond the Transaction
"In today's business environment, aircraft sales clients deserve more, require more, and expect more from their broker or acquisition agent. I recently joined the Duncan Aviation Aircraft Sales and Acquisitions team because they are backed by all the resources clients expect–and more."

Dave Coleman, Duncan Aviation Aircraft Sales Rep.
Duncan Aviation has 2,150 aviation experts, each with an average of 12 years with the company. The aircraft sales team partners with these experts to provide technical support before, during, and after the aircraft transaction.
Duncan Aviation can offer a combined brokerage and support services offering.
On any given day, there are 125 aircraft in-house at Duncan Aviation locations, and 175 aviation experts in-the-field, making technical, sales and service visits, providing the aircraft sales team more exposure to off-market buying opportunities.
During the past four years, Duncan Aviation has performed more than 75 aircraft imports, 20 exports, and a multitude of Experimental and Supplemental Type Certifications. Our staff holds both Airworthiness and Manufacturing Unit Member authority and our in-house International Compliance Officer assists ensuring efficiency during complex cross-border transactions.
Duncan Aviation has Aircraft Sales and Acquisition representation in the United States and in Europe. This helps with international transactions and worldwide representation.
Duncan Aviation facilities in Battle Creek, Michigan; Lincoln, Nebraska; and Provo, Utah; have conducted more than 100 pre-purchase evaluations for aircraft transactions over the last two years. Those experiences help our clients factor in potential pre-purchase and refurbishment costs. We can also oversee prebuys at other locations.
Duncan Aviation's technical team provides regular technical advice to other aircraft brokers. We take great pride in collaborating with them to make transactions smooth and efficient. We also enjoy working with other brokers to uncover opportunities that suit requirements for mutual clients.
Customer Satisfaction
The majority of our Aircraft Sales clients return when it is time for them to sell or purchase an aircraft.
Most first-time aircraft sales customers are referred by those we have already helped with brokerage or acquisitions services.