«Fall 2017
No Detail Escapes The Creative, Experienced Eyes of the Duncan Aviation Design Team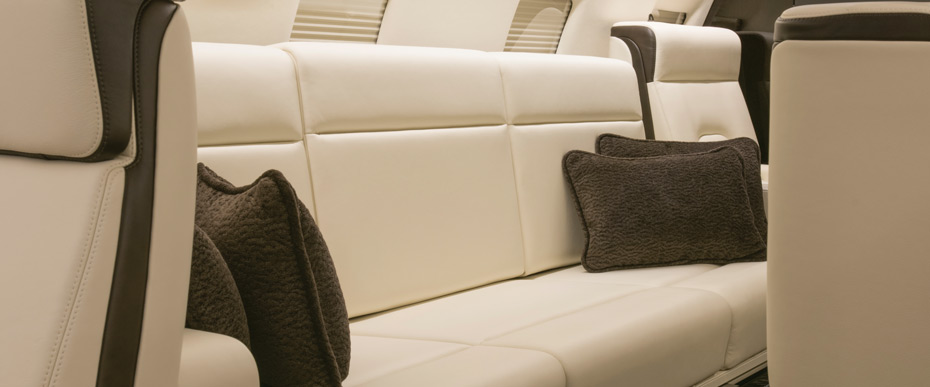 The innovative designers in the Duncan Aviation Design Center can fashion a unique interior that's tailored to an operator's personal preferences or a contemporary interior that reflects a company's professional image. Our designers have decades of experience providing exactly the right touches.
Not only will the design team focus on the big picture, they'll also hone in on the smaller details that make the flight experience relaxing and hassle-free.
Better Straining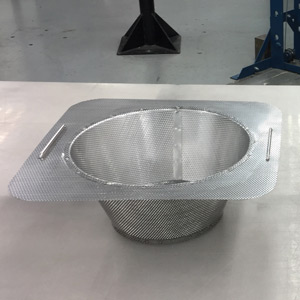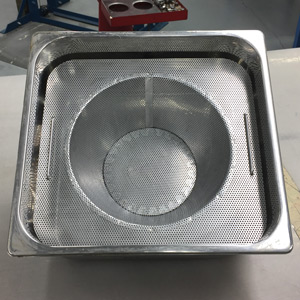 Earlier this year, a long-time customer from Jakarta, Indonesia, arrived with his company's Challenger 604. The Senior Financial Advisor for Air Pacific, Muliawan Sutanto, represented his principal, who was fond of an interior he'd seen. Using a photograph, Designer Teri Nekuda replicated the sleek, professional interior, right down to the additional sound-proofing under the carpet.
The one thing that may go unnoticed to the casual observer, a custom-designed strainer, was a critical addition for Muliawan and the flight crew.
"We eat a lot of dishes with rice," says Muliawan, "and it's nearly impossible to clear the tiny grains from every bowl. Our attendant was careful, but the drain frequently clogged, rendering the sink unusable."
It's not only inconvenient to have a clogged drain and sink you can't use during your flight, but it's also expensive to put down your aircraft to unclog the drain.
"Aircraft sinks have small strainers that cover only the drain, and they get blocked quickly, especially by small food particles like grains of rice," says Duncan Aviation Cabinet Shop Team Leader Matt Beaudette.
Matt dismissed the strainers that fit over the top of the sink because that wouldn't have helped as the flight attendant cleared off plates. Instead, he searched for a strainer that would fit inside the sink. He developed a potential solution, and asked Fabrication Shop Team Leader Bryan Hart to come up with a workable design. Bryan and his team crafted a custom strainer.
"We're thrilled with the strainer, and it'll more than pay for itself by preventing even one clogged drain," says Muliawan. "It fits inside the sink, traps the food particles while still letting the sink drain, and lifts out easily for cleaning."
Lavatory Solutions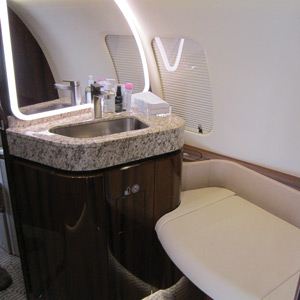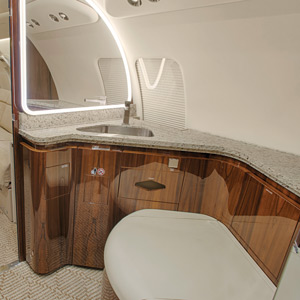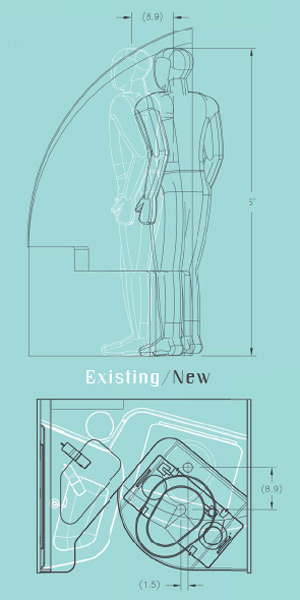 Before and After
Another customer with four Challenger 650s wanted Duncan Aviation to redesign the lavatory in their aircraft for better ergonomics. Using Senior Completions Designer and Team Leader Mary Lee's designs, team members from the Interior Shop, Cabinet Shop, and Fabrication Shop extended the size of the vanity and shifted the toilet, making them more accessible to passengers.
Because the vanity moved, the sink no longer fit. The Fabrication Shop designed and machine-crafted a bigger, sleek new sink out of a solid piece of aluminum so it would fit in the redesigned vanity.
"We did all of the engineering up front," says Project Manager Darrell Miller, "and we now have an STC (Supplemental Type Certificate) for the redesigned lavatory. So far, we have completed four aircraft with this new design. With the experience of the first two under our belt, we were able to deliver the second two Challenger 650s early."
Muliawan Sutanto
Senior Financial Advisor for Air Pacific in Jakarta, Indonesia, says, "We fly to Duncan Aviation for work on our aircraft because we trust the company, we're pleased with the work that's been done in the past, and the price is right. That's why we continue to fly all the way to the United States for service, interior refurbishment, and paint on our fleet."
Multishop Talent
Duncan Aviation has multi-shop capabilities with experts who collaborate to conceive of, design, and craft nearly anything an aircraft operator needs. With experienced in-house engineers and certification experts, Duncan Aviation can also shorten downtimes by producing design data and STCs when necessary.