«Winter 2007
17 Road Show Celebrations to Remember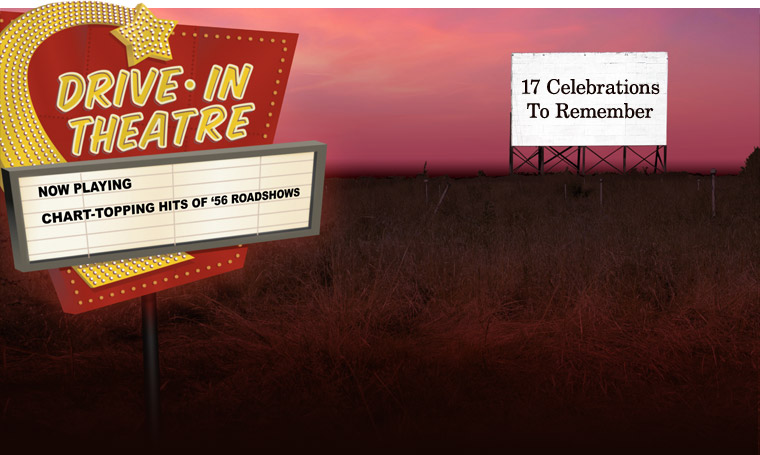 How does Duncan Aviation honor fifty years of hard work, dedication and chart-topping customer service? By throwing a party, but not just any party, we throw a '50s style gala with "The King," Betty Boop, and Rock 'N Roll, and not just one party, but 17 of them. From Seattle to Bridgeport, Van Nuys to Ft. Lauderdale, Duncan Aviation hosted Chart-Topping Hits of '56 Road Shows at our satellite locations. Hundreds of Duncan Aviation customers were treated to great food, music, entertainment and appreciation.
The Road Shows
At any one of the 17 Road Shows, customers were whisked back to the '50s era by the sights and sounds of the time. Bebop filled the air from DJs spinning the vinyl to live performances from local talent such as Barb Dexter in St. Paul or the Broadcasters from Texas.
The air was also filled with aromas from great food ranging from the exotic (Satay and shrimp) to the everyday (cheeseburgers and crinkle fries) served on long buffet tables or by poodle-clad servers. And don't forget dessert! Malts, homemade pies, and authentic sodas served by "Soda Jerks," topped off the menu. Guests of the Chicago Road Show were treated to a local '50s favorite - Green River Ice Cream Sodas. Business was set aside for an afternoon or evening to allow customers to come and enjoy a party just for them. It gave everyone attending, customer and Duncan Aviation associate alike, a chance to get to know each other outside of the sales call or business deal. It is through this type of connection where friendships begin and loyalty is earned. And it is through that type of connection that Duncan Aviation was born.
Marilyn Monroe, James Dean and Elvis made appearances at every Road Show, always ready with a smile and a willingness to pause with an adoring fan for pictures. But nothing says appreciation more than giving away prizes. Jackets, anniversary hats and professional poker sets were all door prizes, just to name a few. However no one left empty-handed. The Duncan Aviation commemorative Chart-Topping Hits of '56 music CD was given to everyone. This collection of songs from the '50s was mixed and performed by talented musicians and singers from Duncan Aviation. (See the article on page 29). There was even a chocolate version handed out at the Lincoln Road Show. The sound quality wasn't as good, but it tasted better!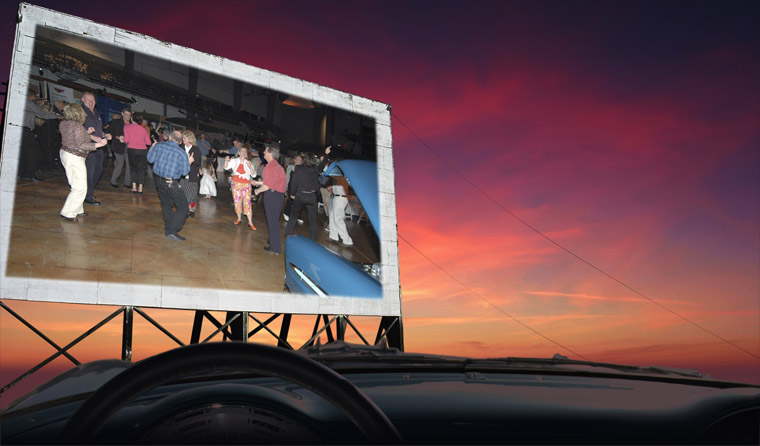 A Golden Opportunity
As much as everyone was appreciative of the gifts, it was the one custom-painted prop blade emblazoned in a stars and stripes pattern that each guest hoped to win. Carefully hand-painted by Duncan Aviation Paint Shop Technicians in Lincoln, NE, each prop was the winner's entry into the grand-prize drawing to win a classic fifties icon. The pinnacle prize, a fully-restored 1956 Chevrolet Bel Air, was escorted back and forth all across the continental United States, never failing to make an appearance. Guests were encouraged to take a closer look and lined up to have their picture taken in hopes that they may someday drive it home. Twenty-four Road Show Qualifiers in all won the golden opportunity to drive away with this classic beauty. The final drawing was held at the National Business Aviation Association (NBAA) convention in Orlando, Florida.
The Qualifiers
Many of the 24 Road Show Qualifiers have been Duncan Aviation customers for years. Each qualifier has a unique story about how they became a Duncan Aviation customer. But when asked why they continue coming back, there was one answer that was given above all others – quality of service.
Gary Smith, Senior Technician with AIG American General (Hobby/Houston Qualifier) says, "Duncan Aviation always does a quality job as promised and on time."
But even new customers quickly see how far-reaching the Duncan Aviation reputation actually is. Terri VanderSchuur of AeroVision International (Battle Creek Qualifier) is a new avionics parts customer and in the span of only six to eight months has seen why customers keep returning to Duncan Aviation. When avionics parts, serviced or repaired by Duncan Aviation are offered, she hears the same response every time. "If it's tagged by Duncan, I'll buy it." Nothing goes further to testify to the quality of service and reputation of Duncan Aviation than for one customer to tell another of their great experience, unlike any other.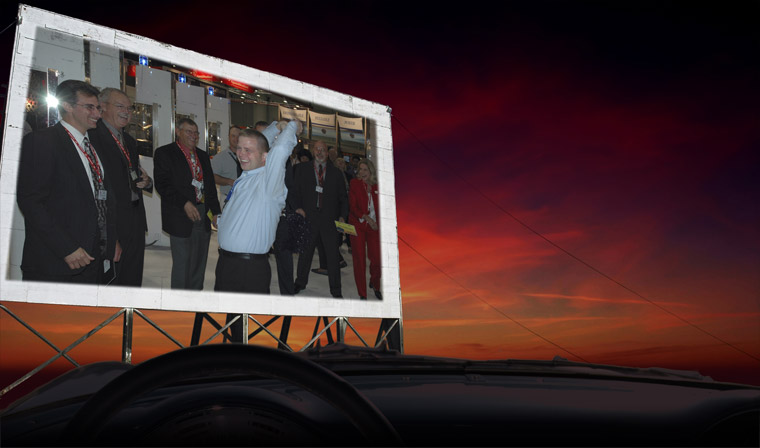 The Winner
On October 18th, in the Orange County Convention Hall in Orlando, amid the drone of thousands of aviation enthusiasts at the NBAA Convention, hundreds of curious spectators gathered at Duncan Aviation's booth #5100. Front and center, a snow storm of ping pong balls bounced randomly in a spinning cage, each with the name of one Road Show Qualifier. Although it was standing-room-only, it was evident who was in the running for the car. Anxiously waiting for the final moment, all the qualifiers or their Duncan Aviation stand-in gathered in a circle holding license plates emblazoned with their names. There was a lot of pre-drawing posturing among the qualifiers with good-natured verbal sparring and a few side wagers amid the spectators on who was going to walk away the Chart-Topping Hits of '56 Grand Prize Winner.
Steve Gade, Vice President of Duncan Aviation's Sales and Marketing addressed all the qualifiers saying "It's hard to comprehend what Duncan Aviation is now when you think that only 50 years ago … Donald Duncan had the vision to start a business in the fledgling aviation industry. That vision has evolved into the Duncan Aviation we know today with an outstanding industry reputation and the ability to serve thousands of customers from around the world….We don't claim to know what the road ahead will bring, but we do know that every challenge will be met. And we'll always keep steady hands on the wheel and a sure foot on the gas. Thank you for being loyal Duncan Aviation customers."
With that Todd Duncan, Vice Chairman of Duncan Aviation and grandson to Donald Duncan, reached in and pulled out the winner's name. As soon as the winner of Duncan Aviation's year-long 50th anniversary celebration was announced, shouts of joy could be heard all across the convention hall as Bob Schneider, Director of Aviation Maintenance with Jackson National Life Insurance, reacted to hearing his name. Everyone applauded and cheered as Bob jumped and punched the air. Before the shock wore off, he was whisked away by limousine to the Duncan Aviation NBAA static display. There, for the first time, Bob was able to get in and rev up the newest addition to his personal fleet.
Jackson National Life has been a customer for more than 25 years, dating back to when Duncan Aviation's Battle Creek, Michigan facility was Kal-Aero. Still when asked why Jackson continues to turn to Duncan Aviation for its aviation needs, Bob mentions three reasons:
Duncan Aviation has superior knowledge and experience with the type of aircraft Jackson National owns;
The Battle Creek location is conveniently located near their Home Office in Lansing, Michigan, making all service calls a one-day trip rather than requiring an overnight stay;
and Bob likes the personal oversight that he has when working with Duncan Aviation.
The Future
How does Duncan Aviation honor fifty years of hard work, dedication and chart-topping customer service? With a promise. A promise to continue the quality of service for which Duncan Aviation has become known. A promise to invest in its employees, empowering them to go above and beyond for every customer every time. A promise to continue the vision for another 50 years.