«Winter 2007
Multi-Generational Teamwork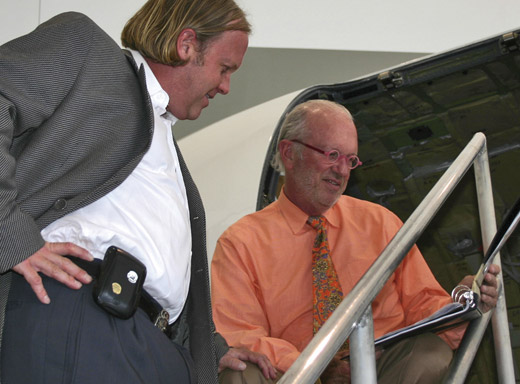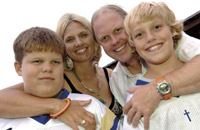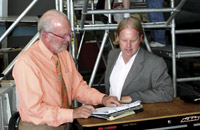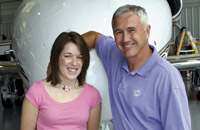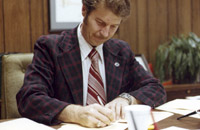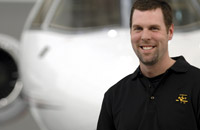 Todd Duncan
Multi-Generational Teamwork
For a family-oriented business to maintain its family traditions for 50 years, it's important to develop a multi-generational facet within the company culture. It's crucial that the multi-generational energy of this phenomenon be developed naturally. In Duncan Aviation's case, this multi-generational energy has now carried over to the third generation. Todd Duncan recognizes that the family element of Duncan Aviation lies in its partnerships with customers, employees, vendors and OEMs. Because of these varied relationships it has nurtured for 50 years, Duncan Aviation enjoys a unique and influential position within the aviation industry.
Todd Duncan was born in 1966 on the birth date of his grandfather, Donald Duncan. Todd witnessed the aviation relationships built by his father, Robert, and his grandfather early in his life. He often accompanied Donald on sales trips and met many customers while just a young man; Duncan Aviation and flying has always been a part of Todd's life. Learning the art of relationship-building has come naturally to Todd as well because of Donald and Robert's guidance. Todd relates that the family's values have always included a large amount of fun and that has also become a part of Duncan Aviation culture. The company routinely sponsors many events for customers and Duncan families each year.
In today's fast-paced, impersonal world, it's not uncommon for people to not know neighbors or co-workers. CEOs of large businesses often communicate only with their inner circles and have little knowledge of the people who make up their companies. At Duncan Aviation, Todd speaks at ease about people like Jamie Svoboda-Dallegge and Michael Kussatz, two of many multi-generational team members whose parent(s) made significant contributions for Duncan Aviation. "I've grown up with many of the employees and it's exciting to see so many spectacular careers at Duncan Aviation," Todd explains. This organic employee growth and retention equates into the vast aviation knowledge and experience pool that Duncan Aviation enjoys and relies upon. It's the most important asset for customers who depend on the people of Duncan Aviation to solve their problems. That's one of Duncan Aviation's special secrets.
Don Fiedler is another example of the family-centered philosophy of Duncan Aviation and a perfect illustration of organic employee growth and retention. He has been a key figure in the development of the satellite network and the success of the avionics and instrument areas for more than 40 years and is very well-known throughout the aviation industry. Don has been with Duncan Aviation throughout Todd's lifetime. "Don Fiedler has had a huge impact and that's what's so exciting about Duncan Aviation. Each of us is responsible and has a part to play in customer relationships," Todd explains with genuine family-style pride.
Todd was only 30 years old when he became a member of Duncan Aviation's Senior Team; he had much to learn. "I couldn't have done it without the people I work with and members of the Senior Team," he said. Todd frequently speaks of learning and learning curves; it's clear to see that he believes in life-long learning and also believes that the family philosophy of Duncan Aviation contributes to the experience sharing so prevalent throughout the company. This also contributes to the career path opportunities at Duncan Aviation. "We want customers and team members to feel at home at Duncan Aviation and that leads to retaining the best and the brightest and that's a family value too--one we'll never let go of."
One can't sit and talk with Todd without listening to him talk about the people of Duncan Aviation and the communities in which the company is located. Community is another family attribute that's very important to Duncan Aviation. "It's hard to replicate Lincoln, Battle Creek, Kalamazoo and the other places where we have facilities," Todd asserts. "They are great communities with great values."
Families that function well together and prosper within great communities provide members with a 'total package' that encompasses the elements each individual needs to grow and evolve. At Duncan Aviation the 'total package' involves many things beyond salaries and benefits; it involves a sense of belonging and contributing to something special, something rare in the world of business today.