«Winter 2007
Newsbriefs Winter 2007
Duncan Aviation Adds New Engine/Airframe Rapid Response Team in Scottsdale, AZ


Duncan Aviation's newest Rapid Response team is based in Scottsdale, Arizona. Created specifically for road trips, Duncan Aviation's Rapid Response teams can be accessed 24/7/365 and specialize in service of TFE731 and CF34 engines as well as APUs and structural repairs.
Convenient locations in Chicago, Denver, Dallas, Ft. Lauderdale, New York metro and now Scottsdale ensure that technicians can arrive at a customer's location quickly. All teams can be accessed at the Rapid Response hotline at 877.522.0111.
( Return to top )
Duncan Aviation Names Jason Burhoop APU Engine Technical Representative

Duncan Aviation is proud to name Jason Burhoop as the APU Engine Technical Representative for the Engine Services Department at its Lincoln, Nebraska, facility.
Armed with an A&P License, seven years of dedicated APU experience and more than 10 factory-trained or factory-approved maintenance training courses, Burhoop can troubleshoot, repair and perform hot section inspections. His military duty at the Aberdeen Proving Grounds in Maryland laid the groundwork to his training.
"Jason has become known as the Go-To-Guy for all APU questions. He has extensive knowledge on all of the Honeywell and Sundstrand APUs and has developed many great relationships with customers and others throughout the industry," says Joe Stokey, Assistant Manger of Engine/APU with Duncan Aviation in Lincoln, Nebraska.
Jason can be reached at 402.479.4170.
( Return to top )
Duncan Aviation Certified as ARTEX Service Center
Duncan Aviation is pleased to announce that its Lincoln, Nebraska, location has been selected as a full-service, factory-authorized, category 1 service center for the ARTEX 406 Series Emergency Locator Transmitter. Customers may now send units to Duncan Aviation for maintenance and programming needs. Duncan Aviation has six factory-trained technicians who are ARTEX-certified. With advanced scheduling, these units can be turned in one day.
To schedule ARTEX units with Duncan Aviation call 800.LOANERS.
( Return to top )
Duncan Aviation Expansion Update: Battle Creek's New Paint Hangar Online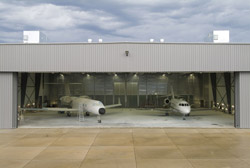 Duncan Aviation recently christened its newest paint hangar with the completion of a Falcon 2000. The new hangar, located at Duncan Aviation's full-service facility in Battle Creek, Michigan, is 19,200 square feet and will add 40 paint slots to the facility's annual paint capacity, making Duncan Aviation-BTL one of the busiest paint providers in the aircraft refurbishment industry.
"The addition of this hangar provides a significant increase in capacity for our Battle Creek facility. When combined with our multi-shift staffing, this increase will allow us to offer the highest quality paint refurbishment in the industry, with our industry-leading turntimes, to even more customers," says Bill Prochazka, Duncan Aviation's Executive Vice President and General Manager of Michigan Operations.
Duncan Aviation built the hangar with the latest air flow technology, including automatic monitoring and alarms, to provide the best paint environment possible for aircraft. To increase capacity and efficiency, the hangar was designed to accommodate multiple aircraft at once, utilizing a two-zone airflow system. With this design, Duncan Aviation paint teams can perform stripping, sanding, painting and detail work on multiple aircraft simultaneously. The hangar can handle aircraft as large as a G550 or Global Express.
The paint hangar is just one part of a 125,000-square-foot, $20 million expansion currently being completed at Duncan Aviation's Battle Creek facility. The entire expansion and renovation is scheduled to be complete in the spring of 2007.
Duncan Aviation-Battle Creek is an aircraft service provider with a 325,000-square-foot facility and 570 employees supporting the aviation needs of business jet operators worldwide. These services include airframe and engine service, avionics installations, interior and paint completions/modifications, avionics/instrument and accessory/propeller repair/overhaul and parts support.
( Return to top )
Duncan Aviation Facilities Named Embraer Service Centers

Duncan Aviation is proud to announce that both the Lincoln, Nebraska, and Battle Creek, Michigan, facilities will represent Embraer as Authorized Service Centers for the Embraer Legacy 600, Phenom 100 and Phenom 300 aircraft.
Duncan Aviation–BTL and Duncan Aviation–LNK will both be top tier, full service Embraer Authorized Service Centers for Legacy and Phenom aircraft. Duncan Aviation will be authorized to perform scheduled and unscheduled maintenance up to and including the 48-month inspection, AOG support, troubleshooting, engine and APU removal and installation, warranty work, modifications and repairs and component replacement for the Embraer Executive Jet fleet.
"We are pleased that Duncan Aviation locations will be among the first
full-service Embraer Service Centers," said Jeff Manion, Vice President of Service Sales. "We have been working with Embraer for several years, providing cabinetry for Legacy interiors since 2003. Our relationship has provided the foundation for this new collaboration."
Duncan Aviation plans to develop a dedicated Embraer Sales and Service team. Resources will be allocated to provide training and tooling to support the growing fleet of Embraer jets.
"We are very pleased to announce Duncan Aviation as an Authorized Service Center for the Legacy and Phenom jets," said Maurício Aveiro, Embraer Vice President, Customer Support, Executive Jets. "Their reputation for premium quality services and customer care were key factors in our decision."
Embraer's Legacy 600 offers up to 16 passengers three distinct cabin zones in the largest cabin of the super mid-size category, and an equally generous baggage compartment. With a range of 3,250 nm, the Legacy 600 cross the U.S. or the Atlantic, from New York to London, non-stop. Priced at US$ 24.7 million in 2007 economic conditions, the 85 Legacy 600 are operating in 18 countries.
The Phenom 100 will typically carry four passengers at 41,000 feet, offering an IFR range of 1,160 nm or 1,320 nm (VFR) and a short field performance. Expected to enter service in mid-2008, it is priced at US$ 2.85 million in January 2005 economic conditions. The Phenom 300 will accommodate up to nine occupants and fly at 45,000 feet for an IFR range of 1,800 nm. It is expected to enter service in mid-2009 and is priced at US$ 6.65 million in January 2005 economic conditions.
For more information on Duncan Aviation's Embraer services, please contact Jeff Manion at 269.969.8441.
( Return to top )
Andy Biller Joins Avionics Installation Sales Team


Duncan Aviation is pleased to announce Andy Biller has joined the Avionics Installations Sales Team focusing on the sales & marketing of the Duncan Aviation Glass Box Project initiative, a cockpit LCD retrofit for select business aircraft. (See the Glass Box article.)
Andy's 28-year aviation career began with private pilot flight training in high school and employment as a lineman for a local FBO. While working on his degree in marketing, he provided flight instruction and pilot services. After college, Andy managed a small flight training department and began an aircraft sales career. In the mid-1990s, he began selling new turbine business aircraft for a major manufacturer. Andy joined Duncan Aviation in 2002 working in the aircraft sales and acquisition group. During this time, he helped create and launch Enhancements by Duncan Aviation, an integrated aircraft sales and modification solution. This includes retrofitting the cockpits of select, often recently acquired aircraft and distinguishing them with the designation of being an e-class aircraft.
Andy can be reached at 402.479.1604 or by email: Andy.Biller@DuncanAviation.com.
( Return to top )
Duncan Aviation Signs Additional Sales and Service Agreement with Securaplane Technologies to Support Emergency Battery Units
Duncan Aviation has signed an agreement with Securaplane Technologies to provide sales and service for Securaplane emergency batteries. This new agreement is in addition to Duncan Aviation's recent agreement with Securaplane to provide sales and service on the "pure lead" SLA batteries. Many airframes currently serviced by Duncan Aviation already have Securaplane emergency batteries installed. This new agreement will allow Duncan Aviation to expand support of these units.
Duncan Aviation's agreement with Securaplane will allow Duncan Aviation to service and re-block the Securaplane Emergency Batteries, providing owners and operators increased access to the support of the power supplies. The Emergency Batteries feature field-proven sealed lead acid batteries, battery level test and a built-in precision charging system. There is no need to deep cycle or to remove the battery from the aircraft for a capacity check, which reduces battery maintenance.
For more information about Securaplane batteries and the battery support services provided by Duncan Aviation, please contact Duncan Aviation's Parts Support Services in Lincoln Nebraska at 800.228.1836 ext. 1684 or Michael Craft at 402.479.1684 (direct) or e-mail Michael.Craft@DuncanAviation.com.