«Summer 2009
Chairman's Notes Summer 2009
FROM THE CHAIRMAN: TODD DUNCAN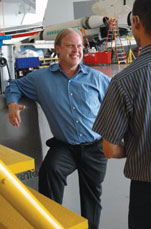 On a weekly basis, I travel to meet with some of the most interesting and influential people in our industry; individuals who work hard providing leadership for business aviation's powerful associations and lobbying efforts, key customers who understand the benefits of business aircraft ownership and aviation enthusiasts who simply love to fly. I truly enjoy the people in our industry and the support they have shown us for years.
Rarely does a week go by when I don't hear someone mention a Duncan Aviation team member by name. Describing their experience at one of our facilities, they let me know they consider our people experts, resources and friends. We're serving customers in a very real way, letting them know we value their business and helping them operate their aircraft with success.
Duncan Aviation's reputation not only represents the highest in quality work, it is one company among many that stand united in a show of support for the future of business aviation. Every Duncan Aviation team member comes to work knowing that their dedication, hard work and knowledge matter not only to their customers and their company, but to the entire industry.
BOMBARDIER AIRFRAME TECH REP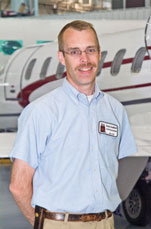 Cary Loubert
Cary Loubert loves a challenge and he loves to share his knowledge with others. Hired by Duncan Aviation as an Airframe Technician in 1995, Cary has been working on Challengers and Learjets for 12 years. During that time, Cary has learned a lot and worked hard to share his knowledge with those around him. That is probably why he has so easily made the transition from Technician to Tech Rep.
"I love coming to work at Duncan Aviation every day," says Cary. "Taking on the challenging issues inherent in aircraft maintenance is something I really enjoy." As shown in the article "Placing Value on Peace of Mind" (page 7), being a good Tech Rep requires more than just knowing your facts. It requires great communication skills. According to Cary, the best part of his job is working directly with customers and doing all he can to solve their problems. "I especially enjoy it when we are able to deliver above the customers' expectations."