«Spring 2018
ADS-B Straight Talk Book Updated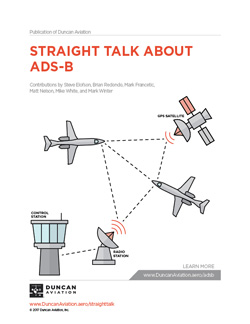 We recently updated our Straight Talk book on ADS-B. Originally written in February 2015 and periodically updated by a team of Duncan Aviation's knowledgeable avionics professionals, the Straight Talk book was most recently updated in January 2018 and is intended to provide practical information about all aspects of ADS-B for the owners and operators of business jets.
The FAA's January 1, 2020, deadline for upgrading to ADS-B-compliant equipment gets closer every day, and there are still several thousand owners and operators who need to make the necessary equipment upgrades to their aircraft. Flying without ADS-B after midnight on January 1, 2020, is going to be fraught with limitations.
Why wait and risk a potential AOG situation? Download a copy of Duncan Aviation's ADS-B Straight Talk book.