«Spring 2018
Avionics Update: What's New & What's Hot

Connectivity
By April 2018, Duncan Aviation's avionics teams and Engineering and Certification experts had completed numerous STCs (Supplemental Type Certificates) and have several more in work for the Gogo Business Aviation AVANCE L5 Wi-Fi system for the following aircraft:
Gulfstream GIV (G300, G400)
Gulfstream GIV-X (G350, G450)
Gulfstream V
Gulfstream V-SP (G500, G550)
Falcon 2000
Falcon 2000 EX (EASy, DX, LX, LX5, S)
Falcon 900
Falcon 900EX (EASy, LX, DX)
Challenger 300/350
Challenger 605 (601-3A, 601-3R, 604, 605, 650)
Global Express (XRS, 6000)
Global 5000
These STCs are all for full equipment installation and approval of the WLAN (Wireless Local Area Network), allowing passengers to take advantage of connectivity speeds on Gogo Biz's new 4G network and have a system that will grow with their aircraft in the future. This ATG (air-to-ground) network has been connecting thousands of business aviation customers for years.
For every STC Duncan Aviation has developed, we have also applied for Transport Canada approval.
Currently, the only 4G ATG network for aviation is the Gogo Biz network, and it's available to aircraft flying above 10,000 feet. Start-up SmartSky received approval for its 4G network and PMA (Parts Manufacturer Approval) authorization. SmartSky intends to deploy its new 4G network throughout 2018.
Gogo recently introduced its AVANCE L3 product line for turboprops to mid-sized jets. AVANCE L3 equipment uses the Gogo Biz 3G network throughout the continental United States, including Alaska, and into parts of Canada.
The Gogo and SmartSky 4G ATG networks are strictly terrestrial-based for North America, so for global travel look to a satellite-based system. KU- and KA-based systems, like Honeywell's JetWave, feature nearly worldwide, high-speed internet connectivity. Gogo recently announced plans for its own second-generation KU network, so look for more information about that later in 2018.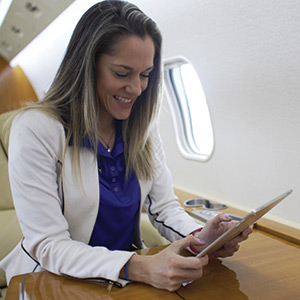 Entertainment
For business travelers who want a top-of-the-line, scalable CMS (Cabin Management Systems) featuring high-definition audio/video, an HD moving map system, AVOD (Audio Video On Demand), and wireless cabin control with touchscreen switching, the two most popular systems are the Rockwell Collins Venue and the Honeywell Ovation Select.
A good time to upgrade to a high-capability CMS is during a major event such as an inspection or an interior refurbishment.
Often the driving force behind a CMS upgrade is the obsolescence of older CMS components. This is especially true of older push-button switches, standard definition LCDs, and DVD players.
"One trend we're seeing in smaller-cabin aircraft is to remove the old CMS and make it cabin-management only, no entertainment components," says Avionics Sales Rep Steve Elofson. "Times have changed, and passengers often prefer to bring their entertainment content with them on their tablets and smartphones. There are a number of companies that offer lower-cost CMSes that feature new and supported switching for shades, lighting, and temperature control but no entertainment components."
Vendors are transitioning from manual updates for navigation databases and electronic charts to on-the-fly upgrades performed via an internet or cellular connection. Similarly, content providers for in-cabin entertainment, such as movies and TV shows, now offer a selection of movies on media servers, and with newer servers, the content updates automatically each month via a wireless internet connection in the hangar, eliminating the hassle of manually loading and managing current content.
"Aircraft with fluorescent or early generation LED cabin lighting are facing obsolescence issues, and there is a demand for color-changing, mood lighting." - Avionics Sales Rep Steve Elofson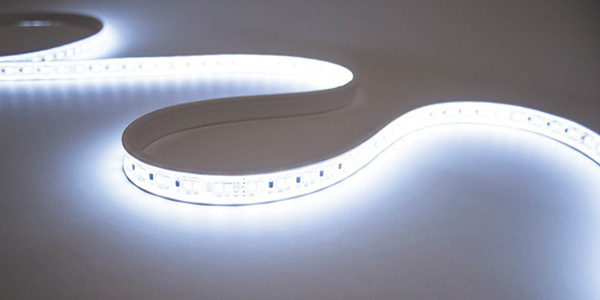 LED Lighting
The hottest trend in LED lighting is replacing mono-colored interior lighting with newer LEDs that are available in the full-color spectrum.
"The latest generation of LED interior lighting is available now, and they continue to be a popular upgrade," says Avionics Sales Rep Steve Elofson. "Aircraft with fluorescent or early generation LED cabin lighting are facing obsolescence issues, and there is a demand for color-changing, mood lighting. Pricing has come down recently, so this is a relatively inexpensive way to update the cabin with the latest in lighting technology."