«Spring 2018
Bob Tooker A Charles Taylor Master Mechanic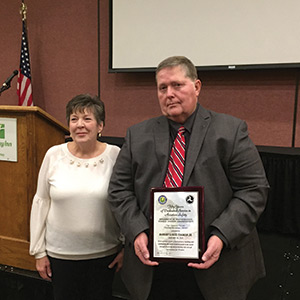 Bob Tooker, a Parts & Rotables Sales Rep and a long-time aircraft technician with Duncan Aviation, was recently honored as a recipient of the Charles Taylor Master Mechanic Award. The Nebraska Aviation Mechanics Seminar committee and the Federal Aviation Administration presented the awards at a banquet on the evening of January 26 in Kearney, Nebraska.
The Charles Taylor Master Mechanic Award is named in honor of Charles Taylor, the first aviation mechanic in powered flight. Award recipients are required to have worked for a period of 50 years in an aviation maintenance career and must have been an FAA-certificated mechanic or repairman working on N-registered aircraft maintained under the federal aviation regulations for a minimum of 30 of the required 50 years.
"I got here by standing on the shoulders of giants," says Bob.
And that's as close as he'll come to taking credit for his many years of service and his many successes.
Bob started working at Duncan Aviation in 1974 as an aircraft mechanic. As one of only 17 mechanics, he joined the team working on Learjet, Bonanza, Baron, and King Air aircraft.
"I took my first test flight with Harry Barr, who is a legend in the aviation industry," says Bob. "He was performing test stalls and wing checks, and that flight pretty much sealed the deal for me. I was hooked on aviation for the long haul!"
In 1984, Bob was asked to help develop a new division at Duncan Aviation: AVPAC (Aviation Parts, Avionics & Components). The group would manage an extensive inventory of parts for sale for various aircraft. Bob traveled around the country, buying old or wrecked aircraft to be parted out, inspecting potential consignment parts, and helping build the inventory from scratch.
His wife Cheryl has been by his side through most of his aviation career. Bob and Cheryl got married in April 1972 and have two children and four grandchildren.
Bob holds Robert Duncan, Chairman Emeritus of Duncan Aviation, in high regard.
'I've always felt encouraged and empowered by the trust Robert put in me early in my career," says Bob. "I want to thank him for the fun ride."