«Spring 2018
Duncan Aviation Engine Services Are Taking Off
Duncan Aviation's Turbine Engine Services has had a busy couple of years. Our Honeywell engine service authorizations have expanded to now include Honeywell AS907 (HTF 7000) Series Minor and Honeywell TFE731 Heavy service designations for the Lincoln, Nebraska, facility.
Ever since, Duncan Aviation has invested in new tooling, training, and team members not just to meet immediate demands, but with an eye to the future.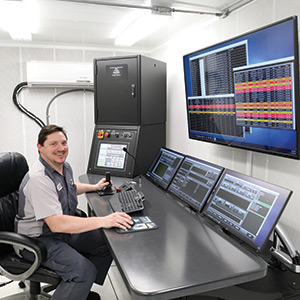 Test Cell
The most noticeable part of the shop expansion is the addition of the 20,000-lb., thrust-class turbofan engine test cell and state-of-the-art control room. Our new test cell is the only one with Atec's latest ADAQ™ Data Acquisition and Control System. It is a fully scalable data system that can be customized to multiple engine platforms and provides intermediate-level, depot-level, production-level, and development-level engine testing capability. From computer hardware, displays, and touchscreens to the data acquisition and PLC control hardware, all run on the latest technology.
Chris Ulrich, Tech 3, has invested time working with Honeywell on TFE731 test cell operations.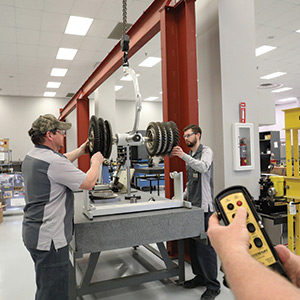 Control room
Juan Fuentes, Atec Electrical Engineer, says the ADAQ 4.0 system is better suited to collect, display, and record quality measurement data. "With a distributed system, we are now able to place measurement equipment much closer to the point of measurement, allowing for a much more responsive and accurate measurement. ADAQ 4.0 was designed to be a highly configurable, more modular system while still encompassing all the features customers like and depend on to safely and accurately test and certify aerospace engines. It's incredibly important to provide a system that can measure and record accurately and precisely."
Overhead Crane
Optimizing productivity, safety, and space, nearly half of the shop is covered by an overhead crane system to allow for easy lifting and precise placement of engine parts during assembly and disassembly. Each engine hoist has a two-ton capacity.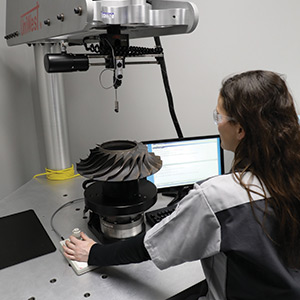 NDT
Duncan Aviation NDT services received Honeywell authorization to perform the required eddy current inspection of the HPC impeller as part of our TFE731 Heavy Maintenance Authorization. With the addition of a new ETC-2000 Jet Engine Eddy Current Scanning System, training, tooling, probes, and reference standards, these new capabilities allow for future growth into GE and Pratt & Whitney engine inspections in addition to the work currently being done on the Honeywell TFE731 engine.
Tooling
A new surface plate, affectionately nicknamed "The Rock" because it is a 48x96x10-inch, solid piece of granite, is milled to an accuracy of +/-.0005 of an inch for precise measurements of subassemblies. The Rock is part of the nearly $1 million in specialized tooling that Duncan Aviation has invested in to support our new Heavy maintenance authorization for the TFE731 engine.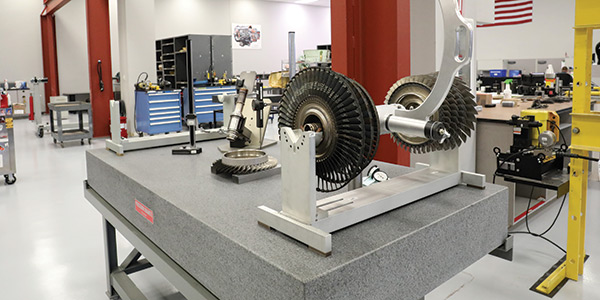 Plans for the Future
If James Prater, Turbine Engine Services Manager, has anything to say about it, the Duncan Aviation engine program is not finished growing. "Throughout the entire expansion project, we have been looking beyond our immediate needs. The decision process for each step of the expansion, and for each equipment purchase, has been examined to ensure that we are in a better position to expand more easily into larger, higher-thrust engine platforms in the future."