«Spring 2018
Special Needs Interns Help Duncan Aviation While Helping Themselves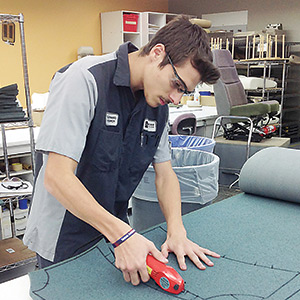 During the 2017-2018 school year, the Duncan Aviation facilities in Battle Creek, Michigan, and Lincoln, Nebraska, hosted 15 students with special needs in two internship programs: Project SEARCH and VOICE. Students who have finished their high-school courses but are willing to hold off getting their high-school diploma or certificate of completion until they finish their internships are eligible for the programs.
For the third year in Battle Creek, students from school districts in Calhoun County participated in Project SEARCH, which is an international program designed to help students with cognitive impairments, learning disabilities, and autism develop work and life skills that will help them find competitive employment.
In its second year at the Lincoln facility, the local VOICE (Vocational Opportunity In Community Experience) program pairs students with cognitive and/or physical impairments or learning disabilities with organizations in the community to help them gain job skills and develop life and communication skills so they can live independently.
"The VOICE and Project SEARCH programs have become a part of our Duncan Aviation Family, and I am proud of how we have all embraced the student interns," says Connie Duncan, wife of Duncan Aviation Chairman Todd Duncan and a member of the Lincoln School Board. "I've always said we will learn just as much from them as they will learn from us. I was a special education teacher for 17 years, and I understand the importance of programs that provide on-the-job training. Everyone wants to feel like a contributing member of society, and these programs give student interns a chance to learn work and life skills so they can contribute to their communities, too."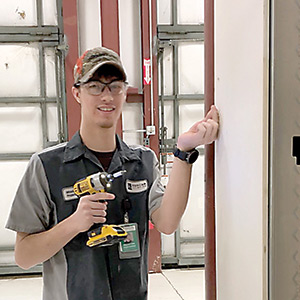 OJT/Classroom Combined
At both facilities, student interns work with a Duncan Aviation mentor and are part of a team for half-day shifts. After taking a break for lunch, the students then convene in on-site classrooms with teachers from their respective districts for several more instructional hours. In the classroom, the students work on skills such as writing and sending workplace-appropriate email, preparing resumes, developing interview skills, navigating workplace communication, resolving disagreements with co-workers, and maintaining employment. They're also taught practical information about self-advocacy, leases and rental agreements, household budgets, transportation options, and financial literacy.
These internships are fully immersive–students often interview for their positions, go through new employee orientation, show up for work on time, stretch if their department stretches during their shift, perform their assigned tasks, attend staff meetings when they're scheduled, and participate in holiday lunches and department potlucks, including bringing a dish to share.
"Working at Duncan Aviation is a life-changing experience for our students," says Sheila Ritsema CISD–Project SEARCH Teacher at Duncan Aviation in Battle Creek. "They really love this program. As they come out of high school and into Duncan Aviation, they're treated as adults and accepted by all of the team members as just another Duncan Aviation employee. We really see their level of maturity increase as a result of these internship opportunities."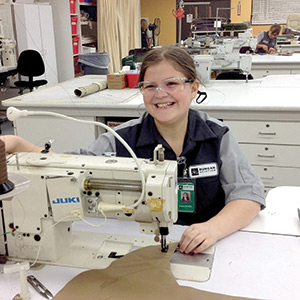 Everyone Benefits
The VOICES program has been part of the Lincoln Public Schools for more than 14 years, and Duncan Aviation is one of 11 area organizations that participate. The 10 students in Lincoln rotate to a new position in a different department every nine weeks from September through May.
"We encourage them to pursue internships that align with their interests, and we ask them where they'd like to be in a year, five years, and 10 years to get them to look more broadly at their roles here," says Lisa Thiessen, Lincoln Public Schools Special Education Teacher with VOICE. "During this cohort, students have served internships in Facilities, Shipping & Receiving, Interior Completions, and Avionics, and they take a great deal of pride in their work."
In the Interior Shop, interns have checked for expired products while performing shop audits, straightened the Cabinet Shop, maintained equipment, and helped with various office tasks. In Shipping & Receiving, they help with receiving, checking packages in and sorting them for delivery. In Avionics, interns are responsible for entering part numbers in the database and tagging old equipment that's been removed from aircraft. The Facilities shop keeps the interns busy cleaning hangars and bathrooms throughout the company.
"Because our students are capable of doing these jobs, they take on quite a bit of responsibility," says Sheila. "We hear back from their team leaders and mentors that when they teach the students to do their jobs, that creates another independent team member and frees other team members' time for other tasks," says Sheila. "It's really a great experience for everyone involved, and especially the students who are learning transferable, marketable skills. They know how to follow directions, be safe, follow a checklist, and use various tools."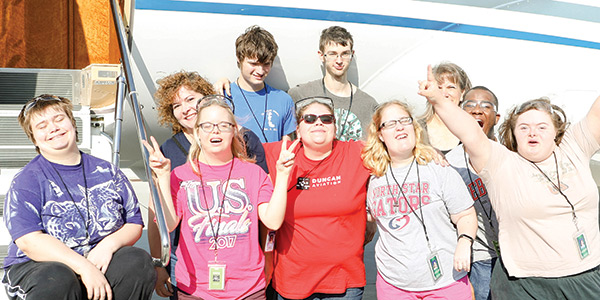 Project SEARCH:
Started at the Children's Hospital Medical Center in Cincinnati, Ohio, in 1996, Project SEARCH (projectsearch.us) trains people with developmental disabilities so they can secure competitive employment.