«Fall 2007
Citation: The Seven-Year Itch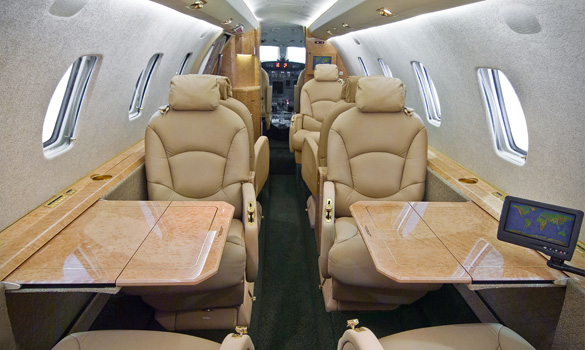 The Seven-Year Itch
Refurbishment Brings Citation Up to Snuff
Good Vibrations
ALTO bills itself as "audio designed with your aircraft in mind." And customer experience proves that.
Expectations of entertainment system sound quality in an aircraft in flight are not high. But ALTO has set a new benchmark. Their custom-engineered audio systems are designed to deliver sound that will give passengers a whole new aircraft entertainment experience.
ALTO's unique methods – cabin acoustic mapping, premium equipment and incorporating the unique needs of each listener – result in an aircraft audio experience rivaling some of the best home entertainment systems.
Many factors determine the life of an aircraft interior—passenger loads, flight hours and its use. In general, however, seven years is more than the typical interval between refurbishments for a corporate aircraft. In only four to five years of average corporate usage levels, the wear and tear that has taken place inside the aircraft begins to show. The seats are worn around the edges, the carpet has a traffic pattern and the color scheme and seat design may be dated. Aside from the visible deterioration of the materials, some of the interior mechanisms will show signs of age. Moving parts wear out—latches, slides, window shade mechanisms, seat mechanisms and tambour doors all have a life limit. By the seven–year mark, most owners are overdue and itching to take care of the cosmetic and mechanical annoyances.
On paper, this Citation Excel looks almost as good as new. It is only seven years old and meticulously cared for throughout its short life. But the owner had the Seven-Year Itch: it was time to give the interior and exterior a full refurbishment while at the same time adding some luxury upgrades to a very basic interior.
If five years or more have come and gone since you last updated your aircraft's interior and you are evaluating the value of a refurbishment, consider this: your aircraft should be a reflection of its use, its passengers and its value. What does your aircraft say about you?
Refurb features:
A full interior refurbishment including headliner, cabin windowline, lower sidewalls, curtains, seats and installation of a new custom carpet.
Full veneer of all of the cabinetry in Birdseye Maple with a high gloss finish.
New and redesigned cabinetry including a Jepp cabinet modification, two new tables and a new magazine rack.
New plating with a polished gold finish.
New lavatory sink fabrication and installation. This alone was a major upgrade: new plumbing, a drain and a heated water tank had to be added. The new sink and cabinet were fabricated and a one-of-a-kind faucet was designed. All of it was created and installed on-site by Duncan Aviation experts.
A second Universal FMS was installed in the cockpit. In the cabin, many entertainment upgrades were completed including ALTO speakers, Rosenview LX moving map, Rosen bulkhead monitor, entertainment switching and Rosen monitor bases at six seat positions with two monitors installed.
Full exterior refurbishment.