«Fall 2007
The Glass Box Project: Back in Black


Part 3 of a 3-Part Series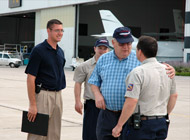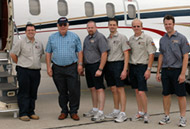 The Astra flight deck is Back in Black and features the latest Rockwell Collins Pro Line 21 IDS flight display system with XM weather and Jeppessen charts on the panel. This sleek panel design gives the look and feel of a new aircraft. It includes the most recent version 5 software adding new features such as space saving Engine Indication on the MFD and an ADI that extends "wall to wall." The Pro Line 21 IDS integrates with existing sensors, radios, flight management systems and autopilots, adding safety and value to the aircraft. Corbin McNeill's (owner/operator) Astra has been upgraded with new Collins TCAS, AHARS and RTUs currently found on the SPX and G100 airframes. His aircraft also has been upgraded with a new Iridium telephone. Corbin selected Aircell Axxess for its two-channel satcom capabilities and its growth path to Wi-Fi broadband data connectivity next year.
This completes the second Astra by Duncan Aviation. Currently, Corbin is enjoying his newly refurbished Astra in comfort and style with added safety for his crew and passengers.
"My experience with Duncan Aviation (and it is my first experience) has been quite excellent. They brokered the purchase of the Astra, conducted the pre-buy evaluation and in addition to the extensive modifications, have done routine maintenance on the aircraft. Because of their extensive experience and detailed knowledge of the Astra I intend to make Duncan Aviation my principle maintenance provider. Also, Duncan Aviation brokered the sale of my Cessna Citation CJ2, so I really had a total package deal that made my involvement much simpler."
When contemplating an upgrade for your Astra consider the emerging program here at Duncan Aviation. "With the sustained high prices for new aircraft, refitting an Astra to an Astra is a sensible alternative that can provide long-range, comfortable transportation integrated with the most modern avionics that greatly enhance situational awareness and safety. It is particularly appealing to an owner/operator who sees first-hand the advantages of these modern avionics," said Corbin. The added benefits of greater aircraft value and extended warranties to the purchaser on value added packages make the program a uniquely feasible option. The experience, skills and knowledge of our Astra team is unmatched and worthy of your trust for maintenance and refurbishment needs.
For more information on the program or other cockpit needs, please contact Andy Biller or Steve Elofson at 800.228.4277 or Dennis DeCook at 800.525.2376.