«Fall 2007
AOG Problems Solved Fast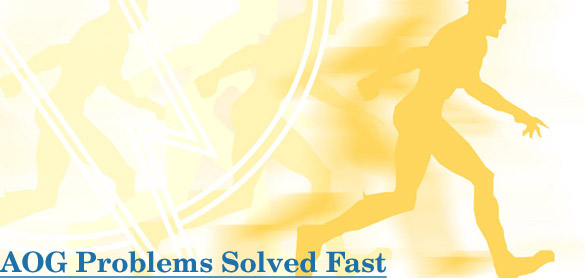 The ability to solve any type of problem fast is rare in today's world, virtually nonexistent. It takes on a near superhero image of wonder and legend. The Flash comes to mind, a superhero who had the capacity to move at unimaginable speed to "save the day." Technology is moving humans into areas where outside-the-box vision, rather than thinking, becomes the prerequisite for a Flash-like rapid response. In aviation, no situation is more critical than the dreaded AOG. It is the one, three-letter acronym no one wants to hear or see. It is a "save the day" situation that requires immediate attention and a lightning-quick response from the most trusted name in aviation, Duncan Aviation.
877.522.0111 Ask For Engine Rapid Response
In 1998, Duncan Aviation decided that its top-rated services needed to be accessible to customers 24/7 anywhere in the world. Having major engine service centers in Lincoln, Nebraska, and Battle Creek, Michigan, along with more than 20 satellite facilities was good, but not good enough for Duncan Aviation and the thousands of customers who routinely depend on us. Operators who land at airports with little to no capacity for servicing their aircraft need fast, easy options for getting back in the air if problems arise.
To serve operators in these situations, Duncan Aviation developed Rapid Response Teams (RRT). Besides Lincoln and Battle Creek, the first RRT was located in Dallas, Texas, specializing in engines. The Engine RRT is led by Joe Stokey. Joe is on the front-line of this program, setting up the arrangements and contacting the teams.
Soon the program expanded to Denver, Chicago, Ft. Lauderdale, New York and Scottsdale. If you're AOG with an engine problem, any of these teams can make it to your location in less than 24 hours; outside the U.S. takes slightly longer, but we'll be there ASAP. To be there any faster, we'd have to follow you on your trips!
The Engine RRT has 13 technicians whose primary passion is to be ready to get Duncan Aviation customers or anyone else out of a jam, anywhere on the planet. Since inception, this team has performed more than 2,700 of these special AOG events. That's a lot of relieved operators! Duncan Aviation's Engine RRT has capabilities on all Honeywell APUs and 731 and 738 engines, all Pratt & Whitney turbofans, GE 734 engines and Williams FJ44 engines. Although the RRT technicians are experts in their own right, Duncan Aviation believes in talking through a problem as extensively as possible, so the field technicians also rely on the deep experience of our engine technical experts in Lincoln and Battle Creek.
A regular Duncan Aviation customer recently acquired first-hand knowledge of just how good the Engine RRTs are, in Japan! After being called, the RRT got this customer back in the air and back to the U.S.
Duncan Aviation customers tell many of their peers about their RRT experiences and that is promoting a rise in calls from operators who are not as familiar with Duncan Aviation services calling for field help with engine AOG situations. "We have great engine rapid response team members. I've never worked with a better group of aviation professionals; they're very talented technicians," Stokey imparts.
877.522.0111 Ask For Airframe Rapid Response
Of course engines aren't the only aircraft system that might fail or be damaged in the field; airframe issues can also arise. So Duncan Aviation provides 24/7 airframe support out of Lincoln and Battle Creek. With more service authorizations than any other company in the world, Duncan Aviation has the technical experience to support nearly any type of corporate aircraft including Astra/Westwinds, Challengers, Citations, Falcons, Gulfstreams, Hawkers, Learjets and Embraer. This type of support can only be accomplished by people who are totally devoted to aviation and who know how to build a team of technicians who are committed to customer service.
Duncan Aviation technicians in Battle Creek recently assisted a long-time customer and tenant of our Kalamazoo facility after a tug came loose from their aircraft, scraped the left side of the fuselage and damaged the left wing during a trip to Florida. The Battle Creek RRT immediately went into action to help the customer get the aircraft back to Kalamazoo.
It is not unusual for Duncan Aviation to dispatch its own aircraft to expedite AOG repairs and possibly transport passengers to their next destination. Airframe RRTs have been dispatched throughout the world to places like Brazil, Egypt and many countries in Europe. In fact, because of Duncan Aviation's service authorizations, many OEMs use Duncan Aviation for AOG situations if their resources are stretched too thin. OEMs trust Duncan Aviation to get there fast, assess the situation and make the necessary repairs to keep aircraft flying. That's one of the reasons we have these authorizations, the fact that customers rely on close coordination with the OEMs.
Beyond a serious AOG situation, Duncan Aviation's RRTs have performed many minor inspections, service bulletins, pre-buy evaluations and those all-important damage assessments. Duncan Aviation's vast, worldwide network of aviation contacts, vendors and OEM relationships makes the company the first choice for stranded and distressed operators.
Parts, Components and Services (PCS)
877.PCS.QUIK or 800.LOANERS
Not every AOG situation requires a team to be dispatched. Sometimes operators simply need a fast and accurate response for an exchange, loaner, repair or overhaul. Heading off an AOG event could be as simple as getting some technical advice.
Duncan Aviation's new Parts, Components and Services (PCS) has streamlined the operations of our former Parts Support Services and Component Services areas to provide customer-friendly, comprehensive solutions to aircraft operators with any need. PCS consists of two cross-trained teams who are able to utilize all the resources of Duncan Aviation to solve a wider variety of your aviation problems than ever before. Both teams are comprised of some of the brightest people in aviation today, completely dedicated to only one thing: Keeping you in the air! One call to 877.PCS.QUIK (877.727.7845) or 800.LOANERS unleashes all the services that these two teams provide, allowing you to change your concept of "business as usual." With PCS, a universe of aviation services is at your fingertips 24/7. PCS personnel are trained to get you:
Exchanges, Rotables & Time and Material Exchanges
Avionics, Instrument and Accessory Loaners
All Components, Avionics, Instrument or Accessory Repairs or Overhauls
Propeller Service
Locator Service
Technical Advice
An Outlet to Sell or Consign Parts to PCS
A Robust Network of Satellite Shops
When you're AOG or in critical need, all you need to remember is Duncan Aviation will find a way to
solve the problem. Duncan Aviation's RRTs and PCS are almost like having a combination personal technician / tech rep / supplier with you on your flight—except you don't have to feed them!