«Fall 2015
Welcoming the HTF 7000 Minor Maintenance Authorization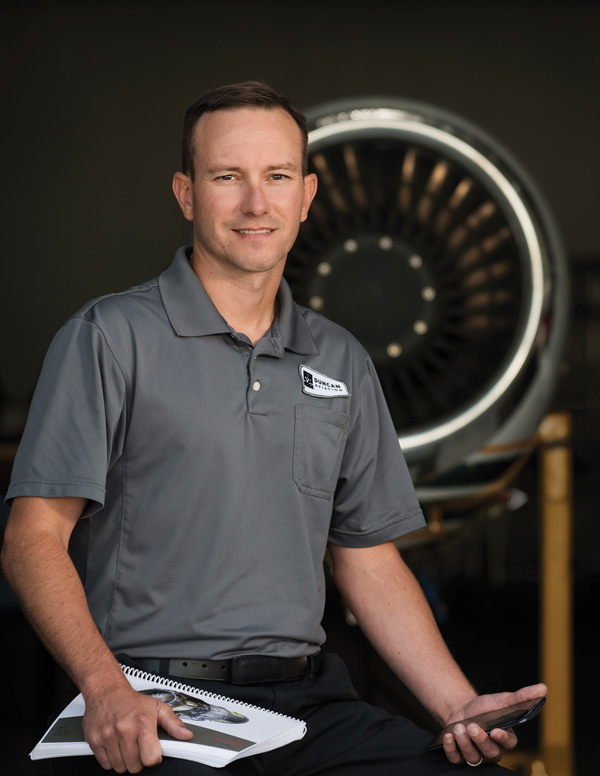 "With the knowledge and experience we have acquired, as well as more than $1.5 million invested in tooling and spare parts for the HTF 7000, we're ready."
—Shawn Schmitz, Turbine Engine Tech Rep
Shawn Schmitz, Duncan Aviation's turbine engine tech rep, spent time this summer in Phoenix, Arizona, getting to know the Honeywell HTF 7000 engine. For two weeks, he worked hands-on with Honeywell instructors, tearing the engine down as far as would be possible in the field and then putting it back together again.
He did this so he could better serve customers and in preparation for Duncan Aviation's Honeywell AS907 (HTF 7000) Series Minor Maintenance Authorization, which was awarded in mid-2015.
"I understand why customers like this engine. It is very reliable and has a good reputation in the fleet," says Shawn. "It is the next generation of Honeywell products, and it will be around for a long time."
The HTF 7000 Series engines are installed on several popular business aircraft, such as the Bombardier Challenger 300 and Challenger 350, the Gulfstream 280 and the Embraer Legacy 450 and Legacy 500. The operators of these aircraft rely on Duncan Aviation to provide them with comprehensive airframe services and have asked us to seek out the HTF authorization in order to service their engines, too. Now, we can.
Duncan Aviation and Honeywell have a long history that dates back more than 34 years when Duncan Aviation received major level authorization to work on the Honeywell (then AiResearch) TFE731 engines. And Duncan Aviation's engine technicians are just as committed to their Honeywell customers now as they were back then.
Alongside Shawn, other engine technicians were factory-trained to perform intermediate level repairs, with many more scheduled for additional training in the coming year. These technicians are located at Duncan Aviation's headquarters in Lincoln, Nebraska, and throughout the engine Rapid Response team network across the United States.
It has not been a fast or inexpensive endeavor. But developing new service offerings never is. "With the knowledge and experience we have acquired, as well as more than $1.5 million invested in tooling and spare parts for the HTF 7000, we're ready."