«Fall 2015
Aircraft Sales and the Art of Listening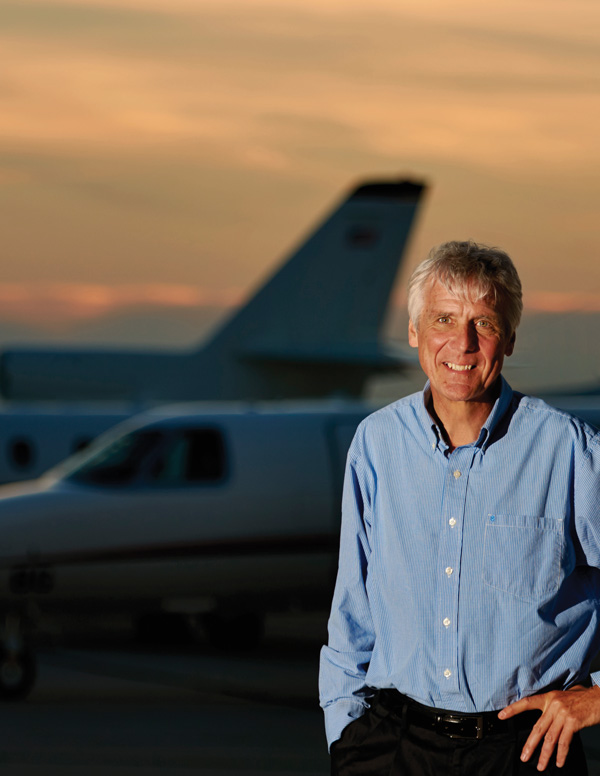 "Doug was honest and upfront. He provided me with the facts without the fluff."
—Peter Burwell, Burwell Enterprise President & CEO
While Burwell Enterprises' 39th aircraft, a Falcon 900EX, was in prebuy at Duncan Aviation in Battle Creek, Michigan, Peter Burwell, president & CEO, sought recommendations on whom to work with in order to sell number 36, a Challenger 601. It took no time at all before he was handed the name of Doug Roth, one of Duncan Aviation's Aircraft Sales and Acquisition team members.
Burwell Enterprises has operated and flown so many aircraft over so many years that when it comes time to add to or upgrade their fleet, Peter puts his trust in the experience of his flight department to research and find the right replacement aircraft while at the same time working with a broker to handle the previous aircraft's consignment.
Unfortunately, Peter says, the consignments have not all been positive experiences. "I have had several brokers feed me a line of garbage, telling me what they think I should do in order to achieve their objectives, not mine." So he was skeptical when he picked up the phone to call Doug.
Doug Roth has been selling aircraft for customers for more than 36 years. During that time, he has learned that no two transactions are alike. What works for one customer will not necessarily work for the next. So the first thing he does when he talks with a client is LISTEN.
Within a few minutes of speaking with Doug on the phone, Peter knew this experience would be different. "Doug was honest and upfront. He provided me with the facts without the fluff. He shot me straight and I believed him," said Peter. "I feel I can trust him."
After meeting with Peter and examining the Challenger, Doug tapped into the technical resources at Duncan Aviation. Armed with the knowledge of airframe, engine, avionics and interior experts and his personal knowledge of and experience with the preowned aircraft market, Doug told Peter exactly what he would do to best represent him and the aircraft. Then, he followed through and did what he said he would.
"Whether buying or selling, I work for my client every time, keeping their objectives in mind. " says Doug. "I listen to them and create a plan that leverages all the resources I have at Duncan Aviation combined with my knowledge of aviation and the aircraft sales aftermarket."
It may be several years down the road, but Peter says he will absolutely return to Doug to sell number 39.