«Fall 2015
Duncan Aviation. Experience. Unlike any other.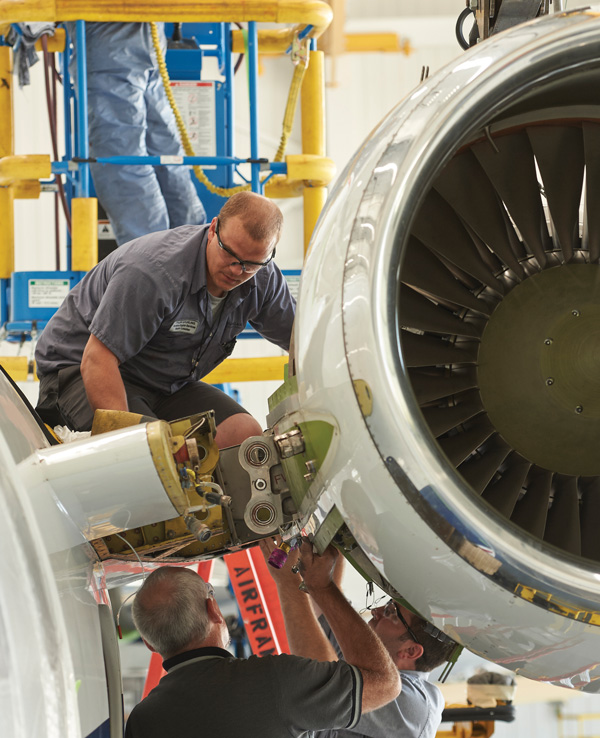 As a family owned company, we can't always outspend the competition, so we out-support them. Ask our customers why they return, and they'll tell you it's the attitude and experience of our team members.
Take care of your people.
The majority of businesses look to their customers to determine how they should model their processes. At Duncan Aviation, we do things a bit differently.
Most companies believe the base of their business is their customers, and that above all else, they must take care of the customer. Obviously, customers are vitally important. But we have discovered that it is even better to treat your team members as your base.
"If you do right by your people, they'll take care of their customers, and the company will flourish," says Chairman Todd Duncan.
Team members who feel respected, rewarded and secure are, by far, the most productive, innovative and responsive. That's because they genuinely enjoy their careers and their customers.
"I know the quality of our customer support will never exceed the quality of our people, which is why we invest heavily in team members who can deliver," says Todd. "We hire those we trust and trust those we hire. I'm proud of each and every team member of Duncan Aviation."
For Duncan Aviation, investing means providing continuous education, individualized training, an on-site family health center and state-of-the art hangars that offer a premium work environment—just to name a few.
There's no substitute for knowing our customers.
Listen. Hear what your customers and team members are saying. Take suggestions. Follow up.
"We engage our customers through advisory boards and day-to-day discussions. When we make changes based on their suggestions, they get the most out of our services, and they tell others," says Todd.
Even if that one change only affected one project, it was worth it because that one project gives our team members the ability to cultivate a lifelong relationship. And that relationship goes beyond the daily emails, phone calls and squawks.
"Our team members know our customers on a personal level," says Todd. "Many are close friends outside of the workplace."
Support can be a means to an end, or it can be a dynamic aspect of our business where we really connect with the customer. Duncan Aviation has chosen the latter.
Individuals matter.
Kind words are priceless and cost nothing. A hello with a smile and a genuine thank you convey how important our customers are to us.
"We're able to maintain our level of quality by taking one aircraft at a time and one customer at a time," says Todd.
Nearly 90 percent of Duncan Aviation's customers operate one aircraft. Whether they need a single part or an entire interior, team members treat them with the same level of respect.
As we grow in size and in locations, it's important to make sure our culture continues to take that individual approach.
"We're not the company we were 20 years ago, and we won't be the same company in five or 10 years," says Todd. "We will continue to evolve. But we will always be a company that shows our customers how much they matter to us and listens to their needs," says Todd.
To hear Todd Duncan speak about Duncan Aviation's approach to business aviation, visit www.DuncanAviation.aero/videos/experience.