«Fall 2015
Duncan Aviation Partners with Gulfstream Aerospace Corporation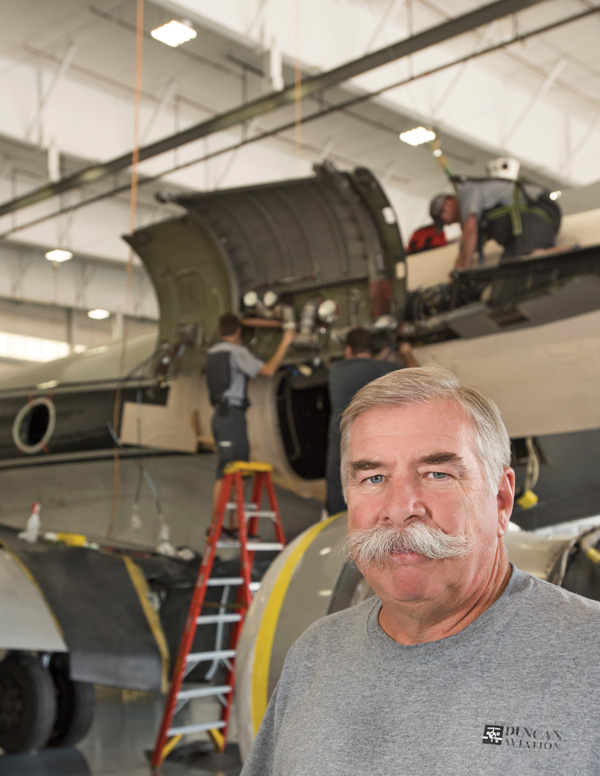 In March 2015, Gulfstream Aerospace Corporation named family owned Duncan Aviation as a Gulfstream authorized warranty facility. Duncan Aviation is the only Gulfstream authorized warranty facility in the United States, and this news thrilled many Duncan Aviation customers who had been asking us to look at adding these capabilities.
"I was happy to hear that Duncan Aviation is now a Gulfstream authorized warranty center," says Sanderson Farms' Aircraft Maintenance Manager Allen Ulmer. "I've been a customer of Duncan Aviation for 17 years, and we've been taking our three G150s to Lincoln for a year now. We've had work done on our interiors and engines, and we've also taken the aircraft in for inspections, paint and avionics modifications. I've been very pleased with all of the work we've had done."

In addition to the Lincoln facility, Battle Creek, Michigan, and Provo, Utah, are also able to perform warranty work and provide maintenance services and repairs within our regulatory approvals on the G100, G150 and G200 aircraft.
"There is no question this is an exciting opportunity for us," says Tech Rep Tim Garity. "And the nice thing is we're already familiar with these models. We've been married to the G100/Astra for the last 30 years. It's a really unique aircraft, with quite a devoted following. Mechanics love to work on them because they're easy to maintain and the parts are accessible. And pilots love to fly them."
In order to comply with the terms of the agreement, Duncan Aviation agreed to invest in team member training. As a result, more than 20 team members from all three of our main facilities have gone through avionics and airframe training for the G100, G150 and G200 at FlightSafety in Dallas, Texas.
Other technicians are scheduled to complete further training in the coming months. Thus far, Duncan Aviation has invested more than $250,000 in tuition alone for training and more than $200,000 in tooling for the three models. We want our customers to be confident that Duncan Aviation's technicians are among the most knowledgeable and skilled in the aviation industry and that our facilities are more than capable of completing the work they need.
"This partnership, which represents a new chapter in our long history with Gulfstream, is a source of great pride for all of us here at Duncan Aviation," says Chairman Todd Duncan. "Gulfstream is recognized the world over for the exceptional quality of its business jets and its commitment to excellence. We are excited to begin providing our mutual customers with access to three additional facilities in the United States."