«Fall 2015
Falcon 900 Workscope: Everything and the Galley Sink
"We plan ahead and work hard. We still encounter hurdles, but we work together as a team to overcome them."
—Tony Houk, Finish Team Leader
The best laid plans often go awry. Business aviation's maintenance division is no exception. Most maintenance directors will tell you it's almost impossible to plan for everything that might pop up during a large inspection that is coupled with a variety of updates and upgrades.
So how can Duncan Aviation guarantee turntimes? The answer is really pretty simple but often overlooked by those who don't have the right people and the right processes.
"We plan ahead and work hard," says Finish Team Leader Tony Houk. "We still encounter hurdles, but we work together as a team to overcome them."
Together Everyone Achieves More
Business jets are incredible assets. When they're in our hangars for months, we recognize the owners are missing a valuable resource, so we do our best to meet turntimes and set efficient schedules to get customers in, out and safely on their way.
When an 18-year-old Falcon 900 was added to the schedule at Duncan Aviation's Lincoln, Nebraska, location, promising a finite out date seemed far-fetched—because it was. A laundry list of inspections, avionics, interior upgrades and new paint packed the to-do list.
So Completion Sales Rep Tracey Boesch requested the customer bring the aircraft in for a pre-inspection.
"It's difficult to plan an accurate out date on most larger projects. Once we considered other factors that complicate the process, such as age of the aircraft and size, our teams knew they needed to inspect the aircraft to properly plan prior to input," says Tracey.
During the inspection, the airframe, interior, install, engineering, paint and sales teams gathered data and spoke with the customers, gaining a comprehensive understanding of their expectations before arrival.
"We took advantage of all the data we obtained from the pre-inspection, addressing any gaps in the plan prior to the aircraft's arrival," says Project Manager Tracy Hein. "It made the input much smoother because we were already on the same page."
During the inspection, a handful of corrosion squawks required extra hours, making serious teamwork mandatory in order to adhere to a tight schedule.
"Some of the teams needed access to the same areas. So teams changed their schedules to second or third shifts so we could keep progressing at the rate we needed to," says Tracy.
All the teams realized they needed to make it happen, even if that meant working in hourly blocks, or changing shifts and working weekends.
"It is always great to see how accommodating airframe, paint, interior and install teams are to one another, especially during crunch time when everyone needs to be in the same spot," explains Tracy.
And all that teamwork paid off. The aircraft delivered, the customers were ecstatic and Duncan Aviation was able to add another success story to the books.
"It is always great to see how accommodating airframe, paint, interior and install teams are to one another, especially during crunch time when everyone needs to be in the same spot."
—Tracy Hein, Project Manager
Bright Idea: Winglet Covers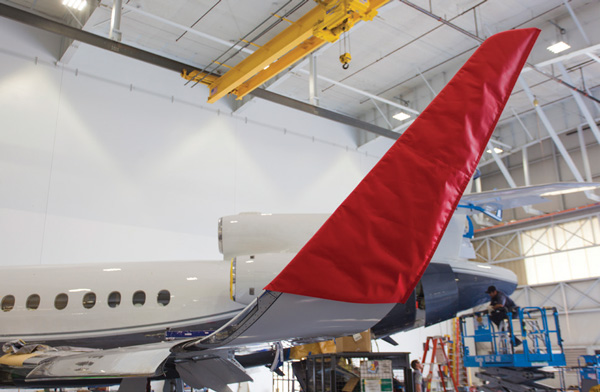 At Duncan Aviation, we push our team members to think outside the hangar. If a team member or customer has a request or suggestion, we see where we can implement that process into other areas.
So far, we've saved tens of thousands of dollars and countless hours. The most recent bright idea was the implementation of winglet covers.
A customer requested the covers because he thought the additional visibility of a bright winglet cover might prevent in-hangar damage. Upholstery Master Specialist Ron Phillips created a pattern and fabricated these using a red Herculite on the outside for high visibility and lining the inside with a flannel material to protect the aircraft's finish.
"We added Velcro for easy installation and removal," explains Upholstery Team Leader Mark Grant. "We also added 'remove before flight' tags to catch the pilot's attention."
Not only does the fabric protect the winglets, but it also makes them even more visible during hangar dumps, moves and stacks.