«Spring 2019
Worldwide Mobile Engine Rapid Response Services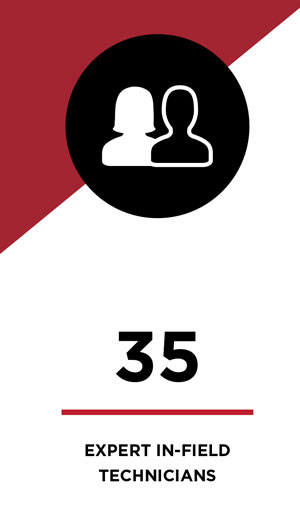 Martin Delisle started his week in Wilmington, Delaware, to work an AOG on a Bombardier Challenger 850 APU and ended it in Calgary, Alberta, Canada, for a scheduled inspection on a GE CF34 on a Bombardier Challenger 601. Traveling cross-country to perform needed engine services is nothing new for this Duncan Aviation RRT (Rapid Response Team) Leader based out of Long Beach, California.
In fact, it's nothing new for any of the 35 Duncan Aviation engine RRT Technicians who make up the largest independent mobile engine services team in the industry. Located at 17 convenient launch locations across the US, these teams complete more than 2,200 engine projects per year, wherever the aircraft are located.
One Team, One Number
Based out of Lincoln, Nebraska, Rustin McCullough has flown east to Tennessee for a pre-buy borescope, then immediately to Denver, Colorado, for an engine R&R on a Citation X. "We go where we are needed," he says.

"It doesn't matter where an operator is located or if there is an established RRT nearby," says Shane Heier, RRT Assistant Manager-West Coast. "We will answer the call and bring in the necessary resources, both technicians and tooling, to provide what is needed, when and where it's needed."
Working together, Shane and Andrew Arcuri, RRT Assistant Manager-East Coast, manage all 17 RRT launch locations. "We no longer operate exclusively in defined regions," says Andrew. "We are one team supporting the business aircraft fleet where it is located worldwide."
Mobile Engine Expertise
"This is why I like working with Duncan Aviation," says Mark Nugent, DOM for Two Bear Management, LLC. "They have the technical experts available who listen and are able to get to the core of the problem quickly." Mark recently had Rustin and Kyle Stevenson, another RRT Technician from Provo, Utah, respond to an AOG at the Two Bear Management hangars located between two national forests in remote Northwest Montana. "I honestly don't care where they come from, because I know when they arrive, they are ready to work together."

Coming together for the benefit of the customer was evident during one week in January. The New York RRT hit the road and traveled roughly 2,350 miles in support of operators in the Northeast/Mid-Atlantic region. Technicians from Atlanta, Georgia, and Long Beach were reallocated to the area to lend a hand. Altogether during that week, 10 RRT Technicians traveled significant distances from their home bases to assist other RRT teams with 17 AOG calls.
There is a high level of trust among the technicians when they are brought together. "The responsibilities of the job are taken on by the whole team," says Martin. "It doesn't matter who is there. Everyone takes personal accountability for their portion of the job, and together, we get it done." That includes the maintenance, paperwork, and quality assurance of the entire event.
Jeff Lowery, a Technician based out of Scottsdale, Arizona, has traveled to all parts of the country assisting every team in the network. "I know all the guys really well and never leave with any concerns about whether or not they will be prepared. They pretty much do things the same way as I do them, and I trust their work."
"I have had a 30+ year relationship with Duncan Aviation and respect every aviation expert they employ no matter the location," says Mark with Two Bear Management. "They are a great first choice when it comes to mobile engine services. I trust that whoever they send is more than capable of doing the job right. They are a great group of guys and always professional."
"All of the RRT Technicians have a great deal of experience," says Andrew. "That makes it easy to put teams together that will be successful and get the job done."