«Spring 2019
An Excellent Maintenance Experience Begins with a Comprehensive Proposal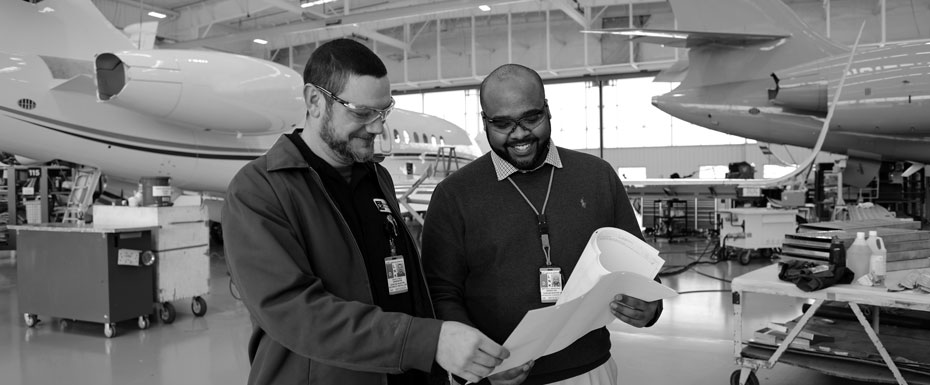 For every hour they spend in the air, business aircraft require roughly two hours of ground maintenance. This quickly makes your aircraft service provider an important member of your flight department's team.
Duncan Aviation team members view themselves as part of your team. When you call about an upcoming inspection or modifications project, they involve you in the development of the project workscope and proposal. This is vital because the eventual flow of work and the ultimate cost of the project are communicated within that document.
Making the proposal as comprehensive and accurate as possible, and then ensuring the customer understands what is covered, is critical to a project's ultimate success and customer experience. Developing a proposal is much more involved than a brief conversation between an operator and a sales rep, though. A look at the behind-the-scenes process of developing a Duncan Aviation proposal helps show the importance of relationships, trend data, technical experience, and trust.
Relationships Are Key
When a proposal is requested, a sales team is assigned with technical Sales Reps from each area involved, like airframe, engine, avionics installations, interior modifications, paint, landing gear, and others as needed. These team members interview the customer to gain the best possible understanding of the necessary project workscope, the customer's preferences and desires, and the required schedule and service location.
Because business aviation is dynamic, it is important that these key players have a deep understanding of the company's resource availability. Duncan Aviation Sales Reps constantly reach out to shop Team Leaders, shop Schedulers, company Schedulers, Tech Reps, Project Managers, and Regional Sales Managers to discuss schedule availability, the necessary labor hours for various tasks, and overall hangar space.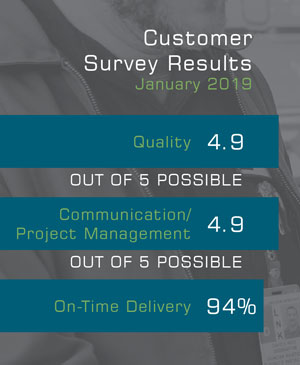 "Scheduling projects requires both a big-picture view of overall hangar capacity and where the aircraft needs to be located for team efficiency, and a more detailed view of project work flow that takes into account how many shop labor hours will be required and at what point in the project each shop needs aircraft access to best meet the project and downtime requirements," says Doug Schmitt, Operations Planning Coordinator at Duncan Aviation's Lincoln, Nebraska, location.
This requires continual communication between the various departments and team members.
"Most of my typical day is spent on the phone," explains Troy Nail, an Airframe Service Sales Rep with Duncan Aviation. "When I am not speaking with external customers, I am talking with other Duncan Aviation team members regarding proposals currently in work, hangar space, and future pending events."
The Data Involved
When quoting work, Duncan Aviation Sales Reps rely heavily on data the company has collected from previous projects. The sales team has access to past project data that extrapolates the number of hours required to perform certain tasks and shows them averages, clusters, and outliers so they can more accurately determine the hours needed for various services.
Sales Reps also consider data they have regarding a specific aircraft and its condition. If the aircraft has been in a Duncan Aviation facility before, the technical teams who serviced it usually have a good idea of its care and maintenance level. The global region where an aircraft is based can also affect the number of hours that will be required to complete certain tasks. Airframe Tech Reps and Shop Team Leads also provide valuable insight into how many hours are truly required to complete a specific workscope.
Other Important Intangibles
In addition to price and schedule, Duncan Aviation proposals have many inherent intangible benefits that might be hard to quantify but that can be felt at delivery and throughout the life of an aircraft. Intangibles vary with each customer but can include things like an aircraft's resale value, trust in the facility's services, ongoing support through the Rapid Response engine teams, Satellite Avionics Shops, and airframe- and system-specific Tech Reps, as well as full insurance and liability coverage during the work.
Successful leaders surround themselves with great team members. When operators call Duncan Aviation for a comprehensive aircraft service proposal, they are taking the first step in that direction. Welcome to the team!
---
One of the comments people have when they tour a Duncan Aviation full-service facility is, "I had no idea you provided all these services."
Our business aircraft support truly does cover nose-to-tail support for the most-used business aircraft of today. This includes airframe and engine maintenance and overhauls, paint, interior and cabin upgrades, accessory inspections and overhauls, and parts.
Here are some statistics about the services our full-service team members provided during the week of January 14, 2019.