«Spring 2019
Keeping It In The Family
The most important elements of the Duncan Aviation plans, however, are our people; we believe our team members are the reason we stand out in the business aviation industry."
- Todd Duncan, Chairman
Duncan Aviation has developed annual business plans and strong, long-term strategic plans for the past 20 years. The effort is led by the Senior Management Team, and all Duncan Aviation departments, shops, and team members are involved.
"The most important elements of the Duncan Aviation plans, however, are our people; we believe our team members are the reason we stand out in the business aviation industry," says Chairman Todd Duncan. "Therefore, succession planning and career planning are also active throughout our company and at the Duncan family level."
It's A Family Affair
Duncan Aviation has been a family owned and operated business since Donald Duncan started the company 63 years ago. After his untimely death in 1981, his son Robert took over.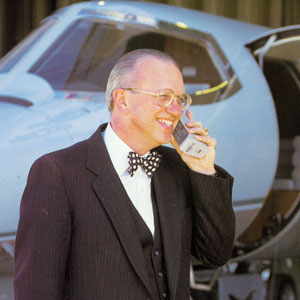 He taught me to take care of our employees, take advantage of new business opportunities, and look for new products and new ways to serve our customers better."
- Robert Duncan, Chairman Emeritus
During those early months of grief and uncertainty, one thing Robert knew was that if he were to continue running Duncan Aviation, it needed three things: A management team, diversification into support services, and a succession plan.
"My father instilled in me an attitude of optimism, growth, and opportunity," says Chairman Emeritus Robert Duncan. "He taught me to take care of our employees, take advantage of new business opportunities, and look for new products and new ways to serve our customers better."
Robert instilled those values and shared his love of flying with his own son, Todd. Robert's passion for flying has helped him relate well to customers and team members alike.
"I love the freedom of flying and the mechanics, avionics, and power of airplanes," says Robert. "I especially love the avionics equipment because it gives me the ability to fly myself and do so in a very safe way."
Todd's need to learn the company inside and out meant he got his start at Duncan Aviation washing planes in the hangar. Along the way, he earned his pilot's license, and he continued working at Duncan Aviation through his years in college at Nebraska Wesleyan University.
In 1997, Robert stepped down as President and CEO, and Aaron Hilkemann began carrying that mantle. During his 23 years at Duncan Aviation, Aaron has provided strategic leadership and direction, guided the company through a massive economic downturn that was disastrous for the industry, and put plans in place to ensure the development and future growth of the enterprise.
Todd took on the role of Chairman in 2007, and he's also seen the company ride the highs and lows of the business aviation industry.
"I've had the opportunity to work for and be mentored by great leaders over the past 31-plus years that I've made my career here at Duncan Aviation," says Todd. "I'm pleased that both of my boys, Harrison and P.K., have chosen to work in aviation and are here at Duncan Aviation as well.
Harrison started at the Lincoln facility in 2018 as an Apprentice in the Audit and Compliance department. With a non-technical, four-year-college business degree, Harrison has spent the last year traveling and learning about the company and the aviation industry. He has grown and learned a tremendous amount in the first 14 months, and he's truly enjoyed being a part of the Duncan Aviation team. He's received great support and learned from the team with whom he works. Harrison's travels have taken him to a number of Duncan Aviation Satellite Avionics Shops and Engine RRT launch locations, and he's also made audit trips to the Duncan Aviation facility in Battle Creek, Michigan.
Todd's other twin son, P.K., graduated with a communications degree from California Lutheran and has moved to Denver, Colorado, where he's earning his A&P certification at the Spartan College of Aeronautics.
"I used to joke in our family that we are all pilots, but none of us knows what a wrench looks like," says Todd. "Now, P.K. will know! He's really enjoyed his first six months of A&P school, and he can't wait to move back to Lincoln to work in our shops and see how his studies will relate on the shop floor. He knows he has a lot to learn!"
As Robert and Todd look back over the history of the company, they are pleased that a succession plan has been in place, and they're watching it unfold.
"I'm excited and proud that my boys are working and preparing for their careers here at Duncan Aviation. This company has so much opportunity over the next 5, 10, and 20 years, and my sons' commitments to be part of it has always been part of my long-term strategy," says Todd. "This fourth generation of direct Duncan family involvement is critical to the next chapter of our company—and I couldn't be more excited!"
Seamless Transitions
At the company level, we've recently seen a smooth transition as the former Executive Vice President and COO Tom Burt at the Duncan Aviation facility in Battle Creek, stepped down after 15 years leading there and 40 years with Duncan Aviation. Andy Richards has stepped into those roles, nearly 22 years after joining the Duncan Aviation team.
"Duncan Aviation is a stable company because of the Duncan family and the Senior Management Team that has been in place for many years. Together, we are careful to create smooth transitions during leadership changes," says Tom. "Additionally, Andy and I were both committed to making the change as imperceptible to our team members and customers as possible."
How to Pass Along Knowledge
As Todd has said, Duncan Aviation team members differentiate us in the business aviation industry. The highly skilled employees, who have worked for years on various engines, airframes, and avionics, have not only established personal relationships with customers but they have amassed a wealth of information.
Finding a way to capture that information, that tribal knowledge—information that a person or small group has learned over a long period of time and has typically not written down—has become an integral part of the Duncan Aviation succession plan.
Vice President of Marketing Steve Gade challenged Rich Teel, R&D/IT Systems Programming Manager, to come up with a plan. Rich and his team developed the DAK, Duncan Aviation Knowledgebase.
By adding technical notes to DAK, technicians can leave a little bit of themselves behind."
- Rich Teel, R&D/IT Systems Programming Manager
"Because the FAA requires companies like Duncan Aviation to thoroughly document our repair processes and techniques, we already had systems in place to capture some of that knowledge," says Rich. "It wasn't enough to simply capture the knowledge, though. We had to make sure team members who need it can easily find and retrieve the information, too."
DAK contains more than 6 million bits of indexed information from the past 10 years. The system runs in the background, crawling through data saved to the various databases at the company every single night. It captures best practices, processes, and solutions to various problems, and it ranks search results.
The new technicians are trained to use DAK, both to find information and record their own experiences. The system saves technical data, pictures, and drawings, but one of the most important aspects of the system is the technical notes added by the mechanics and tech reps who have resolved issues. Technical notes are the legacy of technicians who have had long careers here at Duncan Aviation.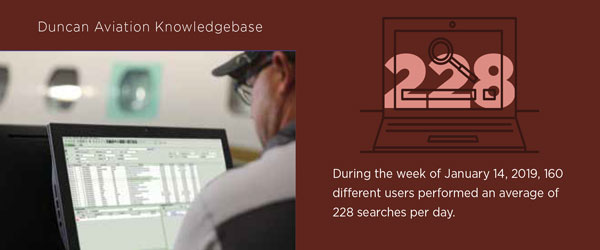 "By adding technical notes to DAK, technicians can leave a little bit of themselves behind," says Rich, "They write short notes about how they resolved a problem, which captures a bit of their hard-learned wisdom, and it can then be accessed and used by other technicians as they respond to our customers' needs more efficiently."
Those technical notes, that legacy of knowledge and information, become a critical component of DAK and of the searchable data.
"For instance, if a mechanic is searching for ways to troubleshoot and repair an inoperable starter generator, the system crawls through history and finds previous instances where someone has fixed a broken starter generator. That's the beauty of predictive analytics," says Rich. "The system learns from history to support current needs."
With DAK mining the data and ranking the search results, a tech who is working on a customer's aircraft won't waste valuable time searching for information, combing through irrelevant data, or trying to figure out how to fix the issue on his or her own.
"We want to be able to use current, state-of-the-art technology to support our technicians now, so they can solve problems quickly and safely for our customers," says Rich.
Go Provo!
Another priority when it comes to succession planning is making sure our core business values are maintained as we grow and expand. Toward that end, the SMT worked with Provo Senior Team Members Bill Prochazka and Chad Doehring to establish a committee of team members to help plan the staffing at Duncan Aviation's newest full-service facility in Provo, Utah.
We were especially happy to see the backbone of experienced people who came from other facilities to support the Provo team."
- Doug Starmer, Solairus Maintenance Supervisor
Team members have been carefully recruited or selected and trained to ensure that customers who take their aircraft to Provo experience the same high-quality service they would at any Duncan Aviation facility.
Maintenance Supervisor Doug Starmer at Solairus was in Provo on January 7, watching as his Global Express XRS was the first aircraft towed into the new hangar.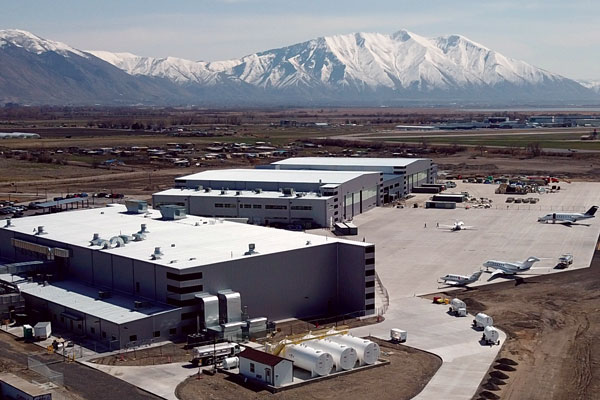 "We were excited about the expansion, and it was excellent timing to have the new hangar ready for our 120-month inspection," says Doug. "We were especially happy to see the backbone of experienced people who came from other facilities to support the Provo team."
Team members, too, are energized as the new hangar doors have opened and returning customers and first-time customers are filling the much larger hangars.
"Preparation for the expansion was a great feeling. The planning that has gone into this project really paid off, as the first planes began rolling in, and everyone just seamlessly transitioned over and started working in the new hangar as though we'd been working here for years," says Airframe Team Leader Ward Cranor.
Chad Doehring, Vice President of Operations in Provo, agrees.
"The extensive planning resulted in a well-executed transition into the first hangar," says Chad. "It's a testament to the resiliency and dedication of our entire Provo team."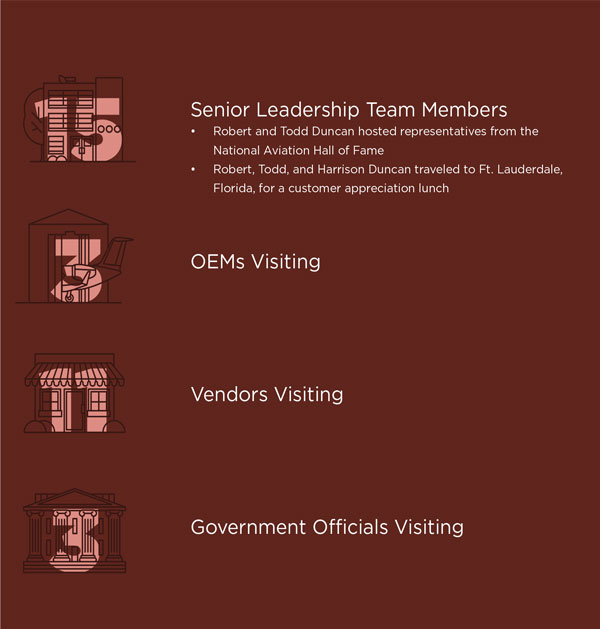 Longevity & Continuity
Years ago, the Duncans implemented a program that recognizes team members who have worked at Duncan Aviation for 25 years or more. Called Silver Wings, team members celebrate every 18 months as new team members pass their 25-year anniversary and join the exclusive club.
"It's a way to recognize all of the many contributions our steadfast, loyal, and dedicated team members have made during their tenure here," says Robert. "There are more than 308 Silver Wings members now, and they are the core of what Duncan Aviation is about. They are the reason so many of our customers can call Duncan Aviation and talk to the same person they've dealt with for 25 years or more. It means so much in our industry, and it means so much to us as a company, too."
Todd agrees with what his father Robert calls the immeasurable value of the employees at Duncan Aviation.
"We could not have done it alone. Everyone out there—throughout our facilities in Battle Creek, Lincoln, and Provo; in our Satellite Avionics Shops and our Engine Rapid Response teams throughout the country; and our representatives in the US, Europe, Mexico, Brazil, and New Zealand—is doing the work every single day," says Todd. "They're turning the wrenches, fixing the avionics, selling our services, and providing support tasks. It takes every single team member to make this company succeed."