«Spring 2019
ONE Goal, ONE Company, Multiple Options for Operators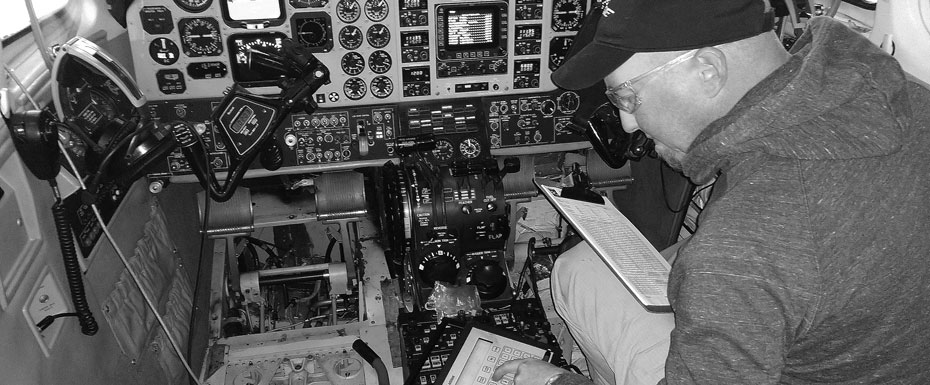 Duncan Aviation is one company, and everyone throughout the enterprise works to ensure customers receive the same high-quality service no matter which Duncan Aviation facility they visit.
"In order to make this a reality, careful and ongoing planning and evaluation must take place in the staffing, capabilities, and locations of Duncan Aviation's satellite avionics shops," explains Matt Nelson, Manager of Avionics Satellite Operations.
The following are some of the recent changes in our satellite network, which includes more than 27 Satellite Avionics Shop and workaway stations.
Succession Planning
"Careful and ongoing planning and evaluation must take place in the staffing, capabilities, and locations of Duncan Aviation's satellite avionics shops,"
-Matt Nelson, Avionics Satellite Operations Manager
Succession planning has been at the forefront companywide this last year, and our Satellite Avionics Shops are also going through leadership transitions as two long-time technical managers retired.
Both Managers, Kent Beal at the shop in Dallas, Texas, and Jim Davis, at the shop in Scottsdale, Arizona, opened their shops, 29 and 31 years ago, respectively. As they've retired, two highly capable, long-term Duncan Aviation team members have stepped up to carry on the missions and goals of each facility.
Bryan Davis is now Manager of the Dallas facility after 21 years working at the St. Louis, Missouri, and Dallas Satellite Avionics Shops.
"In a bit of symmetry, Kent retired 21 years to the day after he hired Bryan to help with avionics installations and line-service work," says Matt. "We're excited that Bryan took over the leadership position at Dallas. He has a great deal of experience and high-level skills. Our customers in north Texas will be in good hands."
Joshua Chischilly-Keyonnie has stepped into the role of Manager of the Scottsdale shop after working as an Avionics Tech and Crew Leader at that facility since 2001.
"As a team member at the Scottsdale Shop since 2001, Josh's transition to manager will be a smooth one," Matt says. "Josh is capable of maintaining the positive environment at the shop as they continue to provide the high-quality service our customers expect from a Duncan Aviation facility."
In other moves, long-time Avionics Team Leader Rennie Loniero is now Manager of the shop in Van Nuys, California. He also oversees the workaway station in Carlsbad.
"We've been extremely pleased with how fully Rennie has embraced his new role," says Matt. "He's been a great addition to our management team, and he has spent a lot of time and attention working on the right things for customers in Southern California."
New Location Planning
"I highly recommend the Duncan Aviation team to any corporate or general aviation aircraft owner."
Ann Pollard, Shoreline Aviation Vice President
Last fall, Duncan Aviation opened its newest Satellite Avionics Shop at the Laurence G. Hanscom Field in Bedford, Massachusetts. Customers in the area had been asking about a Duncan Aviation presence for quite some time, and the time was right. Dominic Scalera is managing the shop, and he has been warmly welcomed in the area.
Long-time customer Ann Pollard, Vice President of Shoreline Aviation, says, "We are thrilled that Duncan Aviation now has an Avionics Satellite Shop at Bedford so that aircraft owners in the northeast now have access to Duncan Aviation's world-class service network of more than 2,200 talented aviation support personnel and a wide range of technical capabilities. I highly recommend the Duncan Aviation team to any corporate or general aviation aircraft owner."
Planning Satellite Shop Moves
In addition to changing personnel and new shop locations, existing locations periodically re-evaluate their facilities and occasionally move to a different location at the same airport.
The Houston Satellite's repair station recently moved to its new location in the Jet Aviation hangar. The address for the shop is:
Duncan Aviation
c/o Jet Aviation
8620 W Monroe Rd, Ste 128
Houston, Texas 77061
Main number and after hours: +1 713.644.0352
Manager Mark Winter says, "Our team didn't miss a beat during or after the move. We're at capacity for ADS-B through September 2019, and we've been installing AVANCE L5 systems, Honeywell JetWaves, and upgrading aircraft to be FANS compliant at the same pace as always. I'm very proud of my crew; they made the commitment to get this done and be operational in the first week of January 2019."
Also in Texas, the Dallas shop will be moving into a brand new, state-of-the-art facility. The new Business Jet Center hangar will be completed this summer, and the Duncan Aviation Satellite Avionics Shop in Dallas will move in shortly after it opens.
On the West Coast, the Sacramento Satellite Avionics Shop recently moved about 300 yards to its new location in a brand new 30,000-square-foot hangar. Manager Bob Hazy has been with Duncan Aviation for 19 years and has been at the Sacramento Shop for two, and he sees this as a great opportunity for the company and his shop.
"The new hangars that the Sacramento Jet Center has invested in should attract new customers to the area," says Bob. "We're excited because not only do we have state-of-the-art office facilities, but we also have hangar space to work on customers' aircraft as needed."
The address for the new facility is:
Duncan Aviation
10440 Truemper Way
Mather, California 96566
+1 916.231.0943
---
Duncan Aviation's network of Satellite Avionics shops are strategically positioned at the busiest business aviation airports in the United States. Here is a peek at the support they provided in their regions during the week of January 14, 2019.