«Spring 2019
Service Behind the Surface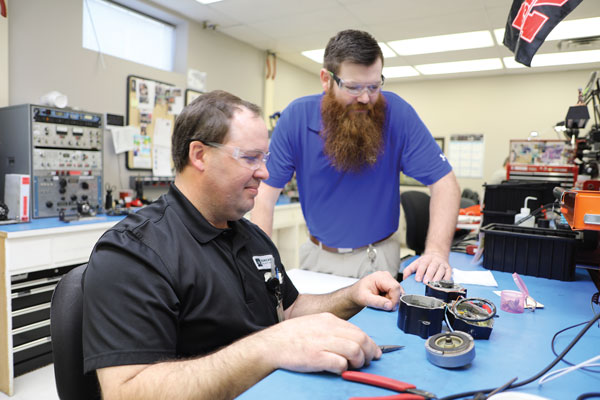 "That is when their emergency becomes my emergency, and I do all that I am able to help the customer."
-Parts & Rotables Sales Rep Rob Blahak (right)
When customers make AOG calls for aircraft parts, there are only two things they want to know: Do you have it? And, Can I get it?
If either answer is no, they hang up and move on. And in the event another AOG occurs, there's a good chance they won't be calling you first, if they call you at all.
Understanding the Need
Fielding AOG calls is part of the job for all Duncan Aviation Parts & Rotables Sales Reps. "You hear the urgency in the caller's voice and immediately shift gears," says Rob Blahak. "That is when their emergency becomes my emergency, and I do all that I am able to help the customer."
This happened recently when Rob answered a call at 3 pm on a Tuesday afternoon from a customer looking for an overhauled autopilot control servo. "Do you have it? We are AOG and needed one in time for a scheduled flight out Friday morning. Can I get it?"
By 4:30 pm, Rob had everything in place for the unit to ship out the next day (YES!) with a fresh overhaul well ahead of the scheduled flight. (YES!)
At that moment, yes was the only word the customer wanted to hear. The details about how were unimportant. But it is those vital details that made this outcome possible.
Below we pull the curtain back on what happened behind the scenes to see the experience, relationships, and confidence of a team all working together for one customer.
Inventory Search
With the customer still on the phone, Rob researched available inventory and learned there wasn't an SVO-85 autopilot servo in stock. Not wanting to give up, he checked all recent incoming shipments and discovered a unit had arrived the day prior and was sitting on a shelf waiting to be processed by Duncan Aviation's RGA (Return Goods Administration). The RGA team processes all core units returning after a core/exchange transaction. These units arrive in all conditions and each requires an overhaul before being placed back in inventory and made available for sale.
Quick-Turn Overhaul
Rob's next move was to call the ELE (electronics) team to ask if they could perform a quick-turnaround overhaul to support the parts sales team and come through for the customer.
Rob joined Duncan Aviation in 2011 as an electrical technician on the ELE team. For the first five years, he saw and overhauled many SVO-85 servos. He knew first-hand what this team was capable of and had the highest confidence in the abilities of its team members.
According to ELE Master Tech Jeff Brown, as long as the initial inspection did not reveal any major issues and the motor brushes were within the allowable tolerance, the team would be able to perform the overhaul in time. Rob's next question was, Can I have it out by tomorrow?
Jeff immediately went to work testing the unit and inspecting the brushes. He informed Rob there were no issues standing in the way of the quick-turn. Within 15 minutes, the unit had an official work order and the overhaul was assigned to Instrument Tech Don Harwood.
Paperwork and Shipping
By late afternoon on Wednesday, the servo was overhauled, inspected, 8130-tagged, and boxed, ready for shipment. Jack Smith, another Parts & Rotables Sales Rep, stepped in with the final paperwork to complete the order for delivery to the customer first thing the next morning.
Available 24/7/365, the Duncan Aviation Parts & Rotables Sales team answers an average of 130 phone calls daily. And every day, they work as a team and do what it takes to be able to say Yes!
---
Available 24/7/365, the parts experts for Duncan Aviation Parts & Rotables Sales respond quickly and with the best possible solutions. Here are some statistics about the aircraft and operators worldwide that we helped with parts needs during the week of January 14, 2019.