«Fall 2021
65 Years!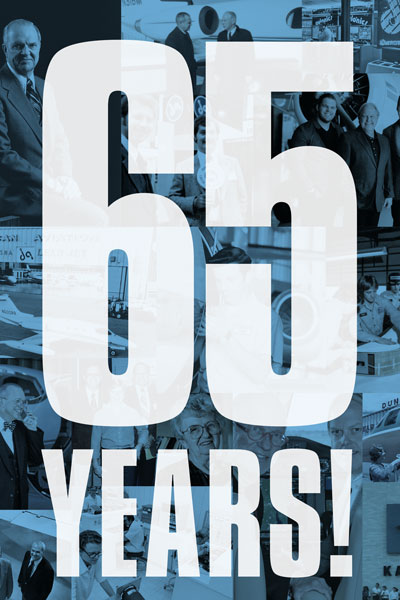 Sixty-five years ago, my grandfather, Donald Duncan, bought into a Beechcraft distributorship located in Omaha, Nebraska, and began building Duncan Aviation. With a passion for flight, a talent for sales, and an entrepreneurial spirit, Grandpa Donald seized opportunity at a time when aviation was just beginning to make a mark on how the world conducted business.
Donald's initial goal was to combine his passion with his talents and make a good living for his family. He never envisioned the lasting imprint his company would make in the business aviation industry, our loyal customers, and the communities in which we operate. And he never would have predicted how Duncan Aviation has flourished. He would have told you, though, that Duncan Aviation is special. And that with hard work and the ability to adapt and innovate to meet changing customer needs, Duncan Aviation would beat the odds. We have certainly done that.
Survival Rate Of Businesses
In 1956, the average lifespan of the public companies listed in Standard & Poor's 500 was 61 years. Today, it is less than 18. The trend doesn't improve when you look at private, family-owned businesses. Roughly 30% make it to the second generation, 12% are viable into the third generation, and only 3% operate at the fourth generation and beyond. The forces of volatile economies, evolving consumer needs, and changing technology cause many organizations to be bought out, merged, or to simply become irrelevant.
Smashing The Trend
We believe that the Duncan Aviation future is bright. We have a large pool of talented team members located around the world who are empowered to try new things and continuously improve the business. We put high-quality work at the forefront of our goals and serve customers' evolving needs by continually expanding our facilities and capabilities while adhering to our core values.
I would like to thank all of our customers and vendor/OEM/industry partners for your support over the years. We are thrilled to have reached this next longevity milestone and look forward to serving and working with you for decades to come.
Please celebrate with us and, as always, share your ideas for how we can improve and serve you even better in the future.
Sincerely,
Todd Duncan
Chairman