«Fall 2021
Flight Deck Upgrades Require Synchronization of Schedule & Resources

Late in 2020 and early 2021, one of Duncan Aviation's customers visited our Satellite facility in St. Paul, Minnesota, for the installation of the Garmin G5000 integrated flight deck in two of his Citation Excel aircraft. The projects, which spanned three major holidays, required careful planning and the marshalling of additional technicians to the St. Paul facility.
Although removing and replacing the entire avionics suite is no small feat, the customer requested this upgrade because the previous system experienced failures, and the continuous repairs and downtime were getting costly.
"He wanted to start over with a newer system that wasn't going to continue racking up repair costs, and we recommended the Garmin G5000 integrated flight deck because of its power and reliability," says Eastern Regional Avionics Sales Manager Michael Kussatz.
The G5000 Upgrade
Highlights of the Garmin G5000 flight deck include bright, high-resolution color displays, touch-screen interfaces with audible feedback, Automatic Flight Guidance and Control Systems, GPS, Synthetic Vision System (SVS), and real-time weather, chart, traffic, and terrain information that provide pilots with a great deal of situational awareness.
"When the customers picked up the first aircraft, they flew it in the late evening to Missoula, Montana, and the pilot told us the Synthetic Vision showing the mountainous terrain was amazing in its detail," says Tom Lieser, Manager of Duncan Aviation's St. Paul Satellite. "When the company's chief pilot picked up the second aircraft, he told me that the new flight deck makes flying fun again! They are really pleased with these new systems."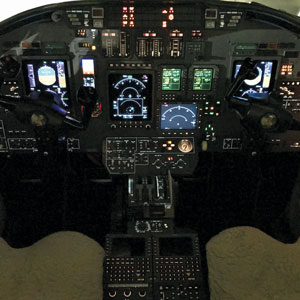 The fully scalable Garmin G5000 system and the STC (Supplemental Type Certificate) that covers all equipment and installation, includes provisions for future upgrades, such as CPDLC (Controller Pilot Data Link Communications). Michael feels confident the new systems are a great fit for this customer's current and future needs.
"The Garmin G5000 is a fully integrated avionics package that features a lot less cluttered instrumentation while simultaneously giving pilots a great deal more awareness of their environment and other air traffic as well as greater control of their aircraft," says Michael. "It's a reliable, dependable system that gives the pilots better situational awareness and meets all the mandates."
Installation Expertise
Installation in the first Excel spanned Thanksgiving and Christmas in 2020 and New Year's in 2021, and the team accommodated the customer's schedule.
"We delivered the first aircraft in mid-January, and the second in March. Schedules for both aircraft were aggressive and to ensure we delivered on time, the team pulled together and worked though the holidays to make it happen," says Tom.
Team members at the Satellite Shops routinely express their confidence that the entire Duncan Aviation enterprise has their backs. Tom explained that this project couldn't have been completed without company-wide support as his team was augmented by technicians from our Satellites in Atlanta, Georgia, and Kansas City, Missouri, and techs from the full-service facility in Lincoln, Nebraska.