«Fall 2021
Master Technicians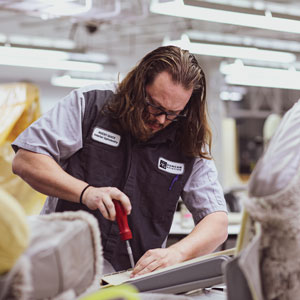 It's easy to spot a Master Technician. He is the one shouldering responsibility with advanced tasks. She is the one imparting confidence to customers when discussing their projects. They are the individuals who come alongside younger technicians, teaching what they won't find in books.
Every day this group brings their experience, skills, and dedication to the job, which results in lasting benefits to Duncan Aviation and helps to create a satisfying customer experience.
Efficiency
Technicians who reach the level of master have figured out how to work smarter, faster, and more efficiently. They recognize the big picture without missing the details. They already know how they are going to tackle the job before they begin.
"A Master Technician can shoulder a lot by themselves," says Pat Mapes, Avionics Install Manager in Lincoln, Nebraska. "They can stand alone on a project but know when it's time to bring in additional resources."
They will always step in and help out others who are struggling, creating a learning opportunity. This level of mentorship increases safety among the teams and reduces operational costs in terms of time and efficiency.
Dispatch Reliability
When tackling the more difficult workscopes, Master Technicians draw upon their experience to find answers. They are often brought in to conduct final testing and inspections before an aircraft or unit is returned to service.
Wyatt Kingery, Avionics Install Master Specialist, says that when turning on aircraft systems after a major modification, he looks at more than what is required. "We have to touch and interrupt many systems of the aircraft to gain access to the modification. We test and retest everything in the area."
Customer Confidence
Tony Curtis, Assistant Manager of Component Services, gives a lot of credit to our Master Technicians for Duncan Aviation's reputation for high quality and professionalism in the aviation industry.
"Customers want to be assured they are entrusting their aircraft and its components to a maintenance facility that has demonstrated competence in their craft," Tony says. Team members who have worked hard to reach this level know how to talk the talk and walk the walk. "They can speak and communicate complicated technical information in an easy-to-understand, professional manner that puts customers at ease."
It's A Team Effort
Aviation is an industry that requires collaboration and teamwork. Although Master Technicians are experts at their craft, they recognize they can't always do it alone.
Red O'Leary, Airframe Master Technician in Battle Creek, Michigan, says, "Even with 23 years of experience, I don't know everything. But I know someone here probably does, and I go ask for help. We rely on each other because individually we cannot achieve what we can as a team."
"Master Techs are key players, but they are not the only players," explains Patrick. "Having teams with multiple levels of skill gives us the flexibility to make adjustments and create teams that fit current project demands."
This team dynamic also provides a proving ground for younger techs to learn. Master Techs are natural leaders who mentor and teach the next generation critical thinking skills.
Becoming a Master Technician takes patience, dedication, and discipline.
"You can't become a Master Tech overnight," says Wyatt. "You have to put in the time and be willing to take direction and guidance from someone who's already been down that road."
Duncan Aviation has dozens of Master Technicians and Master Specialists in our airframe, avionics, engine, paint, interior, structures, and component repair departments. These are Duncan Aviation team members who have deliberately made efforts to learn and improve their knowledge and expertise in a specific area.
In addition, there are many team members who've earned the title of Master Technician but have chosen to continue their careers as managers, team leaders, tech reps, and even sales reps. They no longer hold the title, but they maintain their knowledge and skills and utilize them in other ways.
Duncan Aviation wouldn't be the company it is today without dedicated, knowledgeable, and talented team members. They are the best in our industry.