«Spring 2022
A Bold Statement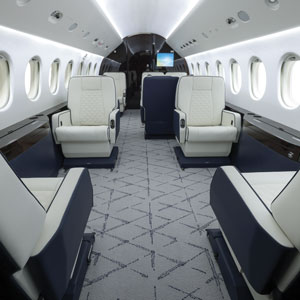 View the Full Photo Gallery
A Falcon 2000EX EASy that came to Duncan Aviation's Lincoln, Nebraska, location recently left with a complete interior refurbishment, partial paint, 36-month inspection, Airtext upgrade, LED light upgrades, and cabin PSU (Passenger Service Unit) modification.
Duncan Aviation Paint and Interior Sales Rep Adam Beach says the owner purchased the aircraft and brought it straight to Duncan Aviation for a complete transformation.
"The owner was mainly looking to modernize the overall look of the interior," says Adam. "We performed a Duncan Aviation-designed PSU modification, which took the old-style Falcon PSU and gave it a modern look."
The Falcon's Captain/Director of Maintenance says the Duncan Aviation Design team worked closely with the aircraft owner, who had very specific interior requirements.
"They took the time to really understand his design vision and turn it into a reality," he says. "The resulting aircraft interior has created a very satisfied owner and garnered a lot of positive comments from the passengers who have experienced it. As a Captain/Director of Maintenance, I appreciated the Duncan Aviation team effort to keep the project transparent, communicate effectively and promptly, and proactively solve any issues that arose. From my perspective, communication and capability are the primary reasons I choose Duncan Aviation as our go-to MRO and will continue to do so."
Duncan Aviation Senior Lead Designer Stephanie Kuhn said that the owner was insightful about the details and overall look and feel of the interior.
"3D illustrations were created to ensure that our interpretation of his vision was fully understood and executed properly," says Stephanie. "His attention to detail early in the design process set the stage for a successful completion of the interior that turned out stunningly beautiful."
The owner wanted to incorporate details into the aircraft cabin that he was familiar with in his vehicle along with designs that caught his eye in other spaces he frequented. He had in a sense created a wish board of ideas that all helped communicate his expectations.
"We were able to reproduce many of the same patterns and apply them to the aircraft interior," says Stephanie.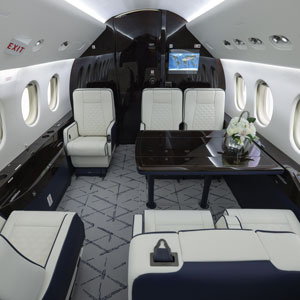 Above And Beyond
Adam adds that the Duncan Aviation team went above and beyond to ensure an on-time delivery.
In an effort to accommodate the owner's busy schedule, Upholstery Team Leader Mark Grant met up with the client at his office to perform a seat check to ensure his expectations for comfort and quality were being met.
The project schedule was aggressive, so the Duncan Aviation team took advantage of every minute possible to deliver on the Duncan Aviation promise of high-quality products and services at an industry-best value. To do this, the team came up with a plan to send Interior Shift Supervisor Ben Lee on the flight from Lincoln, Nebraska, to Provo, Utah, where the aircraft would then be delivered to the owner.
"Once the aircraft arrived in Provo, we had a team of folks standing by ready to fix any items that came up during the flight," says Adam. "We then hand-delivered the aircraft to the owner in California, which provided us the opportunity to explain step-by-step our work and answer any questions he had."
The owner was at a loss for words when presented with the refurbished aircraft, stating that he was completely satisfied with Duncan Aviation's level of service and with how amazing it turned out.