«Spring 2022
Building To Meet Customer Needs
Business aviation has rebounded significantly since the Coronavirus pandemic initially hit in 2020, and flying hours have recently surged past pre-pandemic levels. More travelers are realizing the benefits of general aviation in safety, time saved, reduced hassle, and productivity. Business aviation has also seen new market entrants and increased demand for large and ultra-large business jets.
In response to these industry changes and increased customer requests, Duncan Aviation's leadership has determined that maintaining our position as the leading independent provider of services for all business jets will require expansion at our full-service MRO (Maintenance, Repair and Overhaul) facilities in Lincoln, Nebraska, and Battle Creek, Michigan.
"The demand for the safety and flexibility that business aviation travel provides has continued to increase, as has the average size of business aircraft," says Jeff Lake, President of Duncan Aviation. "This results in increased demand for the hangar space required to complete requested airframe, engine, interior, paint, and avionics modifications for the business aircraft fleet. Looking to the future, we know that in order to meet current customer requests and needs, Duncan Aviation will need more hangar facilities."
Construction Underway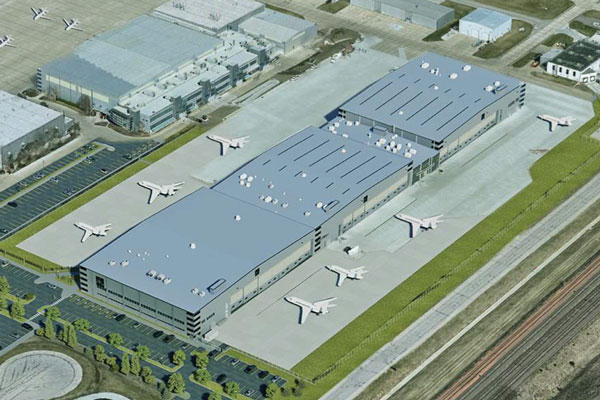 Duncan Aviation is working with long-time partner Tectonic Management Group and is using the latest in green construction technologies to build at both locations a 46,000-square-foot hangar with 32-foot-high hangar doors and an additional 62,000-square-foot, two-floor wing for storage and backshops. The total expected investment for both LNK and BTL is approximately $66 million.
"Duncan Aviation has consistently reinvested at least 80% of its profits back into the company and its team members in the form of facility expansions and capital improvements," Jeff says.
Sustainability features for the new hangars and buildings include light harvesting, radiant floor heating with energy-efficient boilers, LED lighting fixtures with sensors and automatic dimming, and more. Frank Jacobsen, Vice President with Tectonic, says the buildings and systems will perform more than 25% better than standard energy codes.
Site preparation was started this spring in both Battle Creek and Lincoln with completion in Michigan expected in the summer of 2023 and in Nebraska in the fall of 2023, just a few months later.
When construction is complete, Duncan Aviation will have 769,000 square feet of hangar space and shop, office, and storage areas in Lincoln. The Battle Creek location will have 443,000 square feet of hangar, office, shop, and storage space.
Facility Expansion to Fuel Recruitment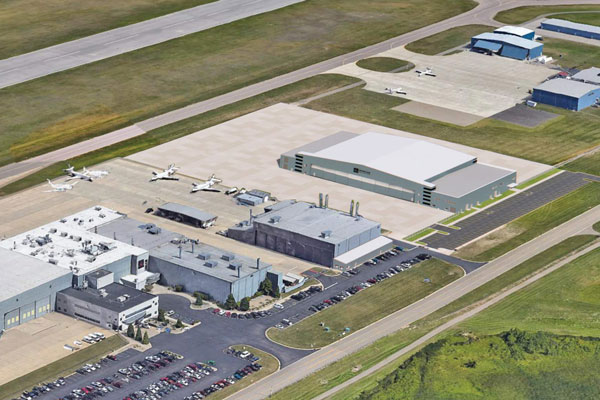 The increased footprint for aircraft projects will require the addition of 65 to 75 team members at each location over a 5-year period, Jeff says. Those jobs will include airframe technicians as well as positions in interior, installations, engine, paint, and the support shops.
Mike Minchow, Chief Operating Officer of Duncan Aviation's Lincoln location, says the new hangars will be the largest Duncan Aviation has built to-date. "We are excited not only to be building additional hangars to give us more room and greater flexibility in the near term but to continue to grow with where the market is headed both in aircraft size and the number of inspections expected in the future. In addition, we are excited to create up to 75 career opportunities for new team members in Lincoln and Battle Creek, and we have already started to recruit team members to fill the additional positions."
Andy Richards, Chief Operating Officer of Duncan Aviation's Battle Creek location, says the expansion is a direct result of the excellent service and support operators have received.
"Over the past 66 years, Duncan Aviation has grown an increasingly loyal and diverse customer base that depends on the quality service and friendly customer experience provided by our teams," Andy says. "Our expansion will increase our ability to attract even more customers to the Duncan Aviation family."