«Spring 2022
Don't Take Our Word For It. Read It For Yourself.
There is something special about Duncan Aviation. Something other companies rarely have and can't duplicate. It is a deep culture of pride that bubbles to the surface when team members find satisfaction in what they do and enjoy where they work. It shows in their performance and is recognized by peers, visitors, and customers.
We regularly receive customer comments about our work. If you look back and compare these comments, familiar themes begin to develop. You see phrases like: extremely knowledgeable, professional, top-shelf experience, hard-working, excellent communication, follow-through, and project ownership. We could go on and on. It means more, though, to let you read some of these comments for yourself.
Communication/Project Coordination
Bill Brummer shoots it straight and expects the same in return. He has been in the aviation industry for more than 32 years as a technician, inspector, and DOM (Director of Maintenance). He has very high expectations and specific demands. Rarely will he provide feedback when things go better than expected, mostly only when they go wrong. But a recent experience at Duncan Aviation's MRO in Lincoln, Nebraska, was different and deserved more than a simple comment on a survey.
"Duncan Aviation's Lincoln, Nebraska, MRO is a truly wonderful place to take an aircraft for maintenance! With many years of experience working in this industry as a DOM, I've never been quite as impressed with the dedication, honesty, and loyalty as I am with this facility. I left on budget, on time, and with no discrepancies. That's more than anyone could ask for. The level of communication and information sharing at Duncan Aviation is quite impressive. I could not recommend them enough and will be a dedicated customer from this point forward. Truly amazed at the performance!

Bill Brummer, Big Sky Aviation, DOM
The open communication and information sharing impressed Bill Brummer more than anything. "Steve Devitt is an amazing project manager," says Bill. "He made sure I was aware of the status of my project without missing a beat or a detail and was quick to respond to emails and phone calls. He was focused and precise, wasting little time resolving issues."
It was also the easy willingness of others who assisted him when he had questions. "I could approach anyone to ask a question or raise an issue and would get an answer. If they do not have the answer right away, they know who and where to get it. They didn't pass the buck. That is not the same experience I've had at other MRO facilities."
At Duncan Aviation, the entire maintenance history of an aircraft stays with the plane forever. Information is freely shared among technicians, teams, departments, and locations and can be accessed by anyone from anywhere in the world.
"If maintenance issues arise down the road, we have a historical roadmap as a reference," says Steve. "When we can see when and how we touched this aircraft in the past, it helps in planning for the upcoming maintenance event."
Teamwork/On-Time Delivery
All of Duncan Aviation's RRT (Rapid Response Team) technicians have a great deal of aircraft engine experience. According to Andrew Arcuri, Assistant Manager Engine RRT-East Coast, that's what makes it easy to put teams together that are successful and get the job done.
"There is a high level of trust among RRT technicians. They take on the responsibilities of the job, working together to get it done. That includes maintenance, paperwork, and quality assurance of the entire event."
I want to say thanks for your hard work last week. The (Rapid Response) crew you have in FXE (Fort Lauderdale) is very knowledgeable, experienced, professional, and friendly! They are an outstanding team.

As has been my experience with Duncan Aviation, you have once again hit it out of the park. Special thanks to Chad (Ryan), Mike (Heflin), Yves (Batrony), Billy (Costa), and Brad (Rickard) for getting it done well ahead of time as the airplane left with no issues.

Keep up the good work!

Joe Ananko, EJM, DOM
Andrew truly appreciates when a customer takes the time to acknowledge the efforts and service of the RRT team. "They do a tremendous job for our customers and make Duncan Aviation what we are."
Joe landed in FXE on a Monday for a scheduled 3200-hour engine borescope, task card inspections, and compressor wash. He needed to be back in the air by Saturday.
RRT Team Leader Chad Ryan and his team have a lot of experience with the CF34 engine. "We know what needs to be done, who is responsible for what, and are in constant communication with each other to keep things moving forward." The event went smoothly and was delivered two days early, even though they experienced shipping delays for failed inspection parts.
This is the kind of teamwork and skill Joe has come to expect every time he brings his aircraft to Duncan Aviation. He has had positive experiences with Duncan Aviation's Satellite shops in the northeast region and at the MRO in Battle Creek, Michigan.
"Duncan Aviation teams know what they are doing," says Joe. "And they stand behind their work."
Culture/People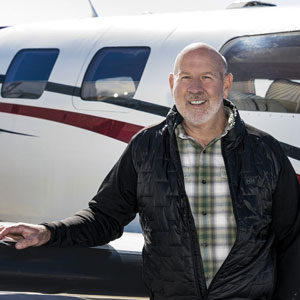 Randy Berg, Co-owner-Signature Party, is a private pilot flying a Piper Jet based out of John Wayne Airport in Santa Ana, California. Randy and his wife Janice fly into the Park City, Utah, area quite often and were exploring new FBO options that fit their needs both for service and cost. A friend recommended they check out Duncan Aviation's FBO in Provo (PVU), Utah, after his own positive experience.
On their first visit to Provo, they met Duncan Aviation's Manager-FBO Services Bob Cornett, who showed them around the facility and explained all of PVU's FBO services. It didn't take long for them to realize there was much more than an FBO at Duncan Aviation's PVU facility. Witnessing the major MRO services in progress, Randy immediately gained confidence that a wealth of aviation experience was available to tap into if needed.
Randy and Janice had found all the services they needed to safely keep their plane for extended periods at a cost they found fair and competitive. However, they decided to make Duncan Aviation's PVU FBO their Utah home base because of the people.
The aviation community is small, and reputations are often made or destroyed by the experiences you have with the folks on the front lines. I have never been more impressed with the personal attention that both the line folks and front desk group has shown Janice and me. From the friendly personal greeting while taxiing to the attentive representatives at the front desk who take our fuel order and arrange the staging of our plane for departure.

We know Jesse (Bates), Corey (Rose), Will (Mortenson), and many others on a first-name basis. They are quick to help us with our bags and always have a car ready as we deplane.

April (Biscamp), Tiffany (Lane), Kaitlin (Robison), and Matt (Granucci) at the front desk (I know I'm leaving someone out!) are genuinely happy to see us each time we arrive and depart. All of this attention to detail and the little things like a random, unannounced car wash never go unnoticed.

Randy Berg, Co-owner-Signature Party, Private Pilot
It is also clear to Randy that his small Piper Jet is a small segment of Duncan Aviation's customer base, but he doesn't feel any less important. "I'm confident that the passengers rolling up in the ultra large business jet aren't getting any better experience than Janice and I get in our turboprop!"
Working at Duncan Aviation means becoming part of a team. Our employees team with customers, with OEMs, and with each other to make a difference. Although the examples here mention specific names and places, there are similar customer stories about every location and every service we provide.
"It takes all of us to provide great customer service," says Jeff Lake, Duncan Aviation President. "Our support areas like IT, facilities, parts support, material services, quality assurance, and so many others, support those on the front line with our customers to make every aircraft project and event successful. All of our team members play an important role in the service of our customers and the industry."
We appreciate every last one of them.