«Spring 2022
Educating Future Aviation Experts
It's no secret. The aviation industry is seeing a workforce shortage in all areas of expertise. The number of retiring technicians with Airframe & Powerplant certification is higher than the number of young adults expressing interest in the field of aircraft mechanics.
ATEC (Aviation Technician Education Council) reports that only 5,205 individuals obtained their FAA mechanic certificate last year, a 30% drop from the previous year, and the smallest number seen in the past two decades. The same report states that 36% of the mechanic population is age 60 or more, nearing retirement age. That poses the question, "How do we inspire the younger generation to consider aviation careers?"
Duncan Aviation has partnered with a number of local organizations to generate interest among college students, high school students, and middle school students.
"We need to get in front of these students at a young age to show them how fulfilling a career in aviation can be and that it is a possibility," says Human Resources Supervisor Jennifer Monroe.
Duncan Aviation – High School Classroom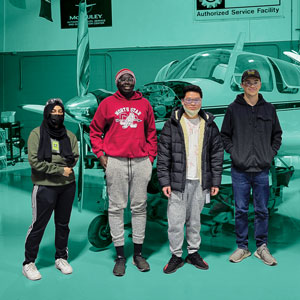 Over the last several years, Jennifer along with Connie Duncan, the wife of Chairman Todd Duncan, and Team Member Services Vice President Leon Holloway, have been working with Lincoln North Star High School to build an aviation curriculum. Part of that curriculum includes students spending 7 hours per week at Duncan Aviation. The students work in many of the production shops and support areas, shadowing and gaining hands-on experience.
"Our goal is to make students aware of career opportunities in aviation," says Technical Training Coordinator Darwin Godemann. "We also provide them with contacts and information about schools that support instruction in these careers."
In 2019, the pilot year for this Focus Program, one of the students had no interest in going to college. After spending time at Duncan Aviation, he ended up entering the NDT (Nondestructive Testing) field. Another student went on to study Engineering at the University of Nebraska-Omaha.
"We are changing the trajectory for these students," says Connie. "These are the kids who need us the most. We can recruit from all of the colleges in the area, but we need to reach them younger and show them that a career in aviation is a possibility and a great career choice."
More Than Flying Planes
Ryan Zabawa, Principal at Lincoln North Star High School, said that aviation is not just about flying planes.
"There is so much that goes into getting those planes off the ground that people don't realize," says Ryan. "There is a shortage of workers in aviation that will continue unless we introduce students to the well-paying and unlimited opportunities that exist following high school. During the 2021-2022 school year, we had 203 students enrolled in the Aviation and Technical Education Focus Program, the largest yet."
Ryan said that the opportunity to work alongside a Duncan Aviation team member on a daily basis gives these students experience and exposure to possibilities.
"After graduation, it would be our hope that the students gain training, certification, and/or degrees that would land them a job in aviation, hopefully with Duncan Aviation," says Ryan.
An Amazing Opportunity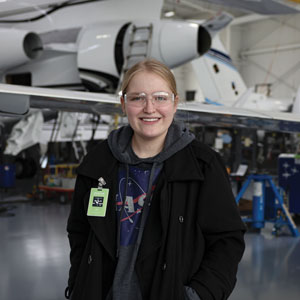 Trinity Hamilton, a senior at Lincoln North Star, plans on majoring in Aviation Engineering at the University of Colorado in Boulder. She is one of the students spending time at Duncan Aviation.
"I took a questionnaire about possible majors and based on my interests, the career choice that stood out most was aircraft technician," says Trinity. "It really interested me, so I looked into it and realized that this would be something I'd enjoy. Joining the Focus Program was a great opportunity to get an overview of different jobs in the field."
Trinity says her time at Duncan Aviation has been amazing.
"I've enjoyed learning more about all the intricate parts that go into maintaining an aircraft," says Trinity. "Between learning about all the minute details that go into painting an aircraft, and realizing just how precise technicians have to be when installing an interior, my experience has been amazing."
Before deciding she wanted to go into aviation, she knew nothing about the field.
"I'm super excited to finish out the rest of this semester," says Trinity. "It's been really exciting and a once-in-a-lifetime opportunity."
Through their time with us, students were able to complete a small sheet metal project, drill rivet holes and install rivets, deburr metal, use dimple dies and practice safety wiring.
A Lifetime of Success
Amanda Woodward is the Industrial Technology Teacher with the Focus Program. She is passionate about helping students find a career that brings them personal satisfaction and will set them up for a lifetime of success.
"It all comes down to the opportunity this has brought to these students," says Amanda. "The field trips, class visits, and work study program are all avenues for students to see careers they may have never imagined. Facilitating hands-on experiences with potential careers helps kids discover work they enjoy."
Amanda says that the program has been a raging success and not a day goes by without hearing about the amazing, awesome, cool stuff these students are getting to experience at Duncan Aviation.