«Summer 2020
Because Time Is Money, Let's Make The Best Of It
Maximizing Downtime With Customized Solutions
The "C" inspection is the most comprehensive inspection for Falcon aircraft requiring the removal and replacement of the interior. Given the time and expense of this requirement, most operators elect to maximize downtime by assessing the mission of their aircraft and adding avionics and interior options needed to ensure the aircraft is equipped to keep passengers safe, productive, and comfortable.
Avionics Solutions
Cabin connectivity is one of the most popular installations performed during the Falcon C inspection. Duncan Aviation has developed numerous STCs (Supplemental Type Certificates) for the Gogo Business Aviation AVANCE L5 Wi-Fi system. We have installed more than 50 systems on Falcon 2000/EX, Falcon 900/EX, and Falcon 7X model aircraft. Customers with Falcon 900EX, 2000EX, and 7X have also chosen to upgrade to worldwide-capable satellite broadband systems, including high-speed KA.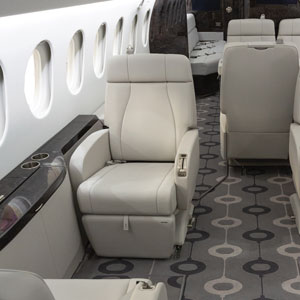 Many Falcon operators don't stop with connectivity. They upgrade to a top-of-the-line, scalable CMS (Cabin Management Systems) featuring high-definition audio/video, an HD moving map system, and wireless cabin control with touchscreen switching. The two most popular systems are the Collins Aerospace Venue and the Honeywell Ovation Select.
Interior Solutions
Most operators customize the interior to fit their unique needs. From added storage and seating to cleaner lines and modernized styling, the possibilities are wide open.
"Customers simply want options," says Tracey Boesch, Completions Sales Rep. "As a team, we collaborate to provide them choices in the latest design innovation so they can get to their next destination in style, comfort, and safety."
Take a look at the latest upgrades completed by Duncan Aviation.
More Storage Space
Duncan Aviation Designers and Interior Engineers thought outside of the box while designing this one-of-a-kind solution for operators looking for more storage.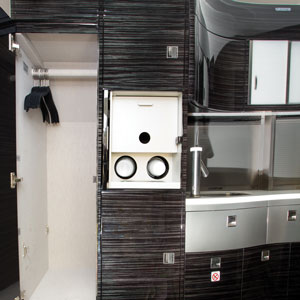 The front lavatory space on some Falcon 900 and 2000 aircraft often remains unused for its intended purpose. During a discussion with a client about their flight missions and the need for more storage, the idea to replace the forward lavatory with a customized storage cabinet came about.
We have many customers with similar needs who make the decision to convert the area into a customized storage solution. Whether coat closet, or custom-tailored storage cabinet, or a combination, this modification is designed to fit their individual needs.
There is a unique opportunity for the space directly opposite the main entry door that allows for an extra-large lower cold storage drawer ideal for large catering trays. Due to the volume of space at the main entry area, the lower ice drawer is easily accessible and can deploy without obstruction.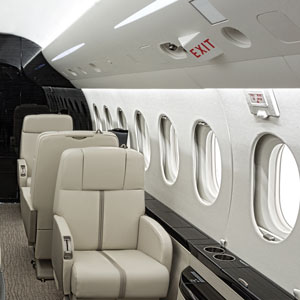 Updated Modern Look
Modified drinkrails transform the existing drinkrails into a modern new look by extending lower sidewalls up and reducing the drinkrail extension downward. The switch panels are moved under new lids fabricated in the top of the drinkrails with new or repositioned cup holders and new lift-assist or existing pull-out sidewall tables to update the cabin with a modern, elegant design and improved functionality. Lighted cupholders are available as an option.
Falcon 900 PSU
What happens when creativity and hands-on experience come together? Revolutionary ideas. Duncan Aviation pioneered the first custom-designed Falcon 900 PSU (Passenger Service Unit) overlay panels as a one-piece panel upgrade for smooth, modern lines eliminating the painted metal center section.
Expert positioning of the up and downwash bulbs behind the panels reduces shadows on the ceiling and upper sidewalls, providing a consistent wash of light. Because the O2 panels, speakers, and lightboxes are secured to the aircraft and not the panel, they are lighter in weight and secured in place with unique custom brackets and quick-release latches to prevent the panel from falling during flight or heavy turbulence. The design not only updates the look, it also adds value and provides easy access for maintenance on older aircraft. Duncan Aviation has installed more than 50 Duncan Aviation designed PSUs on Falcon 900 & 2000 aircraft.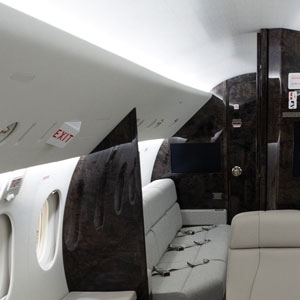 More Seating
When it is imperative that the entire team arrives at the same time or that an aircraft has room for more people, Duncan Aviation is able to reconfigure the interior seating capacity. With an approved STC when necessary, we can increase the passenger count to meet your requirements on the Falcon 7X, 2000, and 900 models.
Added Fuel Efficiency
By now, most operators are familiar with the performance gains of a Blended Winglet retrofit: less drag, lower fuel burn, and superior climb and cruise characteristics. Aircraft equipped with winglets see a higher residual value, which can help sell the aircraft faster. This installation can be easily incorporated into your next Falcon C-check event. To date, Duncan Aviation has installed 97* API blended winglets on Falcon 50, 900, and 2000 model aircraft.