«Summer 2020
myDuncan.aero Makes Communication Easier
Apps are a way of life now. But 14 years ago, when Duncan Aviation introduced myDuncan to the market, they weren't as common. Duncan Aviation project managers and computer programmers had a vision for a communication tool that would help them provide even better customer service, more efficient approvals, and keep everyone involved in a complicated, multi-shop aircraft project up-to-date. The result, which launched in September 2006, was myDuncan, a web-based portal that allows customers greater access and better control of their projects from anywhere in the world.
Duncan Aviation IT Project Manager Ryan DeVall has been instrumental in the development and continued advances of myDuncan.
"Our goal is to make the customer's job easier by providing real-time information and making relevant data more accessible to them," Ryan says. "Now that customers have seen some of the things that are possible, they're more likely to provide feedback on what else they would like."
Ryan says that most of our aircraft customers utilize myDuncan, and that roughly 450 users access myDuncan in a typical month.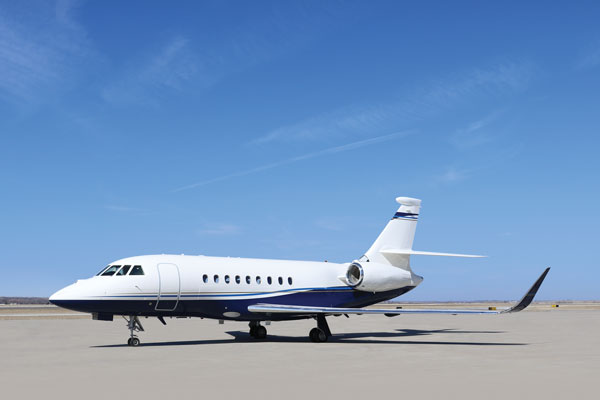 Time Savings
Sanderson Farms Aircraft Maintenance Manager Allen Ulmer says that myDuncan has relieved the time required to be with the aircraft. Allen has been a customer for more than 22 years, and he remembers the days where information would be conveyed via fax machines.
"If we were still conveying information through fax like we did in the old days, you would have to spend a lot more time with your aircraft," Allen says. "myDuncan is something that I can use wherever I am. I don't have to be in my office anymore. I could be on vacation or sitting at an airport, pull up the myDuncan app on my iPad, and check the status of the aircraft."
Allen says that the most useful feature of myDuncan is it saves time for everyone.
"Duncan Aviation and Sanderson Farms are both extremely busy, so the less time I spend trying to get answers, the better off everyone is," Allen says.
Anywhere in the World
Herzog Director of Maintenance Paul Paxton says that he loves being able to actively see and approve squawks, look at work orders, and see squawks generated during a maintenance event from anywhere using his phone or tablet.
"Our flight department operates multiple aircraft, and the myDuncan app provides me the ability to manage item approvals from anywhere in the world," Paul says. "I like the ability to see item approvals with details such as pictures associated to the discrepancy found."
Paul says that the myDuncan app allowed him to attend to other aircraft issues while their aircraft was at Duncan Aviation for its 120-month inspection.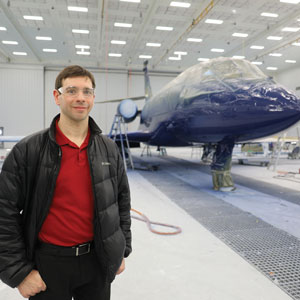 First-Time User
Jeff Vecchio, a first-time Duncan Aviation customer who manages a Falcon 2000LX for a Canadian company, shares that he really enjoys the myDuncan app. With his aircraft in for a 2C inspection, paint, avionics upgrades, and interior work, the biggest reason he decided to come to Duncan Aviation was the scope of the project. "Your reputation is that you can handle a project of this magnitude, and it will go smoothly. That's what people that we know in the industry and who have used you for years tell us."
For Jeff, the most useful feature of myDuncan is that you can follow the work right from when the job is quoted months before, all the way to when the job is completed and invoiced.
"Being able to add attachments to squawks is huge for us because before we've even gone down to talk to the guys about something they found, I can go in and see it," Jeff says. "It makes the approval process for squawks much easier."
Jeff adds that the fact Duncan Aviation invests back into the company through training, facilities, equipment, and tools like myDuncan, "is a huge sign of a good company and someplace you want to bring your airplane to and do business with."
Unusual Times
Novajet Director of Maintenance Chris Sheldrake usually likes to be with his aircraft when it goes in for maintenance but chose not to this time due to the current conditions.
"I was initially leery going into the workscope without being able to visit the facility," Chris said. "After we got the input over with and spoke to the team, I was a lot more comfortable. As the project progressed I never really felt that I missed anything by not being on-site."
Chris brought a Falcon 900DX to our Battle Creek facility for a 12, 24-month inspection and Canadian registration change.
"Obviously there is nothing like being there, but given the current situation, the tools you guys have made my job quite straightforward," Chris said.
Chris adds that myDuncan has helped him feel more comfortable being off-site and allowed for greater communication and transfer of information.
myDuncan
Features
Duncan Aviation continually enhances myDuncan. Here are some of the most recent changes we have made. Watch videos on the following features here:
www.DuncanAviation.aero/myDuncan
Quotes
View and compare quotes, request schedules and approve agreements.
Change Orders
On-The-Fly approvals help you track and manage items pending your review, complete with photos and parts options.
Component Repair Tracking
Approve work and stay current on the progress of your repairs. View return-to-service documentation when the work is complete.
Log Entries
Review your log entries as the job progresses. Make notes, mark what you've reviewed and what you want to follow up on later. Communicate with your inspector.
Work Order Review
Review the squawks and supporting documentation on your work orders progressively. Make notes, mark what you've reviewed and what you want to follow up on later. Communicate with your inspector.
Job Status
A project overview illustrating the progress of your job and a history of approved work. View a schedule of important milestones for your job.
Documents
Retrieve invoices and waybill tracking information for your shipments online.