«Spring 2023
Duncan Aviation Engine Management
Less Stress. No Surprises. Exceptional Value.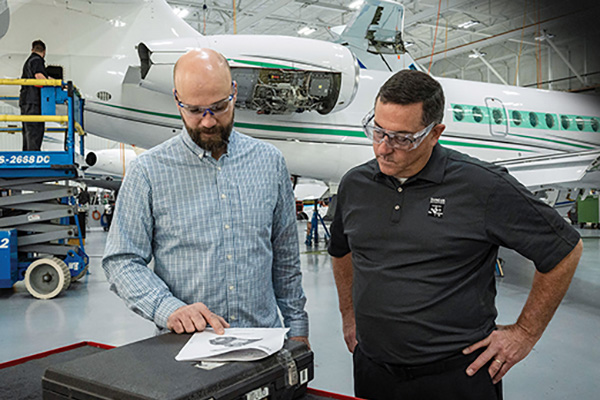 Aircraft operators deal with engine maintenance every 2½ to five years. Scott Thomas deals with it daily, managing 75-85 engine maintenance events every year.
Scott is Duncan Aviation's Engine Project Manager, overseeing all P&W (Pratt & Whitney) engine events for Duncan Aviation customers. When an R&R is performed for a P&W engine at one of the three main Duncan Aviation MRO facilities or in the field by our engine Rapid Response Teams, they become Scott's engines. As these engines get pulled, crated, and shipped to Pratt & Whitney for service, he remains close to the project, advocating for his customers through every step.
Sean Franzel, Maintenance Manager for Masco Flight Ops, was thoroughly impressed with how quickly Scott and his team got to work. "We came in with a PW308C engine that needed maintenance. Within hours, Scott secured a rental engine on a Duncan Aviation purchase order. It arrived three days later, and we returned to the business of flying within a week and a half."
Less Stress
Andrew Cummins is a DOM for a high-utilization operator flying two Falcon 2000EXs in excess of 900 hours a year. They are busy and rely heavily upon Scott and Duncan Aviation to track their engine requirements.
"Scott has earned my trust. I can hand off the project to him and not worry. He and his team do their jobs so I can do mine," Andrew says.
"I know what questions to ask, what programs apply, and when costs are fair," says Scott. "I review engine logbooks to identify Service Bulletins, Airworthiness Directives, and life-limited components that may be a factor in the event. With all of this information, I negotiate on behalf of my customers."
Scott admits it can be a complicated process. "It would take a lot longer and potentially cost significantly more if customers were left to navigate the process alone."
"I can't say enough about how easy this event was," says Sean. "I was completely hands-off, saving me a substantial amount of time. Scott had a plan and he executed it perfectly."
No Surprises
Customers may be hands-off, but they are not uninformed.
Scott doesn't like surprises, and his customers like them even less. He stays informed with project updates, performance analysis, and parts costs, discussing potential issues that could slow the progress or bring it to a halt. What he learns is openly shared with his customers.
If the event involves an insurance claim, he takes the lead to work directly with the insurance company, negotiating costs and ensuring that all proper coverage is applied.
Exceptional Value
If FOD (Foreign Object Debris) damage or corrosion is discovered on a program engine, Duncan Aviation covers the cost of over-and-above work and bills it back to the customer with no markup, thus providing this professional oversight service at no cost to Duncan Aviation customers.
Many customers who take advantage of this service already have an aircraft in-house at Duncan Aviation for airframe maintenance, scheduled R&R, or an AOG engine event.
"It is such a convenient service," says Andrew. "Scott is a great help when our Falcon 2000EX engines (PW308Cs) require service. They (Duncan Aviation technicians) are knowledgeable, and I trust them."
Sean readily agrees. "This was my first experience with this program. Should the need arise, my experience with this event removed any doubt that we will return to Duncan Aviation."