«Spring 2023
Far-Reaching Support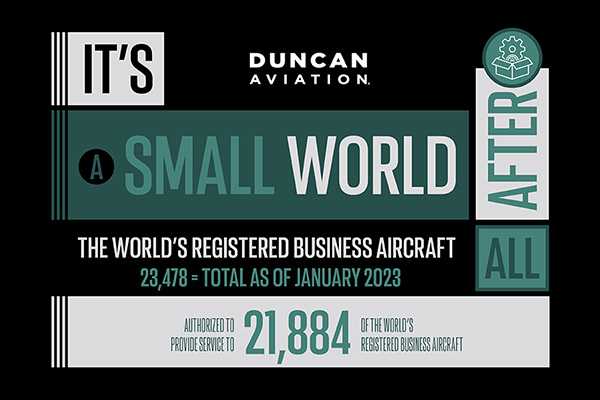 When it comes to support services, business aircraft operators seek the highest quality, capacity, efficiency, and options possible for their aviation services.
They are turning to Duncan Aviation.
Duncan Aviation's three full-service MROs (in Battle Creek, Michigan; Lincoln, Nebraska; and Provo, Utah), and Satellite network hold 32 international certificates covering 12 civil aviation authorities and 46 countries. These certificates authorize us to provide services for more than 90% of the world's registered business aircraft.
It is important to us to provide premier aircraft service no matter where the aircraft is based, and more than 25% of our annual business comes from supporting aircraft registered outside the United States.
Supporting Aircraft Components
On an annual basis, 10% of Duncan Aviation's 32,000 Component Services work orders are shipped to our repair facilities from outside of the U.S.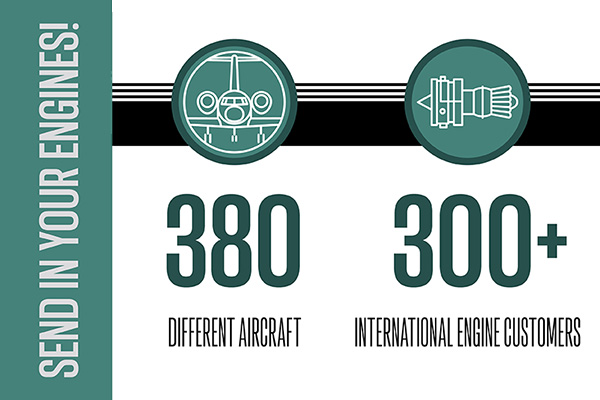 Over the last 10 years, Duncan Aviation's Engine and Engine RRT teams have completed approximately 900 international engine work orders for more than 300 different customers with 380 different aircraft.
Nearly one-third of these work orders were for major engine events for Honeywell TFE731- or HTF7000-powered aircraft requiring TFE731 MPI, MPI/CZI, CZR, or major HTF7000 engine inspections, Service Bulletins, or repair.
Of these 245 engines requiring major events, 100 of them arrived at our Turbine Engine Maintenance facility in Lincoln in shipping crates. After the work was completed, they were shipped back without the aircraft having to be on-site at our MRO.