«Fall 2016
A Duncan Aviation Specialty: Customization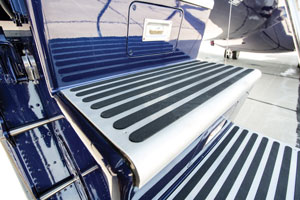 The word so far this year for Duncan Aviation's Interior Shop, Paint Shop, and Design Center has been customization. Our customers have asked, and we have answered in a big way.
We started the year with a Global customer who wanted stainless steel stairs, similar to some he had seen on another aircraft. From the picture of the stairs, Team Leader of Fabrications Bryan Hart created a unique stainless design that our customer thought was even sharper-looking than the stairs he had seen.
We've since built those stairs for another Global customer who saw them and thought the clean, contemporary, industrial look would provide the perfect complement to his new interior.
"Stairs are a big deal," says Matt Spain, Senior Sales Rep in Completions and Modifications. "Look at the entryway for any aircraft; it's the first thing you see. Every aircraft entryway should be perfect and have attractive steps. And because these steps are stainless steel, they're eye-catching day or night because they pick up any available light and shine!"
Because of our on-site Design Center and the skill of our technical teams, we can handle just about any customization request we're asked to do.
"We have fleet operators who want a unique design feature that they can carry through all of their aircraft," says Matt, "Regardless of whether it's a fleet or an individually owned aircraft, our customers know we'll work with them on the design and execution."
Detailed Artwork
Former United States Air Force pilot Dr. David Samani, who is a Lincoln, Nebraska, orthopedic surgeon, remembers the nose art on the aircraft he flew in Desert Storm in Iraq. He mentioned to Project Manager Howard Nitzel that he'd like something similar for his aircraft.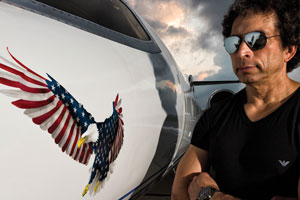 Howard found a design and turned it over to Master Paint Specialists Stacy Finch and Troy Rienke, and they hand-painted the design onto the plane.
"Howard found an eagle that reminded me of the nose art," says Dr. Samani, "and I couldn't be happier with it."
Customers often tell us that when they come to us with a concept, they're confident they'll leave with exactly what they wanted.
"I repeatedly hear that our ability to carry through on the level of customization our customers want is what differentiates us from the competition," says Doug Alleman, Vice President of Customer Service. "They also tell me they can go home—and continue working where they're near their families—and know that the work here will happen exactly as they've asked it to be done."
Reconfigurations Galore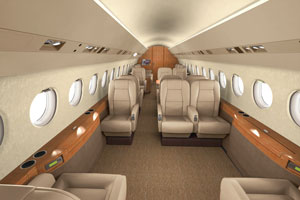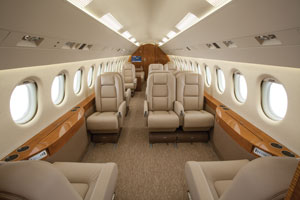 Doing exactly what customers want can be exciting, if a bit challenging. Suzanne Hawes, Senior Sales Representative for Completions and Modifications in Battle Creek, Michigan, had just such an opportunity earlier this year.
During a pre-buy inspection, one of Suzanne's customers told her he wanted the Falcon 900 cabin seating reconfigured from 14 seats to 17. He also wanted to drop the overall weight of the aircraft so the round-trip customer flights he was planning could be completed with no fuel stops.
The reconfiguration required an STC (Supplemental Type Certificate), and Suzanne says team members from Engineering, Airframe, and Interior met with her, Project Manager Rich Jones, and Designer Ken Reita almost daily to compare notes and ideas after the initial meeting with the customer, his wife, and his aviation department.
"We had spreadsheets that we updated regularly with the weight of every single item, including coffee containers and life rafts, on that aircraft. We even took out the carpet and weighed it!" says Suzanne. "We pored over that interior, coming up with savings, ounce by ounce."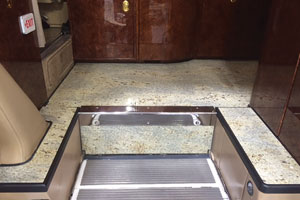 The team worked with Skandia, Inc., for the sound-proofing materials, saving 50 pounds by swapping out a different vendor's insulation in the headliner. By removing a pocket door, switching the seat and divan frames for lighter-weight versions, and replacing the stone countertops in the galley cabinet with sleek lightweight laminate, the team ultimately fit 17 seats comfortably in the cabin and shaved 374 pounds from the aircraft's weight!