«Fall 2016
A Lifetime of Achievement
Duncan Aviation is celebrating 60 years in 2016. Founder Donald Duncan's story—a farm boy from Clarinda, Iowa, whose dream of flying led to his founding of the company that still bears his name—is fairly well-known among business aviation enthusiasts. Less known is the story of how Donald's son, J. Robert Duncan, transitioned the small, family business into a service company with a respected presence around the world.
Chairman Emeritus Robert Duncan was awarded the Lifetime Achievement Award from the Aircraft Electronics Association at the organization's international convention and trade show in Orlando, Florida, for many reasons. Here are a few highlights.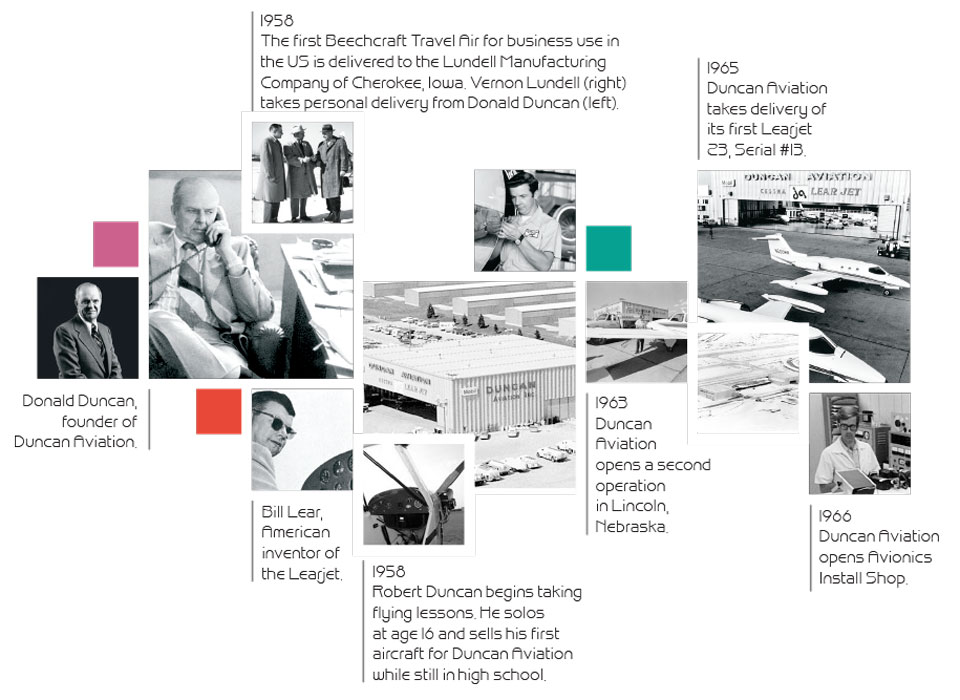 The Beginning
In 1956, when Duncan Aviation opened its hangar doors, 14-year-old Robert was there.
"I was there doing minor things, working on the line, and I joined the company full-time after graduating from Northwestern in 1965," says Robert. "I was taking flying lessons when I was 15 and soloed at 16. After getting my private license when I was 17, I kept right on flying and got my commercial license at 18. It feels like I've always flown, and I just love it."
Robert has a passion for flight. In addition to enjoying the freedom of actually flying, he also loved the mechanics, avionics, and power of airplanes. Growing up, Robert had helped his father put away, clean, and work on airplanes for as long as he can remember.
In the early days, when Duncan Aviation was a Beech distributor, one of Robert's jobs was to go to Wichita, Kansas, and fly the new planes to Lincoln. He flew Bonanza Barons, Twin Bonanzas, and Beech 18s.
In helping finance Bill Lear's dream of building innovative turbine-powered aircraft, Donald Duncan secured rights for Duncan Aviation to distribute Learjets. Robert then became the youngest certified pilot at 23 years old to fly the aircraft whose name was synonymous with speed, performance, and luxury.
Donald shared his dreams for Duncan Aviation with Robert from early in the company's history. He learned to always take advantage of new opportunities, to look for new products that would serve customers better, and to stay active and involved in the community.
"My father instilled in me an attitude of growth and opportunity," says Robert. "I was always on the lookout for new adventures, new airplanes, and new opportunities."
Robert's son Todd, now Chairman of Duncan Aviation, learned those same lessons.
"Dad and Grandpa said you always had to take care of the fundamentals. We're a small business, in a small industry. We don't make the airplanes, but our business is about everything that comes after that," says Todd. "Create a cooperative environment, don't create silos, and don't run things like dictators. We work in an industry that requires collaboration and teamwork, so we have to foster that every day here at Duncan Aviation, too."
A Major Transition
In 1981, when Robert was 41 years old, his father died suddenly. Donald's death shocked the entire company, and especially Robert.
"We were in the midst of pretty tough times; inflation was high, interest rates were astronomical, and our business was weak," says Robert. "We needed new enterprises and new opportunities for our employees."
Donald's focus had been sales, and Robert knew he had to grow the business in other ways. He recruited talented people to run new endeavors, and one of them was the Interior shop. There was no design center or cabinet shop yet, but the small shop fixed broken seats and installed carpet, headliners, and side ledges. Robert envisioned much more, and he recruited Jeannine Falter, to head the shop.
"I had been working for Learjet when my 47-year-old father had a heart attack, so I decided to accept the Duncan Aviation job offer and move back to Nebraska," says Jeannine. "I gave my notice and said I was going to work for Duncan Aviation, and people at Learjet took me aside and tried to talk me out of it. This was shortly after Donald had died, and they didn't think the company would survive. They underestimated Robert and his entrepreneurial talent. He's smart, open to new ideas, and willing to take risks. I've never regretted my decision to work for Robert."
In the years after Robert took over as President, he came up with several big ideas that not only created new avenues of business for Duncan Aviation, but also grew the company and spread its name and reputation around the world. Among those ideas that Robert conceived were a parts consignment network and the Duncan Aviation satellite avionics facilities.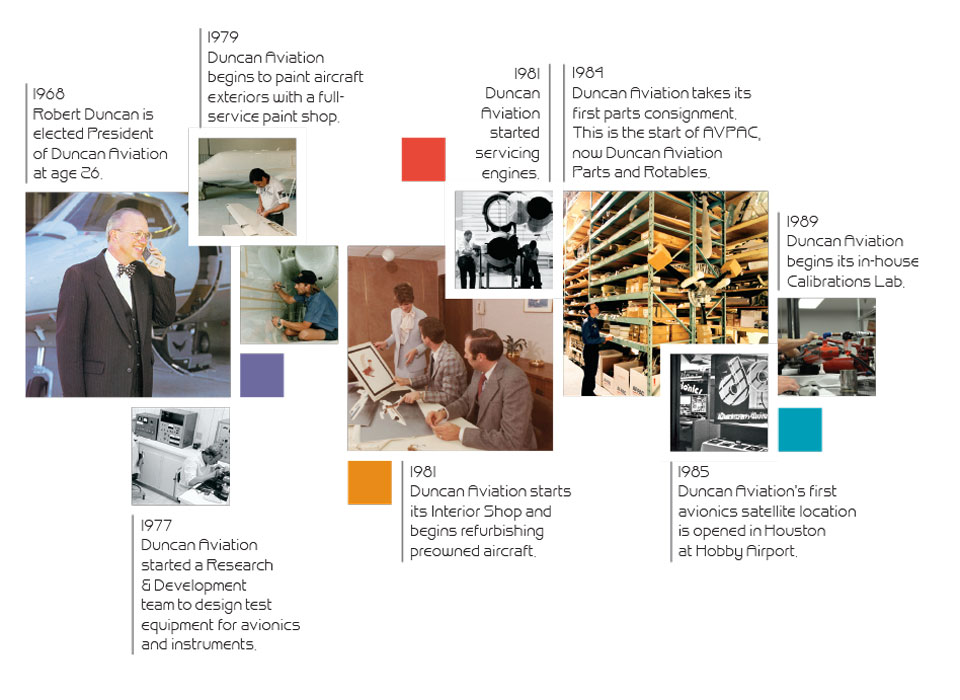 Parts Consignment
Robert saw the surplus parts for older prop planes just sitting on shelves, and he surmised that there were probably FBOs around the country that had similar investments in unmoving parts. He envisioned a program where companies would send Duncan Aviation their surplus parts and, based on very new, barely known computer networking—a precursor of today's internet—Duncan Aviation would create an inventory of the parts and sell them on consignment. This vision became a reality in the early 1980s with a parts and rotables consignment division, then called AVPAC.
"I've had the opportunity to work with all four generations. Donald in the early days, then Robert, and now Todd and his sons," says Project Manager Howard Nitzel. "Robert always had good people to run the day-to-day operations for him. He would be looking at the future, always four or five years out there, and willing to try new things. AVPAC is a classic example, parts and rotables services. It was kind of a pipe dream, and it really took off into a whole industry. Robert was a true visionary, made the company grow, and took care of everyone and their families. He's a true businessman in every sense of the word."
Don Fielder, a 50-year Duncan Aviation team member who recently retired as the company's Avionics Business Development Manager, explains that Robert's vision was to establish a network, collect the parts, set fair prices, and ship them out to buyers the day they ordered.
"He wanted to make it easy to find parts and to get a fair price for them," says Don. "And he wanted to make sure the inventory was meticulously maintained so we never claimed to have parts we didn't. It was a wonderful thing to work for that man. I've always looked up to Robert. I really respect him and like him. The word I most associate with Robert is 'visionary.' He surrounded himself with people who could take his ideas and run with them. And, to his credit, although the ideas were his, he always gave us free rein to make his dreams a reality."
Satellite Network
Once the parts consignment was off the ground, Robert again approached Don with an idea. This time, Robert told of an experience he and his wife Karen had at Lincoln's Hovland-Swanson department store.
"Karen was trying on shoes, and as I waited, I talked to the manager of the shoe department," says Robert. "He told me he worked for a national shoe company. He said, 'We specialize in shoes; we just lease this space.' This got me thinking, 'How could Duncan Aviation, with our expertise in avionics, expand that around the country?'"
One of Duncan Aviation's greatest assets has always been its employees. Robert knew there were talented, experienced, knowledgeable technicians in Lincoln, hundreds if not thousands of miles away from where the avionics were that needed servicing.
"We joke that the avionics satellites are Robert's five-minute idea that exploded," says Don. "He said, 'How 'bout this idea? We lease space at established, respected FBOs around the country and put in two-person avionics shops. We keep it simple—do simple stuff in the field and continue to have the complex stuff sent to Lincoln. And we offer free loaners and free tech support.' That was it!"
As a result, Duncan Aviation now has more than 20 avionics satellite shops located at busy corporate airports around the country. Not only do our customers drop into these facilities for quick repairs, they can now schedule complex installations, including upgrades to avionics to satisfy the NextGen mandates.
Robert credits Don for the success of the program. "It was my concept, but Don ran with it," says Robert.
"I couldn't have done it alone. Everybody out there is doing the work every day—turning the wrenches, fixing the avionics, selling something, or providing support," says Robert. "It takes everyone to make this company succeed."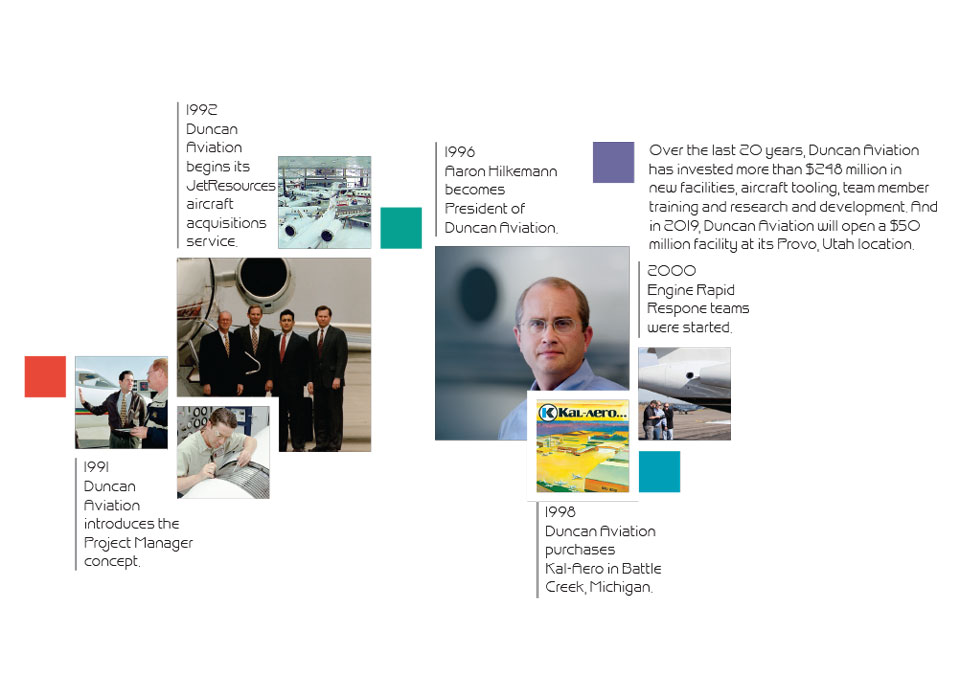 Recognizing Team Members
As a way to recognize the longtime contributions of team members, Robert and Karen started something called the Silver Wings Club. This exclusive group was created to celebrate team members who have worked at Duncan Aviation for 25 years or more.
"It's a way to recognize all of the many contributions our steadfast, loyal, dedicated employees have made in their tenure here. Many of them have been here far longer than 25 years. The Silver Wings employees, about 300 of them now, are the core of what Duncan Aviation is about, and they're the reason so many of our customers can call Duncan Aviation and talk to the same person they've dealt with for 25 years or more. It means so much in our industry, and it means so much to us as a company, too."
Todd Duncan himself is a member of the Silver Wings club, as he has been working at Duncan Aviation for 29 years. He's been the Chairman since 2007, and he's seen the company ride the waves, the highs and lows, of the business aviation industry.
"One thing I've always admired my Dad for is what he brought to the business every single day, regardless of what we were facing, and that's his optimistic spirit. He's always able to look to and find brighter days," says Todd. "He's a tremendously forward-looking man, and he's always so positive. He cares deeply about our team members and our customers. He's the kind of man who inspires others to do their best, too."
Todd agrees with what Robert has always said about the immeasurable value of the team members at Duncan Aviation.
"He knew and I know that we are not all things, so we're both very grateful for the big network of support we have here at Duncan Aviation."