«Fall 2016
Certification Straight Talk Book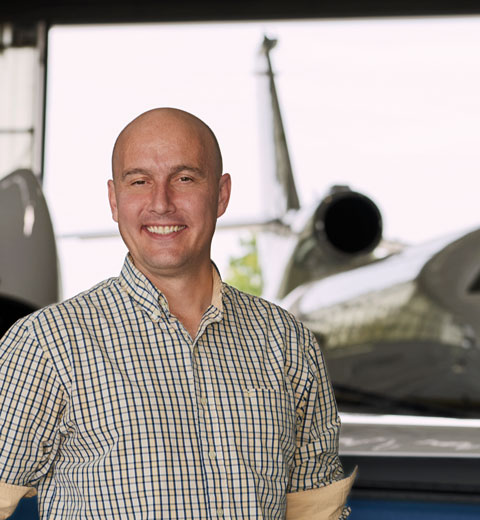 Whether you're installing an espresso machine into an existing galley, building a custom-designed galley from scratch, or completing an interior mod, your aircraft will need to go through some sort of certification process."
-Aaron Lane, Certification Coordinator
After 60 years of selling and servicing aircraft, Duncan Aviation understands the vital role certification plays in the aviation industry. We also know that our customers in business aviation frequently feel stymied by our requests for documentation and consider the entire certification process to be unnecessarily cumbersome.
Dale Johnson, a retired ASI (Aviation Safety Inspector), and Repair Station PMI (Principle Maintenance Inspector) for the FAA, now an FAA DAR recently guided his client with the recurrent certification of their newly acquired aircraft.
"The certification process was very complex as the aircraft was in the final stages of receiving a completely new interior and paint job," said Dale.
As work progressed, Duncan Aviation Project Manager Ryan Oestmann, RTS Inspector Wade Johnson, Certification Coordinator Aaron Lane, and QA Tech Document Specialist Brian Thomas kept a continuous flow of documents, drawings, data, and logbook entries going to Dale. All of the documents were then compiled into the certification document package for the certification of the aircraft.
The path to certification (or recertification) can indeed be long and document-intensive. In an effort to make it a little clearer and less frustrating for operators, experts from Duncan Aviation's Engineering team spent months crafting a book that attempts to demystify certification.
"Many aircraft owners are unaware of how meticulous of a task certification can be," says Aaron Lane. "Whether you're installing an espresso machine into an existing galley or building a custom-designed galley from scratch, or completing an interior mod, your aircraft will need to go through some sort of certification process."
Dale was impressed with Duncan Aviation's Repair Station procedures process, communication, and quality control systems.
"During my review of the documents, drawings, data, and logbook entries, I found the documents produced by Duncan Aviation to be of a higher level of detail and description for the work performed compared to those of other stations that I audited in my past FAA career," says Dale.
Our Engineering and Certification teams routinely assist our customers with every step of the certification process, and we know that very few customers have a background like Dale's that includes actual FAA experience.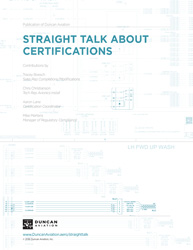 Therefore, this new Certification Straight Talk Book explains the process of certifying and documenting repairs and modifications to aircraft. The book includes sections on importing and exporting aircraft, an explanation of the process of obtaining an STC (Supplemental Type Certificate), and the current state of global harmonization for the business aviation industry.
"Our recently released Certification Straight Talk Book explains all of this in terms that everyone can understand," Aaron says. "Documentation of the modifications that were done to your airplane in the past are just as important as the documentation of the modifications you're currently having done. The purpose of all this documentation is to show compliance to the airworthiness regulations that prescribe how you can operate and maintain your aircraft. We are certain that our latest Straight Talk Book will shed some light on this sometimes complicated subject."
To download a free copy of the new Certification Straight Talk Book, go to the Duncan Aviation website at www.DuncanAviation.aero, click the Resources drop-down menu, and select Publications. From there, click the Straight Talk Books icon, and then click the icon for Straight Talk About Certifications. Or you may go directly there with this URL: www.DuncanAviation.aero/straighttalk/certifications.