«Fall 2016
Duncan Aviation's BTL Facility Hosts GAMA Rally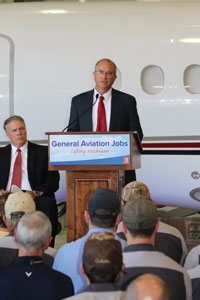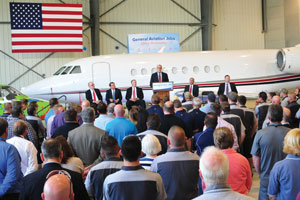 Hundreds turned out for the GAMA (General Aviation Manufacturers Association) Michigan Jobs Rally held June 17 at Duncan Aviation in Battle Creek, Michigan, to recognize the importance of aviation and its contributions to our communities.
Duncan Aviation's President, Aaron Hilkemann, along with US Senator Gary Peters from Michigan and other aviation business leaders from Avfuel Corporation, L-3 Communications, and Williams International, spoke in front of those gathered.
Each speaker addressed the crowd, giving examples of how the aviation industry has positively impacted the economy of the state of Michigan, as well as the benefits to their communities, employees and families.
Below are a few comments from the speech Aaron gave before several Duncan Aviation employees, aviation industry leaders, and students from Western Michigan University.
In Battle Creek today we employ more than 600 people and we are currently hiring and expanding the team. These are interesting, career-inspiring jobs at many levels that include good health insurance, vacation time, 401(k) opportunities, a wellness culture and many other benefits.
This is a place where people want to work. We see that in the number of job applicants who have been recommended by current team members, many of them family members. 96 Duncan Aviation team members have a family member working here in BTL, with more than 40 different families represented. One example is the Slee family. The Slees have had three generations who have worked here. Four Slees are currently employed by Duncan Aviation.
Our company and general aviation as a whole offer a broad range of career progression opportunities. One example would be Tom Burt, the Chief Operating Officer at Duncan Aviation-BTL. Tom worked his way through college as a flight instructor and then started at Duncan Aviation as a beginning airframe mechanic. He progressed through customer service, sales, sales management and eventually into senior management.
This is also an industry that provides long, solid careers for many team members. At our Battle Creek facility, we have 24 team members who have been working in the company for more than 30 years.
Our industry is also well-known for providing opportunities to veterans and those transitioning from the military. At Duncan Aviation, we have hundreds of team members who have served or are serving in the military. In Michigan, nearly 22% of our team members have military experience.
General aviation companies and aviation jobs are good for our communities and states and we must be sure they continue to be properly supported and recognized for their contributions.