«Fall 2016
Operators Can Turn Spare Parts Into Serious Cash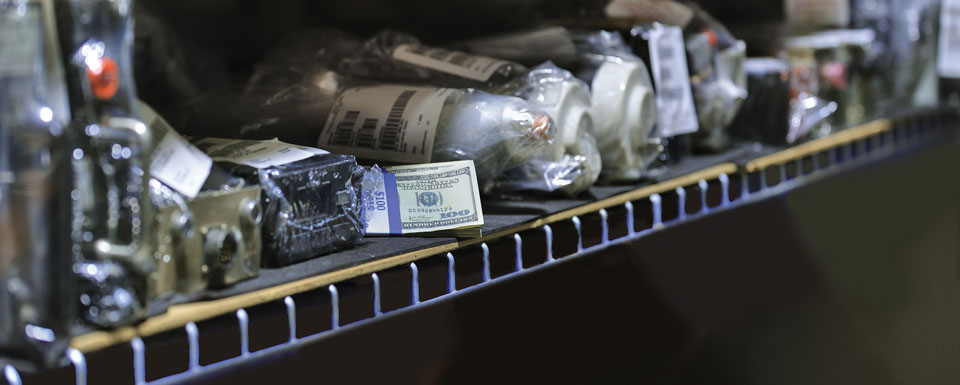 For the past three years, Duncan Aviation's Parts & Rotables Sales has paid more than $7 million to customers who have let us sell their excess inventory of aircraft parts, accessories, and rotable units. With three programs to choose from, aircraft operators can turn unneeded parts and rotables into revenue. Whether you are selling your avionics units outright or want to become a consignor, we will partner with you to help you recycle your idle components and turn them into cash.
Avionics Buy Back
We have been paying cash for surplus inventories of avionics units for more than 45 years with an average annual company payout totaling more than $1 million. We seek out good, serviceable, documented, avionics and instrument parts for all makes of business aircraft, including modifications packages removed for avionics upgrades.
When you provide us your list, we will quickly evaluate the part numbers and will have a reply back to you within days. Simply email us your inventory list, with part numbers, preferably in an Excel spreadsheet, to WeBuyAvionics@DuncanAviation.com.
Parts and Acquisition Consignment
The Duncan Aviation Consignment program was started in 1984. Since 2010, we helped 1,652 operators clean their hangar shelves and line their pockets with consignment payouts totaling $3.5 million dollars.
Operators from around the world ship us their excess parts inventories, where they remain until sold. Having this physical access allows us to offer overnight delivery, which is often required by customers across the globe. Yet operators retain ownership of the parts until they are sold.
"Instead of an operator storing, insuring, cataloging, advertising, selling, invoicing, collecting payment, packaging, and shipping parts themselves, we help them convert their surplus inventory into cash and free up storage space," says Susan Masek, Duncan Aviation's Senior Consignment Manager.
Managed Rotable Inventory
Duncan Aviation's MRI (Managed Rotable Inventory) program allows customers, parts brokers, aircraft operators, aircraft sales organizations and/or vendors to stock their rotable inventory with us, maintaining full ownership while we manage every aspect of exchange sales.
We will warehouse, market, exchange, and ship your rotables anywhere in the world, anytime, day or night, while overseeing all the details of getting cores returned and tagged to be received back into your stock to sell again.
Your inventory is included in all of our marketing efforts, including locator services. The parts receive exposure to more than 21,500 companies, 32,607 aircraft, and 65,000 customers in 192 countries, all from the Duncan Aviation customer database.
No matter what program you choose, Duncan Aviation's Parts & Rotables Sales Reps will be working around the clock to put money in your pockets.