«Fall 2016
Quick Turntimes on TDR-94 Transponders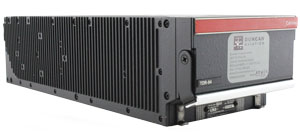 The Duncan Aviation avionics and instrument shop performs TDR-94 and TDR-94D transponder service that includes repairs and upgrades. In light of the increased volume of TDR-94 modifications, Duncan Aviation has developed a TDR-94 Quick Turn Team that provides same-day evaluation and three-day turntimes, with AOG options available when needed.
These technicians, having serviced the -003 TDR-94 units for the last several years, have developed a highly efficient repair process that will even allow a one-day repair with proper scheduling.
We offer the repair and service of these units at our main avionics and instrument shop in Lincoln, Nebraska, as well as through our satellite avionics facilities located throughout the United States.
We are also able to modify earlier transponders to the -500-501 series, which will meet the ADS-B mandate for 2020 when the unit is properly installed and certified.
The Rockwell Collins TDR-94/TDR-94D transponder is a solid-state, crystal-controlled receiver/transmitter specifically designed for TCAS-II-equipped business aircraft. Duncan Aviation is authorized to repair and service transponders with the Rockwell Collins part numbers of 622-9352-002 through -008; -108; -207; -308-311; -408-411; -500-501 and 622-9210-002 through -008; -108; -207; -308-311; -408-411; -500-501.