«Spring 2016
Internationally Accredited Tool Calibration Available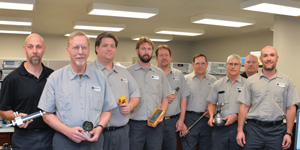 Did you know you can bring tools with you when you visit a Duncan Aviation facility, and we'll get them calibrated for you through our Cal Lab located in Lincoln, Nebraska. Our Calibration Lab recently received accreditation with the A2LA (American Association for Laboratory Accreditation), certificate #3908.01, to the international standard of ISO/IEC 17025. This accreditation recognizes our commitment to quality and shows our competency in the field of calibration.
The application process was arduous, taking several years and a detailed documentation of processes and procedures. The requirements included the creation and implementation of a quality management system that provides high data integrity, verifies measurements are traceable to national standards, and continually tests the technical abilities of all lab technicians, among many other quality requirements.
James Hood, Duncan Aviation's Calibrations Team Leader, says the recognition by A2LA was well worth the effort. "It all comes down to data integrity. Many companies, both in and outside of the aviation industry, are adhering to stricter quality standards that require them to use only certified calibration laboratories," James says.
A2LA is a member of ILAC (International Laboratory Accreditation Cooperation). ILAC members mutually recognize the accreditation status of the laboratories of its membership, making it easier for customers to readily use the accredited calibration services from other countries.