«Spring 2016
Rapid Response Team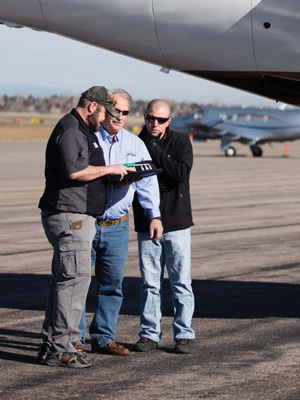 Business aviation is a small industry. The aircraft turbine engine business is even smaller. It goes without saying, competition is fierce.
There is something special to be said about customers who can see through all the noise and choose to do business with the same company again and again. It says they know aviation is complicated and they understand what it takes to do the work and to do it right the first time. These customers have loyalty that goes beyond the transaction and lives below the surface.
Jerry Owen, Director of Maintenance of Anschutz Corp., is one such customer. Located in Englewood, Colorado, Anschutz is a privately held company leading the world in sports and entertainment. The company owns and manages several venues around the world, as well as a number of professional sports teams like the Los Angeles Kings.
Jerry manages the maintenance and flight schedules of the company's two Falcon aircraft. For him, making the decision on where to send his engines goes beyond the business end of the deal; it is in the customer experience. And in the relationships, like the ones he has with Brian Weathers and Sharon Klose.
Engine Rapid Response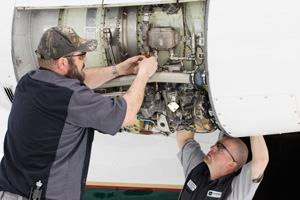 When it comes to aircraft engine maintenance service, Jerry turns to Brian, Team Leader of Duncan Aviation's Engine Rapid Response Team at Centennial Airport in Englewood.
"I've been a Rapid Response customer since they opened shop on Centennial in 2001. I have always been able to count on them. No matter what the time or the need, I get quick and professional service done right, right away, every time," says Jerry.
Case in point, on Friday, October 24, 2015, the computer tripped on one of the company's Falcon 50 engines. With a flight scheduled out early Monday morning, Jerry immediately picked up the phone and called Brian.
Although Brian was in Phoenix, Arizona, working on another customer's engines, he took the call and listened. Unable to go himself, he sent Eric Hanson, a member of his team. Eric arrived at the Anschutz hangar within the hour and had the cause of the squawk identified within two. A faulty part was replaced, and the engine was cleared back into service a short time later.
"This is the type of commitment to excellent customer service I have come to know and expect from Brian and his team."
The Falcon engines have been serviced by Duncan Aviation since Jerry took a tour of the engine MPI shop in Lincoln, Nebraska. In August of 2000, he sent his first pair of Honeywell TFE731 engines in for an MPI. Sixteen years later, he is sending those same engines back for another MPI.
Trustworthy Technical Knowledge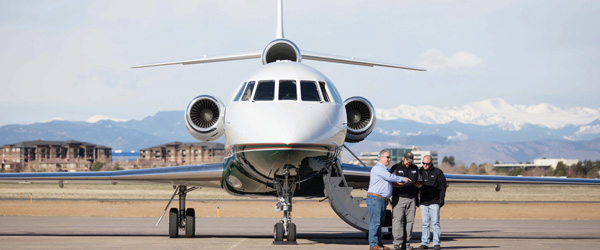 Another Duncan Aviation relationship Jerry says he can totally trust is the one he has with Sharon Klose, Turbine Engines Service Sales Representative. "I have known Sharon for 30 years. She knows what she's talking about, and I believe what she says. I have nothing but the utmost respect for her knowledge in the aircraft turbine engine business. She represents Duncan Aviation better than anyone."
Jerry hears the noise. He sees the quotes and knows what other companies offer. What keeps him coming back? "All of my experiences with regard to the service to my aircrafts' engines, whether it is with Brian at the shop at Centennial, a sales call from Sharon Klose, or a major inspection in Lincoln, have all been excellent. That's why I go back."