«Spring 2016
Unique Global Express Step Tread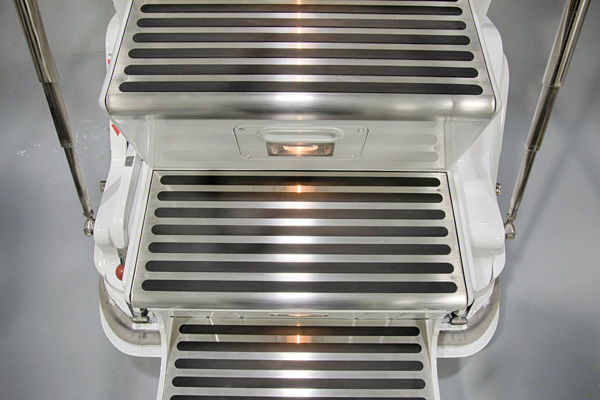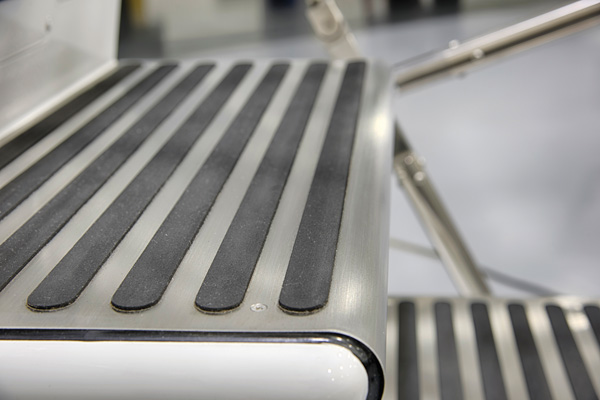 We recently designed and fabricated a new and innovative airstair and entryway treatment for a Bombardier Global Express.
"The Global Express was a recent purchase and the operator had seen a new stainless steel airstair treatment on a different model of aircraft at an aviation trade show," says Matt Spain, a Duncan Aviation Completions and Modifications Sales Rep. "He was impressed with how clean and modern it looked and approached Duncan Aviation to see if we could duplicate the look for their aircraft."
Duncan Aviation's Fabrication Shop has talented team members who love to meet challenges like this, says Bryan Hart, Fabrication Shop Team Leader. The team accepted the challenge and jumped in feet first. They developed a concept and design going on nothing but a few pictures sent by email while researching a step tread material that matched the customer's vision and met required flammability requirements. They found the perfect materials and went to work. They were soon able to present a sample to the customer that had the brushed stainless and black rubber accents they had envisioned. "He was more than impressed," Hart says.
After the design was approved, Duncan Aviation's Fabrication Team stepped into action and created the unique airstair and entryway shown here.
To see more unique interior and paint solutions by Duncan Aviation, visit www.DuncanAviation.aero/gallery.