«Spring 2017
Duncan Aviation Satellite Shops Do ADS-B NOW

During the last several years, Duncan Aviation took the lead in the aviation industry and held dozens of free seminars explaining the ADS-B (Automatic Dependent Surveillance-Broadcast) mandate.
Now, Duncan Aviation has once again taken the lead to get the word out about the urgency of installing ADS-B in your aircraft well before the January 1, 2020, deadline.
ADS-B by the Numbers
The math doesn't favor general aviation operators who wait. Estimates put the number of aircraft that need modification in the many thousands. In the remaining 30 months, operators will need to schedule hangar space at shops with qualified, experienced avionics technicians who have access to STCs (Supplemental Type Certificates), SBs (Service Bulletins), and pairing data.
"Everyone in the industry seems to be putting off the upgrades," says Ed Hillman, DOM for two Citations. "In our opinion, there'll be a rush of operators trying to get their aircraft in compliance at the last minute. There won't be hangar space or enough qualified technicians available."
Duncan Aviation has a network of 26 Satellite Avionics shops and work-away stations located at the busiest airports in the United States. The shops have knowledgeable, experienced avionics technicians who have already brought hundreds of aircraft into compliance with the ADS-B mandate.
"In the last two years, we've upgraded close to 300 aircraft of all makes and models," says Matt Nelson, Manager of Satellite Operations. "Because the techs at our Satellite Avionics shops have done these installations, and they currently have hangar capacity, we're encouraging our customers to contact the Satellite nearest their home hangar and schedule a time slot."
Satellite Shops Busy With ADS-B Requests
In Van Nuys, Manager Tony Russo and his team completed FANS (Future Air Navigation Systems) and ADS-B on several business aviation aircraft in the last year, as well as on two 727s and an MD-87. The team is currently installing FANS (Future Air Navigation System), ADS-B, SwiftBroadband with Wi-Fi, TCAS 7.1 (Traffic Collision Avoidance System), and an Airshow system in a 737-200.
"Our customers are taking a serious look at their aircraft and fleets, requesting quotes, and determining a good time to put their aircraft down for these upgrades," says Tony. "To meet the ADS-B mandate, aircraft must have WAAS-compliant GPS sensors and upgraded transponders. Each aircraft is a little different, and that's what we're here for—to help you determine what you need."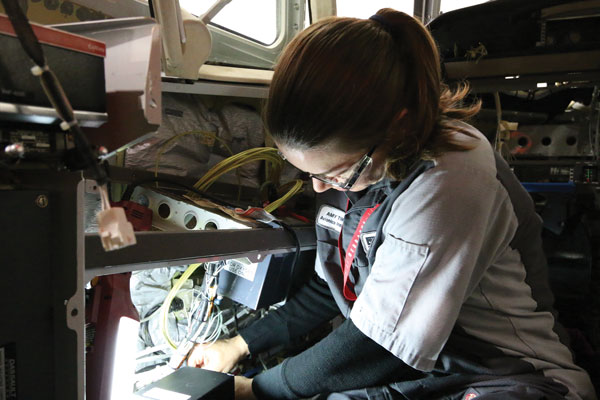 The Duncan Aviation Houston Satellite Shop recently completed two ADS-B upgrades on Citation 560s using a Duncan Aviation-owned STC.
"Those installations were flawless; we didn't have a single issue," says Houston Manager Mark Winter. "We also delivered a Challenger 601 in January, with FANS 1/A and ADS-B Out, also using a Duncan Aviation STC."
The Challenger had WAAS (Wide Area Augmentation System)/LPV (Localizer Performance with Vertical Guidance), and the Houston shop sent the transponder to the DME (Distance Measuring Equipment) bench in Lincoln, Nebraska, for the upgrades.
"We're encouraging our customers to book their aircraft now," says Mark. "We have some capacity left in 2017, and with the average downtime right around 2 weeks, we can realistically do two of these a month."
The Satellite shop in Kansas City, Missouri, recently upgraded a G150 for ADS-B. The Lincoln DME bench upgraded those transponders, too, and the KC shop installed a fail annunciator and the interfacing for the transponders to the GPS. That customer already had the WAAS sensors, so they finished the upgrade in 6 days, delivering ahead of schedule.
Duncan Aviation's ADS-B Slot Program
"The ADS-B mandate has presented the business aviation community with some challenges, but our Satellite network has stepped up to help our customers get their aircraft in compliance," says Matt Nelson. "The Duncan Aviation slot program allocates two spots per satellite per month for ADS-B upgrades. This program holds a confirmed date and hangar space. Operators can call now to reserve the spots for 2018 and 2019 and throughout the rest of 2017."
Jeff Aman

"Opportunity for growth at Duncan Aviation is unsurpassed in the industry," says Jeff, Manager of the Duncan Aviation's Kansas City, Missouri, Satellite Avionics shop.
In his 17 years at Duncan Aviation, Jeff has pursued some of those opportunities. With his A&P license from Colorado Aerotech, Jeff started as an Avionics Tech at the Denver, Colorado, Satellite shop in 1995. Shortly after Matt Nelson, now Manager of Satellite Operations, took over the Denver Shop, he asked Jeff to open a shop at JeffCo Airport. In 2002, under Matt's supervision, Jeff did.
Jeff then moved to the Scottsdale, Arizona, Satellite shop where he worked for Manager Jim Davis, and in 2011, Jeff began managing the Kansas City and St. Louis Satellite shops.
"Seeing managers run their shops helped me develop my own skills," says Jeff. "I keep those lessons in mind as my team and I work through challenges and strive to serve customers in the true spirit of Duncan Aviation, with the backing of decades of company knowledge and experience from team members around the world."