«Spring 2017
myDuncan is a Vital Communication Tool
A little more than 10 years ago, a team of Duncan Aviation project managers and computer programmers had a vision for a communication tool that would help them provide even better customer service and more efficient approvals and keep everyone involved in a complicated multi-shop aircraft project up-to-date. The result, which launched in September 2006, was myDuncan, a web-based portal that allows customers greater access and better control of their projects from anywhere in the world.
myDuncan has been a phenomenal success. It is available to all Duncan Aviation customers with aircraft onsite for airframe, avionics, and engine projects. They can also manage send-in repairs with Component Status Tracking. Nearly all customers transform their computers and mobile devices into "virtual offices" to manage their aircraft projects whether they stay with their aircraft or not. And many travel back to their home bases.
Of the 2,343 aircraft projects delivered in 2016, more than half were managed off-site, allowing the aircraft representatives to stay current on project status, item approvals, and budget while keeping up on things at work and at home.
A Vital Customer Tool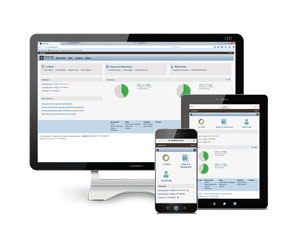 Jose Mauro Vilela, Chief of Maintenance for a major holding company in South America, has been a Duncan Aviation customer for 9 years. In the beginning, Vilela admits he remained with the aircraft for weeks during those first inspections. Now, he is only onsite at Duncan Aviation to input the aircraft and go over the scope of the project, and then again during the final week for delivery.
Because of his relationship and trust in his project manager and the rest of the Duncan Aviation team, and the fact that he can communicate and watch the project through myDuncan, he doesn't feel he needs to be onsite throughout the entire inspection. "Duncan Aviation has earned our trust. We believe in the company. They know us. We know them."
Through myDuncan, customers receive email alerts, job status reports, and updates from their project managers with hour and cost estimates for all phases of the project. They are kept aware of items that need attention and approval and are able to view and comment on reports and photos. myDuncan works on any mobile device, which fits in well with today's instant-access, mobile world.
"It makes the squawk approval process seamless," says Wesley Landgraf, Director or Maintenance for Midland Financial Co. "I can be on the hangar floor, in the office, or at home and see all discrepancies on the aircraft. If I have questions on a certain item, I can submit a question through myDuncan and receive written responses or pictures to better display the issue."
Customers with a Duncan Aviation facility close to their home offices find it indispensable as well.
"We use myDuncan whenever we have a major maintenance event going on," says Greg Hamelink, Senior Manager of Flight Operations and Maintenance for a fleet of aircraft. "Even though we are only 20 minutes away from the Duncan Aviation facility in Battle Creek (Michigan), it's still nice to be able to monitor and approve items remotely. It's a great communication tool and a great way to keep track of the status/cost of your aircraft maintenance event."
An Evolving Tool
myDuncan is the best way to manage, control, communicate and record all of my aircraft project events. In the end, my invoice is not a surprise because of the real-time approved work and progression chart. Duncan Aviation provides a great maintenance experience.
- Fabio Moritz, Legacy Operator
Since the myDuncan introduction, we have asked customers for suggestions, and the system has evolved with additional features to improve the customer experience.
Electronic logbook entry was added in early 2016. While inspectors are filling out logbook entries, customers can view them in real-time, broken down by airframe or engine.
So far in 2017, features were added to myDuncan logbook entries so customers can better track what they have reviewed. And a flowchart/calendar feature now gives a workflow schedule with the ability to track and visualize project milestones.
Also released in 2017 is a quote review and approval feature that will allow customers to see sales quotes through myDuncan, including the option to compare quotes, request schedules, and approve agreements.
Excellent project management and communication are vital for a successful project that is completed on time and on budget. Nine of 10 Duncan Aviation customers report that their aircraft project was completed on time with no budgetary surprises. myDuncan has helped Duncan Aviation keep that number one of the highest in the industry.
Ryan DeVall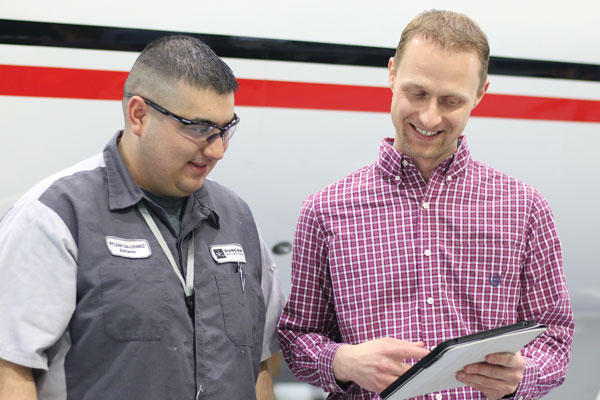 Ryan DeVall, an IT Project Manager with Duncan Aviation, has been on the myDuncan development team since its inception. He has seen the portal evolve from a system to eliminate paper processing and faxes/emails to a communication system that has had a profound effect on the customer experience.
"Our goal is to make the customer's job easier by providing real-time information and making relevant data more accessible," Ryan says. "Now that customers have seen some of the things that are possible, they're more likely to provide feedback on what else they would like."
This feedback is used by the myDuncan development team, which is led by Ryan and dedicated to the continual improvement of the myDuncan portal.
"It has taken the work of many throughout Duncan Aviation to get myDuncan to where it is today," Ryan continues. "And we are continuing to add the functionality that will make the tool even more useful."