«Spring 2017
ADS-B: On Time & On Budget
Lyn Johnson, who has been the Director of Maintenance for Gaughan Flying in Las Vegas for 29 years, downs his Challenger 850 SE only once each year for maintenance. For convenience, and to get the best prices, he decided to complete all of the FAA's mandated ADS-B upgrades during a three-week period last fall.
"Prices will go up, so we decided not to wait," says Lyn.
The skilled avionics technicians at the Duncan Aviation Las Vegas, Nevada, Satellite Avionics shop performed an industry first in the United States last fall when they installed ADS-B Out avionics equipment on the Challenger 850 SE. The Las Vegas shop upgraded the displays, GPS sensors, and software in the cockpit before upgrading the Rockwell Collins TDR-94D transponder, bringing the aircraft into compliance with the FAA's ADS-B Out mandate deadline of January 1, 2020.
"It was all on time and on budget, and everything works!" says Lyn. "That's why I've done business with the Duncan Aviation Las Vegas Satellite shop since it opened in 1995, and that's why I'll continue to go back. Everything works as advertised, just like everything Duncan Aviation does."
Las Vegas Satellite Manager Jack Robbins, who had planned a Caribbean vacation months earlier, set up an impromptu office on the island. During the week he was gone, he continued to correspond with Lyn, the techs at the Las Vegas shop, and the DME (Distance Measuring Equipment) bench technicians in Lincoln, Nebraska.
"This upgrade and installation could not have gone better," says Jack. "It went off perfectly, and we delivered on time, too."
Relationships That Mean Business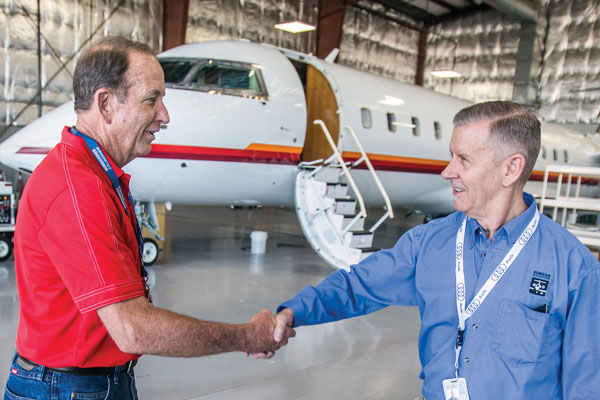 In addition to his relationship with the Las Vegas shop, Lyn has been friends with Duncan Aviation's Engine Tech Rep Bill Walker from Battle Creek, Michigan, for nearly 15 years. Bill worked on Lyn's engines prior to coming to Duncan Aviation. Lyn considers Bill a CF34 guru, and Bill continues to do the engine work for the Challenger 850 SE.
In early 2017, Bill and two Engine Techs, Team Leader Jeff Lowery and Tech David Cordova from the Scottsdale, Arizona, Rapid Response Team performed a borescope on the Challenger's CF34s, also in its own hangar in Las Vegas.
Bill is always happy to get together with Lyn to talk and work on the Challenger's engines.
"Lyn is a mechanic's mechanic. He's one of those guys who has encyclopedic knowledge of aviation; he has an answer for everything. He's a great guy who's been in aviation long enough that he's seen it all, and he takes it all in stride," says Bill. "Running a flight department and managing a big jet is a challenge, and Lyn does it with ease. He compliments the owner of the aircraft all the time, and he knows he's been fortunate."
One of the other things Bill appreciates about Lyn is that he's generous with his time and knowledge. There was a young man named Jeff who's a student in an aviation program at a school in Las Vegas. While Bill was there for the borescope, Lyn let Jeff shadow them and get some hands-on experience working on a big-cabin corporate jet.
"What I'm trying to say is that 29 years working for the same person in a corporate flight department is a huge testament to not only what kind of guy Lyn is but also to the kind of guys the owner and flight crew members are, as well," says Bill.
Engine Tech Rep Bill Walker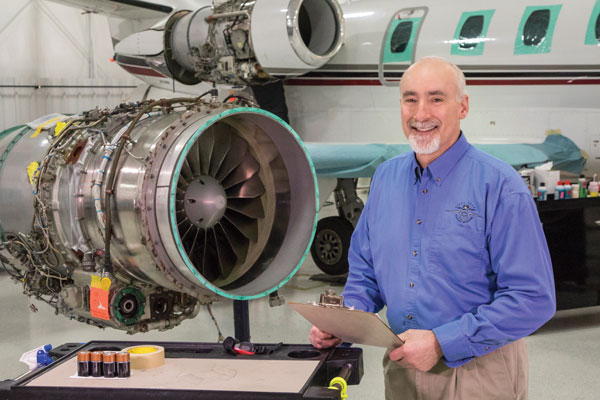 Lyn Johnson and Bill Walker have been friends for years. Before coming to work at Duncan Aviation in 2004, Bill was an engine mechanic for a company near his home in Granite City, Illinois, where Lyn took his Challenger for maintenance. After moving to Duncan Aviation as an Engine Tech Rep, Lyn and Bill have maintained contact and their professional friendship.
Living roughly 450 miles from where he grew up, Bill knows exactly how long it takes him to get back home: Six and a half hours by car, and seven by motorcycle. Bill's mom, twin brother Ray, younger brother, four kids, and six grandchildren all still live in the St. Louis area, and he can't visit as often as he'd like, but FaceTime and emails help.
"I love my kids, but I'm all smiles when it comes to my grandkids," says Bill.
Bill started his aviation career in the United States Air Force in 1979. He did the FTD (Field Detachment Training) on the CF34 (TF34 in the Air Force) in the early 1980s, and he transitioned to civilian aviation, working on corporate aircraft, in 1996.
Visit our ads-b now page: www.duncanaviation.aero/adsb for ads-b videos and information.