«Spring 2017
All For One and One For All

On the Sunday night before Thanksgiving, Mark Tucker, Director of Aviation and Chief Pilot for WC Aviation, LLC, was flying into Centennial Airport (APA) in Denver, Colorado. The Honeywell TFE731 engines on his company's Falcon 50 aircraft were scheduled for major overhaul and a team of Duncan Aviation Engine Rapid Response Team (RRT) technicians were waiting for him to land to get started on the triple R&R. The event required a tight turntime due to the approaching holiday and an international trip scheduled to leave on Thanksgiving Day.
When Mark landed, he was greeted by a team of technicians who shook his hand, introduced themselves, and went to work.
"They swarmed the aircraft immediately and got down to business," says Mark. This was at 7 p.m., a time when most have already put in a full day at work and are headed home. "For many people, when the 6 o'clock bell sounds signaling quitting time, they drop everything and leave. Not this team. They didn't hesitate and went straight to work. They stayed late to get it done and always had a great attitude."
When Mark left and went to dinner, the team was still hard at work. When he returned at 9 p.m., they had two of the three engines off. Within 36 hours, the aircraft was returned to service and ready to fly. Mark was very impressed with the amount of work done in a short period of time, along with the professionalism. And what made this even more impressive to Mark was that this Duncan Aviation RRT team had not worked together before, but performed as if they had been together for years. They knew what needed to be done, who was responsible for what, and were in constant communication with each other to keep things moving forward.
Only Brian Weathers and Eric Hanson were local from the APA shop. Aaron Hutton and Taurean Midgett work out of the Duncan Aviation RRT shops in the Northeast area, and Kevin Watrus was brought in from Seattle.
After the engine overhaul was complete, the post-CZI R&R was performed in Alton, Illinois, by yet another Duncan Aviation Engine RRT team. Mark witnessed the same great Duncan Aviation work ethic. "Another great group of guys," says Mark. "It may have been a completely different team, but it was the same level of professionalism and Duncan Aviation service."
This second team included Tyler Spurling, Rustin McCullough and Warren Wiatrek, all from Lincoln, Nebraska. Joining them was Kris Werth out of the Chicago RRT shop.
According to Mark, both teams were very customer-focused. "I know how difficult it is to find such great talent. They weren't there to just do a job. They were there to help. And I appreciate that."
Tyler Spurling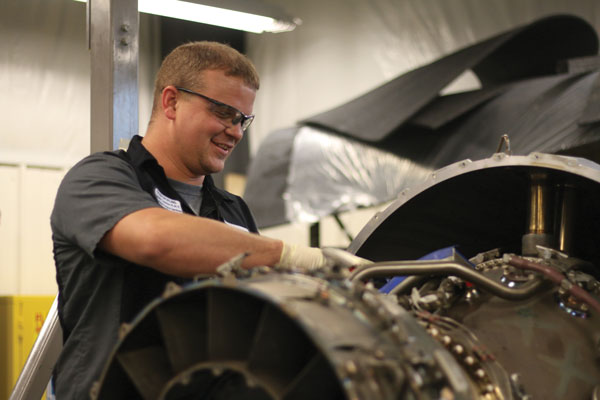 Tyler Spurling is an Engine Line Team Leader from Lincoln. He has worked with engine technicians from every Duncan Aviation Engine RRT location, and has traveled to all of the shops except for Seattle, Washington, and Atlanta, Georgia. But, he says, it is only a matter of time before he travels to those, too.
To meet customer needs and downtime requirements, it is not unusual for RRT members from several locations to travel and come together for an event.
Although Tyler may have the title of Team Leader, he says the responsibilities of the job are taken on by the whole team. "It doesn't matter who is on the assembled team. Everyone takes personal responsibility for their parts and together, we get it done." That includes the maintenance, paperwork, and quality assurance of the entire event.
"All of the RRT technicians have a great deal of experience," says Lanny Renshaw, Assistant Manager of Turbine Engine Services. "That makes it easy to put teams together that will be successful and get the job done."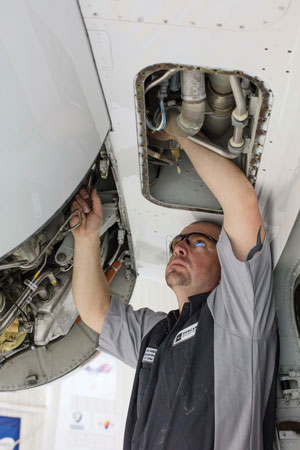 Eric Hanson
After graduating from the Aviation Institute of Maintenance in Kansas City, Missouri, Eric Hanson went to work at Duncan Aviation in Lincoln, on the engine line. That was in 2004. Today, he is still elbow deep in aircraft engines, but has spent most of his time on the road working at several Duncan Aviation Engine Rapid Response Team (RRT) locations, including Denver, Dallas, and Fort Worth. He recently moved back to Denver in 2015.
"Being on the road, working with different technicians, locations, and leadership, is a good fit for me," says Eric. "I like to travel and this job allows me to do that. I have met some amazing people that I wouldn't have met otherwise." He went on to say that with each new change, he continues to learn, adding to his experience.
Being an RRT engine technician also adds to Eric's experience of working directly with customers. "I like being on the front line, working with customers first-hand. I'm able to ask them questions and develop a plan on how best to help," he says.
He likes being "on the hook" for a job from start to finish job, seeing it through until the end. "When there is no one between me and the customer, I am responsible for the whole job. It is very satisfying to be able to complete a job and send the customer away happy."